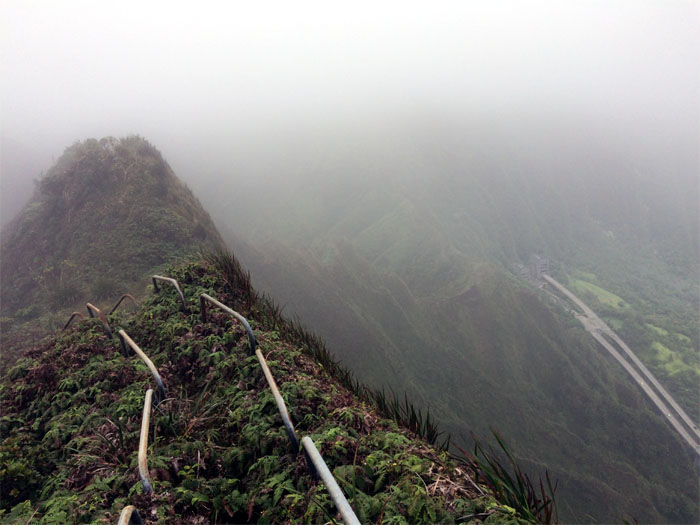 Met up with Agnes, Art, Chris, Ethan and Glenn at Moanalua Valley. Back in the saddle(s)?
Bouncing and slipping. Group photo by Agnes Bryant, left to right: Ethan, Glenn, myself, Agnes, Chris and Art.
Where are those Korean hikers?
The trail was surprisingly dry. Photo by Agnes Bryant.
Is this the legal way to Haiku Stairs? Or the hard way? Or both? Group photo by Agnes Bryant.
Going under the hau tree branches …
… over …
… and back under.
Point of no return?
Dry chute. No water works requested today.
Huffing and puffing our way up the spur ridge.
Looking towards Red Hill.
Almost there.
Ethan taking in the Windward swept views from the eroded lookout.
Weather forecast looks cloudy at the top. Photo by Agnes Bryant.
Enough sightseeing and weather speculation, time to resume our hiking.
Ethan making his way up the rocky ridge.
Moanalua Valley – the original route for the H-3, until a petroglyph etched rock forced it into the next valley over.
Ethan climbing up the crumbly rocks.
Climbing queue. One at a time. Photo by Agnes Bryant.
Chris making his way up. Photo by Agnes Bryant.
Glenn and Art coming up from the Windward side.
Ethan making his way to the Dirt Triangle.
Straight up. Shaken not stirred.
Shaka and climb in progress. Photo by Agnes Bryant.
Making my way up the face of the Dirt Triangle. Photo by Art Millan.
Glenn climbing his way up.
Sorry, this attraction is now closed. Please contour. Photo by Agnes Bryant.
Chris making his way up the contour side.
Art climbing up. Photo by Agnes Bryant.
Art finishing what the fraying started. Photo by Agnes Bryant.
Ethan and Glenn scrambling up.
The trail has been slowly eroding with the passage of time, weather and hikers traveling on the ridge.
Ethan hiking into the clouds.
Glenn paying rapt attention as Chris demonstrates the five points of contact climbing method.
Ethan going up.
Clear on the left, cloudy on the right.
IPhone rescue in progress. When an electronic device that has your life encapsulated means more than life itself. LOL.
Chris and Glenn going up the back stairs to the top.
Anybody home?
Ethan enjoying his lunch topside.
We took our leave of Agnes and Art as we headed off into the clouds.
Our muddy shoes on the geodetic marker at the 2,820′ summit. The Moanalua Middle Ridge wooden sign was still MIA.
Thinking of Kalihi Saddle.
Rain started dumping on us, which forced us to think again.
Clouds and rain washing over the power line towers.
Group photo at the 2,760′ socked in summit.
Chris dropping below the clouds to better conditions on this side of the ridge. Never fails.
We decided to drop down into the valley via the Powerlines ridge. Tripler is just too long of a ridge. Especially on ones way back down.
Glenn picking his way over the landslide area.
We dropped back down into the valley and began to walk out the seemingly never ending trail.
Where was Agnes and Art? Long gone.
Chris contouring past a heavily eroded section of the trail.
Back at the park.
Our saddle hike covered 10.5 miles with a fun crew. Post hike meal at Lilihia Bakery. Just in time for the Prime Rib Special. Life is good.
Note: I have been made aware the some hikers have been using my blog as a hiking guide and getting lost on the trails. Please note that this blog was made to document the hike for the crew(s) that did it. That is why some of my comments will seem to have no relevance or meaning to anybody outside of the crew(s) that hiked that trail. My blog was never meant as a hiking guide, so please do not treat it as such. If you find inspiration and entertainment from these hikes, that is more than enough. If you plan on replicating these hikes, do so in the knowledge that you should do your own research accordingly as trail conditions, access, legalities and so forth are constantly in flux. What was current today is most likely yesterdays news. Please be prepared to accept any risks and responsibilities on your own as you should know your own limitations, experience and abilities before you even set foot on a trail, as even the "simplest" or "easiest" of trails can present potential pitfalls for even the most "experienced" hikers.