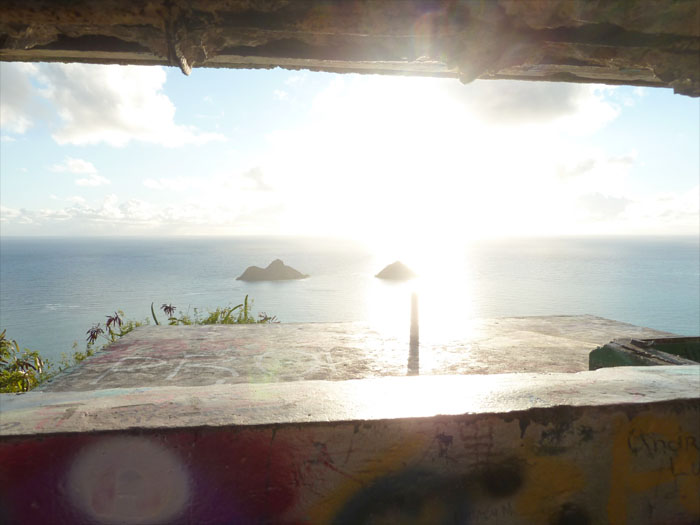 The Lanikai Pillbox or Ka'iwa Ridge Trail was a welcome break after the taxing hike we did two weeks ago. Having done this short and easy hike a couple times before but always ending at the second pillbox, I decided to stretch it out a bit and finish it at Luika Place. That being said, I picked up my friend at Luika Place and drove towards Mid-Pacific Country Club. If you plan to meet up in this area, make sure you agree on a time and place as cell phone service for T-Mobile users does not work in that part of Lanikai.
We found cars were quickly filling up the limited parking on Ka'elepulu Drive and took one of the last few spaces. This is a very popular hike with locals and tourists alike, even President Obama made it up here last month.
The view from the first pillbox goes to show that you can still get great views from 500+ feet and one doesn't have to always climb 2,500+ feet ridgelines to get fantastic views, although it doesn't hurt : ). Click here to see the original and much larger panoramic image.
We made our way past the second pillbox, before heading down the trail to look towards Mount Olomana. Having done that hike before, I heard that you can climb down the backside of the third peak or Ahiki, but that's for another day.
Looking towards the Enchanted Lakes neighborhood, home to Kaelepulu pond that once covered nearly 190 acres before development shrunk it down to it's present 79 acres. Click here to see the original and much larger panoramic image.
Looking back at the two pillboxes or bunkers that were built in 1942 to serve as observation posts and fire control stations for the gun batteries that used to be at Bellows. Now it's home to grafitti and people taking in the views.
Coming down the trail, the two islands offshore seemed very close. The Mokulua islands, in Hawaiian, means two islands. They are also called "The Moks" or "The Twin Islands." The larger island is called Moku Nui and the smaller, Moku Iki. Many kayakers visit the larger island and it does get crowded on the weekends.
Here is a panaromic view of the trail, which we started from the left and will end going down the ridge in the middle. To the right, you can see Bellows airfield which I believe is now defunct. Click here to see the original and much larger panoramic image.
Going down the hill towards my friends truck that was parked at Luika Place was probably the hardest part of the hike as the trail was composed of loose rocks and dirt. All in all, it was a short and sweet hike that took us a little over an hour to complete. Not a bad way to spend a Sunday morning.