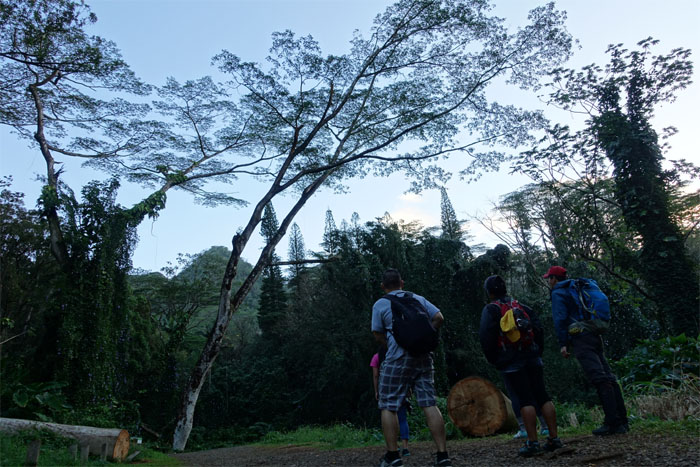 Heavy rains the day before scuttled our plans to explore the Moilili Karst, so we fell back on the secondary hike. Met up with Aly, Jumar, Rebecca, Thessa and Tom at the Treetops parking lot in Manoa. Early birds beat the parking attendant.
Just follow the sign.
If you know what's good for you.
Something was missing? Crowds. No complaints.
We soon plunged into the forest to look for a less visited waterfall.
More rocks than water in the stream today.
You want some plowerrrs?
Making our way on the trail, which for the most part was clearly defined by pink ribbons and a well trodden path.
We followed the stream …
… to the lower falls of Lua'alaea.
Climbed up to the left to reach the upper waterfall. The main show. Canceled.
Scouting out a loose rock trail to the right of the falls. Another hike for another day. Photo by Tom Engle.
We had to settle for another trickling waterfall. Best viewed on a rainy day.
Sometimes you just have to look up.
Weight limit was four hikers sitting and one hanging.
We took a slightly different trail back.
This one had still had some fight left.
Add sea salt, butter, garlic, shallots and red pepper flakes to taste.
Aly, Tom's niece, was an adventurous soul. She wanted to climb anything and everything, including this huge banyan tree. Photo by Tom Engle.
Checking out the ground view.
Fly ducks. Tom, get ready. Fly away.
Rebecca found an old department store card in the dirt of history. Remember Liberty House?
The group about to walk up the road to Lyon Arboretum to find another waterfall.
Kiss me.
National flower of Sri Lanka?
Group photo left to right: Thessa, Jumar, myself, Rebecca, Aly and Tom.
There are over 7,000 different tropical flora catalogued and collected on this 193 acre pasture.
No workshops today.
Parts of the trail meandered through cut tree roots.
Listen closely. Hear anything? Earthquakes?
Patter of ghostly feet?
Barely moist.
Do I look Hawaiian?
No crawfish were harmed in the making of this group photo. No waterworks today. So we made our own fun at the base of the waterfalls that were teeming with crawfish, frogs and shrimp. Sounds like a Chinese menu.
Pinch me from behind.
From nature's aquarium to Jumar's aquarium.
The group walked back to our cars…
…to discover parking slips. Five bucks. Some chose to pay with their dust.
Fun little hike exploring two waterfalls in the lush Manoa Valley. Post hike meal at The Alley Restaurant. Oxtail Soup. Broke da mouth. Sorry Kam Bowl.