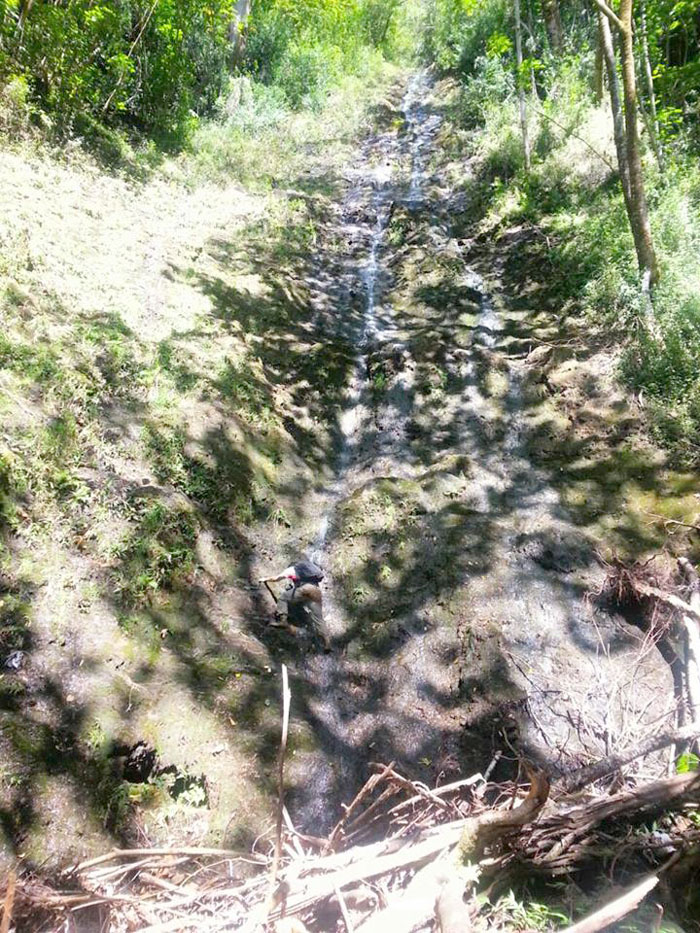 We still had daylight to burn from our last hike, so we drove to Manoa in search of a waterfall. Photo by Jasmin Nepomuceno.
My third visit to this trail. Still can't find all seven bridges. Forward. Backward. Circle.
Waited for Jasmin at this makeshift recycling center. Rumours circulated that she overslept in a cage.
Took the left fork to stay on trail.
We spaced ourselves apart so that we didn't exceed the weight limit.
Took the left junction that branched off the main trail to Waiakeakua Falls.
Jasmin and Jose outside the first abandoned house.
This fixer upper is reputedly haunted or just needs a lot of TLC. Fruit trees included.
Also known as Bamboo Waterfall.
The valley was thick with endemic and introduced flora.
Clouds of mosquitoes drifted from the stream towards our increased carbon dioxide output. Feeding time.
To climb or not to climb.
I'm not sure who enjoyed it more. Jasmin or the tree.
Thessa making her way through the downed trees that blocked the trail.
Group photo at the trickling waterfall left to right: Thessa, myself, Jose and Jasmin. Photo by Jasmin Nepomuceno.
Going back, we discovered an easier return trail on the opposite side of the stream.
We came across a huge tree that had split in half and fallen to the ground, forming a tree arch and a photo opportunity. Photo by Jasmin Nepomuceno.
Thessa, Jasmin and Jose next to an abandoned car. Calling Counting Cars.
Tastes bad. Good for you? Photo by Jasmin Nepomuceno.
Let's try to look scared this time. Photo by Jose Luis Delaki.
The group making their way out.
The short hike into Manoa valley was filled with fun times and good company. Post hike meal at Sanoya. Oxtail soup. Hold the ramen. Stuffed with gyoza.