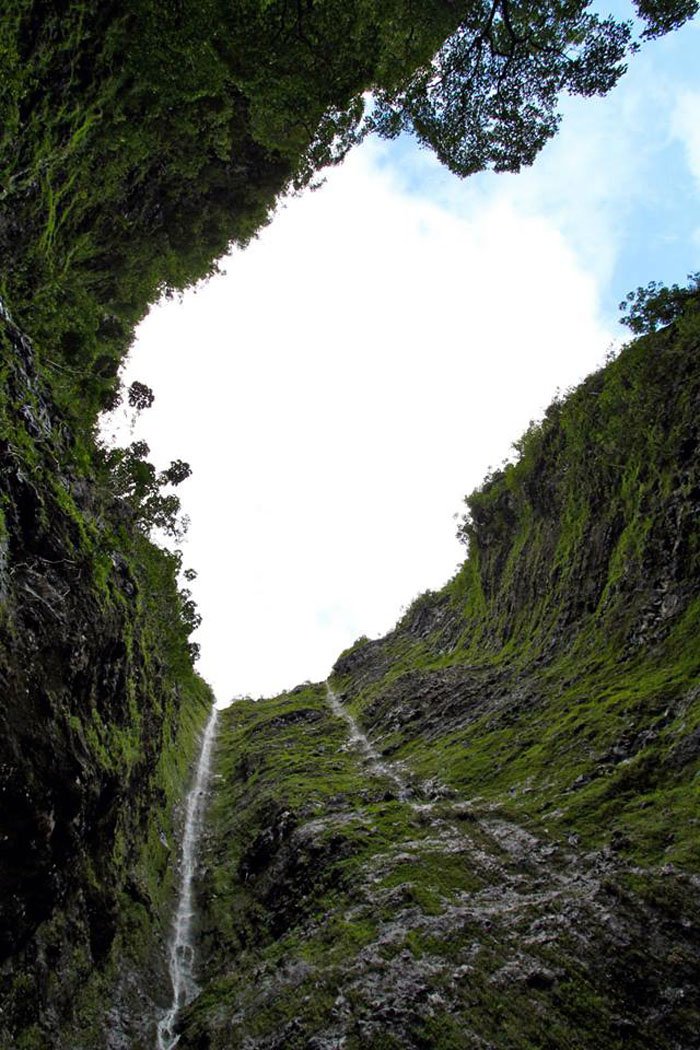 Taking advantage of the rainy week that was saturating most of the island, a bunch of us met at Swanzy Beach Park to hike up to Makaua Falls. I picked out a few familiar faces in the crowd: Marcus, Aaron, Kelly and Randy. Photo by Ashley Douglas.
Following the rainbow down Kamehameha Highway, that would hopefully lead us to a raging waterfall. We soon hanged a left at the fire station and went straight into Makaua valley. Be mindful of noise as the trailhead cuts directly between houses.
We paused briefly at the junction, going straight takes you to the waterfall and going left takes you to another hike.
Marcus playing lifeguard in case Randy and Orion showed signs of hypothermia while playing in one of the pools along the way. I understand the water was pretty much ice cold.
The trail is pretty straight forward, most of us alternated between following the stream or taking the trail that parallels the stream. While heavy rain turns on the waterfall, it also injects possibility of flash flooding and rocks falling from above. Photo by Kelly Quinn.
Marcus and Randy spotting on our first little waterfall. Expect to get wet and muddy on this hike.
A tad more challenging climbing up this section under their watchful eyes. Photo by Stephen Jonas.
Tony decided to take the less rocky path that was covered with heavy vegetation, more hand holds perhaps?
A huge tree had fallen onto the stream, roots and all. Made a nice little jungle gym. Photo by Kelly Quinn.
We were not alone. Ted and Lyzel had arrived earlier and were exploring the upper parts to find a path to the top. Photo by Ted Calvero.
Makaua Falls is usually bone dry without any significant amounts of rainfall. Today the falls was not raging, but still had a nice flow. Group photo left to right: Ted, Kim, Lyzel, Stephen, Orion, Bridgette, Tony, Marcus, Aaron, BobbiJo, Randy, myself, Ashley, Allicia and Kelly.
Rain started falling on us as we made our way back. Good time to beat any flash flooding that may come our way. Photo by Kelly Quinn.
The hike was just over two miles roundtrip that brought us to a nice waterfall tucked away in Makaua Valley. Some of us had lunch at Brick Oven Pizza after the hike, service was trickling, much like our waterfall today.