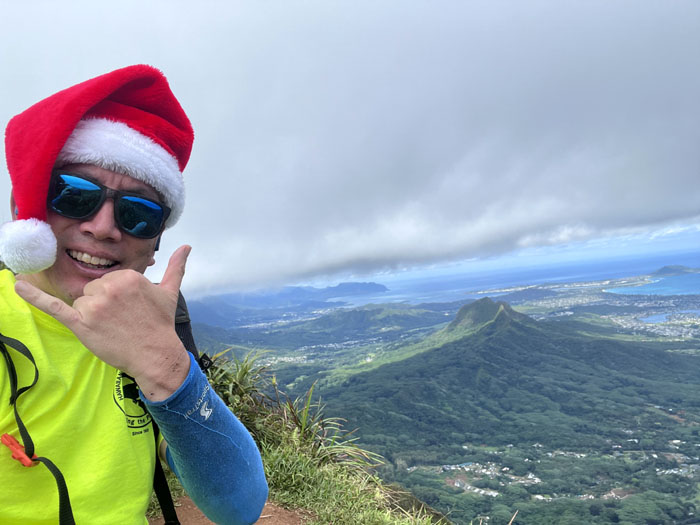 'Twas the day before Christmas, when all through the mountains, many a hikers were stirring, even a grinch rat.
The cars were being parked by the Maikiki Arboretum with care, as more hikers would soon be there.
The trail was followed with care, in hopes that we would not go just anywhere.
We soon sprang from the trail to cross over a weir, through the jungle we pushed and passed what looked like an elephant ear.
When, what to my wondering eyes should appear, but pouring water that was crystal clear.
With a festive cap on her head that she knew how to shake it, I knew in a moment it must be Nana Baket.
A forced smile on his face, made it clear that waterfalls was not his place.
I heard in the breeze, the sound of buzzing bees. A grin on his face, he caught his drone with grace.
And away we flew back down the path, only to find that I was blocked in by some dumbass. Happy Christmas to all, and to all a good hike.
https://www.youtube.com/watch?v=QID3d-I4CeE
Video by Edgar Gamiao of our Christmas Eve hike.
I still had daylight hours to burn, so I drove to the wealthiest zip code on the island to get in another short hike.
Random encounter on the trail with Britt, Jimmy, Mona and Ashley. See you guys next Christmas!
Looking back at the ridges flowing down from the Ko'olau Mountain Range.
I left the socked in summit of Wiliwilinui and turned right on the crossover trail.
Missing the prayer flags and green wooden sign that once marked the summit.
Resuming my traverse on the trail where I passed many of the endemic flowers colored in scarlet red.
Panoramic Windward view from the 2,520′ knob.
Looking above the uluhe ferns to Maunalua Bay sheltered by Koko Head.
I didn't see any flapping chickens as I took another shoefie at the summit. I recalled years ago, we tried ascending the Windward ridge that connects to this summit. A loose tree had me plummeting 30′ down the side of a cliff until my fall was interrupted by another tree. A firmly rooted tree. Needless to say, we turned around and called it a day at the beach where the salt water washed over my numerous scratches. Used up one of my nine lives.
Resuming my rollercoaster hike on the ridges while keeping my arms and feet on the ridges at all times. Well, maybe not all times.
Shaka from the 2,200′ flat topped mountain.
Looking back at the fluted flanks and oft-photographed spot.
Merry Christmas from the 2,028′ eroded hill.
I lost the mountain views temporarily as the trail plunged into the forest.
Passing the second set of powerlines on the ridge while pushing through the insufferable California grass.
360 degree view from on top of the Hawaiian pyramid. East side version.
Spreading Christmas cheer in the mountains. Thanks to Edgar for inviting me to his merry little hike in the morning. Mahalo to Chico for picking me up in the valley as I ended my Christmas Eve in the mountains.
Photos taken by Edgar Gamiao, Marilyn Bermudez and yours truly. Not necessarily in order.
Note: I have been made aware that some hikers have been using my blog as a hiking guide and getting lost on the trails. Please note that this blog was made to document the hike for the crew(s) that did it. That is why some of my comments will seem to have no relevance or meaning to anybody outside of the crew(s) that hiked that trail. My blog was never meant as a hiking guide, so please do not treat it as such. If you find inspiration and entertainment from these hikes, that is more than enough. If you plan on replicating these hikes, do so in the knowledge that you should do your own research accordingly as trail conditions, access, legalities and so forth are constantly in flux. What was current today is most likely yesterdays news. Please be prepared to accept any risks and responsibilities on your own as you should know your own limitations, experience and abilities before you even set foot on a trail, as even the "simplest" or "easiest" of trails can present potential pitfalls for even the most "experienced" hikers. One should also always let somebody know of your hiking plans in case something doesn't go as planned, better safe than sorry.