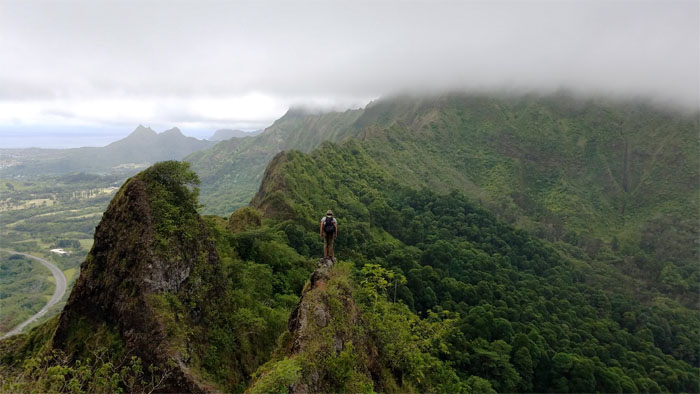 Met up with Alexis, Ani, Analyn, Chris, Ferlino and Lopaka at Moanalua Valley to get back in the saddle.
Swallowed up by the towering California grass and the inkiness of the early morning.
Going up the streambed without a hiking stick, we finally found the ridge and starting making our way up.
Looking back at the sun slowly eating the shadows. Nom nom.
Making our way to the power lines.
Following the rope to the summit, where we met a couple other hikers that had made it from the Tripler trail.
I think we are being photographically segregated at the top. Photo by Ferlino Carinio.
Pushing our way through the moss wrapped trees.
Hiking in the clouds. Always a surreal situation. Especially on a skinny ridge.
Clear on the left. Cracked in the middle. Cloudy on the right.
Ferlino contouring his way pass the crumbly section. Photo by Ani Lagpacan.
Alexis crawling around a boulder solidly anchored in the dirt.
Lopaka rounding the eroded corner.
Okay, who wants to go next? Photo by Ferlino Carinio.
Watch out below. I'm coming down!
Look mom, only one hand and one leg! Don't try this on the mountains, boys and girls. Photo by Ani Lagpacan.
Rope was only being used for photographic purposes. Right? Photo by Ani Lagpacan.
Making our way down past the broken wave.
Somebody was yelling "I live for this sh*t!"
Analyn watching Lopaka climb his way down. Photo by Ani Lagpacan.
Ferlino at the end of his webbing.
Slip sliding down the ridge. Photo by Alexis Widick.
Back to bipedal hiking.
Hold onto your hat!
Straddling the saddle. Photo by Alexis Widick.
Taking the Windward way down. Photo by Ani Lagpacan.
Chris making his way down as the wind was whipping the webbing something fierce.
Scooting and straddling. Photo by Alexis Widick.
Crawl, scoot, straddle or walk. Pick your poison.
Somebody needs to get with the program. Photo by Ani Lagpacan.
The group coming down tabletop rock.
Straddle, walk, straddle, walk, walk, walk. The sequence was not being followed.
Single file shuffling. Photo by Ferlino Carinio.
The gusty winds were kicking all sorts of loose plant life in the air, like this floating leaf.
Everybody wanted a picture on this rock. Photo by Lopaka Hipperson.
The group approaching the last obstacle on the ridge.
Sizing up the hat. 7 3/4. Photo by Alexis Widick.
Waiting their turn. Photo by Lopaka Hipperson.
Now if we all had brought broomsticks, the wind could carry us away. Photo by Alexis Widick.
Everybody making their way down the back of Witch's Hat.
Almost there.
Celebrating the end (almost) of our hike by unfurling the flag.
Pop quiz in the mountains, what is Alexis doing to Analyn?
a) trying to slap a mosquito on her butt.
b) deflecting her flatulence towards the group.
c) applying medical tape to her butt.
It was a day of firsts for Alexis. First time doing Kalihi Saddle. First time eating a spam musubi.
Rain showers brought slippery conditions to the stone steps. Pop goes the ankle.
Mahalo to Ferlino for carrying Alexis's bag and tripod for walking it out.
When a rain jacket just isn't enough.
Thanks to Jasmin for picking our group of soggy hikers up on the side of Likelike Highway.
Fun hike that covered 6.48 miles through ridges and valleys, with new and old friends. Post hike meal at Cattle Company. When ones hunger pangs override the need for pressing medical attention. Group photo left to right: Chris, myself, Ferlino, Jasmin, Alexis, Ani, Lopaka and Analyn. Thanks Ferlino for the meal. Hit the spot.
Note: I have been made aware the some hikers have been using my blog as a hiking guide and getting lost on the trails. Please note that this blog was made to document the hike for the crew(s) that did it. That is why some of my comments will seem to have no relevance or meaning to anybody outside of the crew(s) that hiked that trail. My blog was never meant as a hiking guide, so please do not treat it as such. If you find inspiration and entertainment from these hikes, that is more than enough. If you plan on replicating these hikes, do so in the knowledge that you should do your own research accordingly as trail conditions, access, legalities and so forth are constantly in flux. What was current today is most likely yesterdays news. Please be prepared to accept any risks and responsibilities on your own as you should know your own limitations, experience and abilities before you even set foot on a trail, as even the "simplest" or "easiest" of trails can present potential pitfalls for even the most "experienced" hikers.