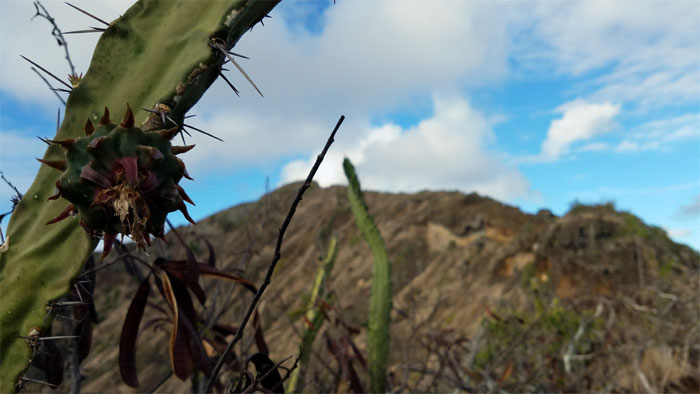 Jasmin joined me on a nice rim stroll around Koko Crater. Yes Koko Crater, not Koko Head.
We passed through head high dry brush grass and rusty barbed wire to gain the rim.
Jasmin making her way up the initial steep climb up the rim.
Cylindrical cacti stems sprouting from the rocky crevices.
Panoramic view of Jasmin rimming the crater.
This clump of distinctive looking trees used to tower above the rim line until the wind or old age bowed it over.
Jasmin in search of dragon fruits to pick. It was going to be a disappointing day.
Not as well known as the other ones scattered at Makapu'u and Pali.
Relaxing on the pile of rocks. Photo by Jasmin Nepomuceno.
Typical windy day on the rim. Just ask my hair.
And the prestigious award goes to …
The rim sure beats taking the 1,048 steps up to the 1,200′ summit. Photo by Jasmin Nepomuceno.
Excuse me. Passing through.
Sitting down and soaking in the views. Photo by Jasmin Nepomuceno.
We crossed paths with a couple other hikers who had come up from the arch.
Jasmin skirting her way underneath the overhanging rock.
We can see the arch.
Hikers coming, going and staying at the arch.
Jasmin making her way down the relatively smooth faced topside of the arch.
Mauka (mountain) end of the arch …
… to the makai (ocean) end of the arch.
Jasmin looking for the drone in the sky. Too windy.
We made the dangerous car crossing of Kalanianaole Highway to wait at the Halona Blowhole Lookout. Thanks to Ray for taking us back to our cars. Short hike didn't warrant a post hike meal. People to see. Places to go. Photo by Jasmin Nepomuceno.
Note: I have been made aware the some hikers have been using my blog as a hiking guide and getting lost on the trails. Please note that this blog was made to document the hike for the crew(s) that did it. That is why some of my comments will seem to have no relevance or meaning to anybody outside of the crew(s) that hiked that trail. My blog was never meant as a hiking guide, so please do not treat it as such. If you find inspiration and entertainment from these hikes, that is more than enough. If you plan on replicating these hikes, do so in the knowledge that you should do your own research accordingly as trail conditions, access, legalities and so forth are constantly in flux. What was current today is most likely yesterdays news. Please be prepared to accept any risks and responsibilities on your own as you should know your own limitations, experience and abilities before you even set foot on a trail, as even the "simplest" or "easiest" of trails can present potential pitfalls for even the most "experienced" hikers.