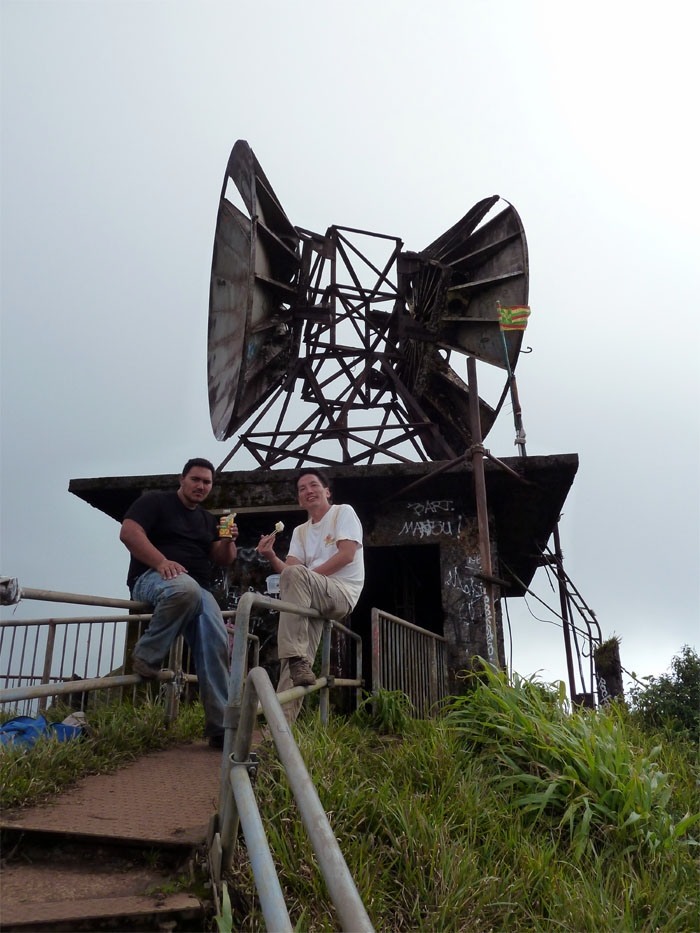 This was our third hiking route to Haiku Stairs and the most challenging to date. I met Chris and Glenn at the end of Ala Aolani Street and we started our hike into Moanalua Valley Park around 6:20am.
We passed the numerous bridges that cross Kamananui stream and Korean hikers started to pass us by as they briskly made their way on the trail. Another new sight since we last did this hike, was the presence of several information signs along the trail that gave the history of the valley.
After three to four miles, we turned left onto the Kulana'ahane trail and made multiple stream crossings oftentimes below the tangled thicket of hau tree branches.
Eventually we came to a sign that pronounced it was the end of the maintained trail, where we took another left that led to the ridge going up to the saddle. Moanalua Waterfall was dry, which was good as water gushing over the waterfall would probably mean flash floods down in the valley. 
Going up the somewhat steep ridge made our lungs work harder after the long and flat trail through the valley.
We reached the saddle at an elevation of 1,660 feet around 9:10am and was rewarded with sweeping views of Haiku Valley and Kaneohe. Click here for the larger panoramic image.
Our goal was the CCL building at the top of Haiku Stairs which the clouds hid from our view most of the time until we got closer. But to get there, we had to first traverse the saddle that we had heard so much about; being described as mental, gnarly and challenging. We were about to find out for ourselves firsthand.
We turned right and started walking on the saddle that was initially vegetated and eventually opened up to a more narrow and exposed trail. Looking into Moanalua Valley, we could see how far we had hiked to get to the saddle.
Climbing up this rockface showed how brittle the rocks or choss on this saddle is. I was going up the Windward side and halfway up, when the rocks gave way which sent me sliding back down about five feet. Sliding down a rockface, especially one that is over an exposed cliff, is not a good feeling. Chris and Glenn climbed it by contouring more to the Leeward side, which afforded more stable holds.
The next challenge facing us was this area or triangle of dirt. As we made our way down to the triangle of dirt, we could see a black cable/rope dangling from above, so close and yet out of reach. So we started contouring around to the Leeward side. This is where holding onto clumps of grass and dirt does not pay off, which resulted in me sliding down about 20 feet before Chris arrested my fall by catching my ankle.
As we made our way up from the Leeward side to regain the saddle, it was all about grabbing onto tree branches and clumps of vegetation to pull oneself up. Ropes would have been nice here. Glenn was the first one up, so he was giving advice on which way to take. I was behind Chris coming up, as he was deciding which way to take, my hold was getting precarious so I moved up next to him. After that, Chris started to climb up and in the blink of an eye, he lost his handholds and slid at least 60 feet down the mountain to be stopped by one of the numerous trees on the Leeward side.
Calling out to Chris returned replies that he was shaken but okay, no broken bones or major injuries. Rule#1 – Don't fall. Rule #2 – If you fall, fall on the Leeward side and not the Windward side. Because a fall on the Windward side would not be good news. While any falls are not good, the Leeward side generally has more gradual slopes going down and trees dotting the terrain. Now all we had to do was get Chris back in the saddle. Glenn rapelled down with rope to locate Chris and brought him back up after spending almost three hours down the side of the mountain. Rule #3 – Bring rope when you hike these summit trails. If we didn't have rope, we would have been on the 6 oclock news. Not good.
Chris maintaining his sense of humour after his tumble down the mountain. Props to him for finishing the hike.
Going up this rockface was made easier with ropes left by other hikers. Shout out to the clubs and hikers that have cleared and roped these trails that makes it easier for the rest of us. Without all that prep work, hiking some of these trails would be nuts. Parts of this rockface was made up of brittle rock and questionable handholds and footholds, so putting all your weight on the rope was necessary in order to climb up.
Glenn coming up the last rockface, with Chris waiting at the bottom for his turn. After this, the trail becomes a "typical" Koolau summit trail in terms of being narrow and overgrown with vegetation. But that was a piece of cake compared to what we had just done.
Glenn and Chris taking a break in the shadows of Haiku North Ridge, where there are another set of "sister" stairs called the Haiku Hidden Stairs. Another hike for another day.
We arrived at the back door of the CCL Building or Haiku Back Stairs around 4:00pm. These stairs don't look like they receive regular maintenance, as they were heavily overgrown, rusted and bent in places. But they were a welcome break from trodding on the trail.
Eventually the stairs ended and was replaced by a steel cable that ran alongside the Windward side of the cliff. Parts of the cable are broken, jagged, rusted and twisted. Make sure your shots are up to date!
We reached the top of Pu'ukeahiakahoe at an elevation of 2,800 feet around 4:30pm. Click here for a larger panoramic image from the top.
Only 3,922 steps to the bottom! A hiker coming up told us of another hiker that had died on these stairs earlier this morning. Turned out to be from a medical condition and not from falling off the hike.
After munching down our bento, canned peaches and granola bars; we started going down the stairs around 5:30pm.
Click here for a panoramic view as we descended the stairs approaching the Hoist House.
These views never get old for me, no matter how many times I've done and seen them.
We got to the bottom of the stairs around 7:00pm and the guard was long since gone. Heard from other hikers coming up the stairs that the guard usually leaves around 3:30-4:00pm on the weekends. We went down the road, crawled underneath the fence and thrashed our way through the bamboo forest in the dark until we found the road that took us to Glenn's truck and back to Moanalua Valley Park. It was a very long day, but glad that we all made it out safe and sound.