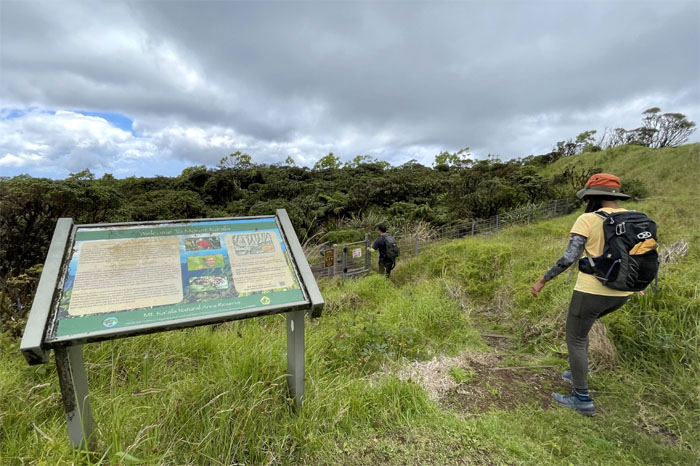 Lack of a 4×4 ride resulted in additional cardio for our hike today. Thanks to Robert for dropping Art, Lilyn and myself off on the side of the highway where a directionally challenged, sunrise seeking person stopped by to give us greetings instead of a ride.
Group photo by Aida Gordon, left to right: Art, myself and Lilyn.
I didn't know Biki had a station way out here.
Sometimes I don't know if I'm coming or going. Photo by Art Young.
When you got to go, you got to go. Photo by Lilyn Avendano.
We could soon finally see the pine trees for the camping grounds. Photo by Art Young.
The end of our 3.5 mile hike up the road. Photo by Art Young.
Don't we know that red-headed stepchild? Photo by Art Young.
Stepping foot on a trail that is part of the sprawling 658 acres of the Pahole Natural Area Reserve.
The trees were fruiting but not quite ready for picking.
Climbing up the short stretch to gain the ridge line.
Bench with a view of Makua Valley. Photo by Lilyn Avendano.
Only one hour to the next summit?
Post with a view. Photo by Lilyn Avendano.
Pushing our way through the endemic overgrowth.
You can't be in two places at the same time. But you can be in three places at the same time. Photo by Lilyn Avendano.
Swimming in overgrowth. At least it was native. Photo by Art Young.
We soon could see the road for the overgrowth. Photo by Lilyn Avendano.
Trying to take a video and climbing down a steep fence is harder than it looks. Photo by Art Young.
Hiking koan. Two reflections and one hiker. Photo by Lilyn Avendano.
Walking up the paved road. At least it wasn't cluttered with native overgrowth.
Art admiring the views of the nearby valleys and ridges. Photo by Lilyn Avendano.
Halfway there. Photo by Art Young.
Somebody finally lucked out with a view from the top but struck out on the bathroom. Photo by Lilyn Avendano.
Anybody in there that can give us a ride back down? Photo by Lilyn Avendano.
The sign took the words out of somebody's mouth. Photo by Lilyn Avendano.
Looking for endemic fauna. Not very successful I might add.
Our view as we descended from the highest peak on the island. Photo by Lilyn Avendano.
The tree was just waiting for somebody to belt out the rendition made famous by a certain yawyaw.
Art descending down the steeper section of the trail.
Taking the easy way down. Photo by Art Young.
I don't think this is what bouldering is all about.
Following the fence line to its lowest point on the saddle. Photo by Lilyn Avendano.
Leaving the ridge line for the verdant valley.
Skipping and sliding down the leaf covered trail.
We met some hunters coming up the road. One was more heavily armed and less camouflaged than the others. We also found out that three cars had been victims of "smash and grab." Not to be confused with DoorDash.
Our 12 plus mile hike started with a long road and ended with a long road that was filled in between with great scenery and good company. Thanks to Quan for picking us up and saving us a visit from Safelite AutoGlass. Post hike meal at Ono Steak & Shrimp as the Puerto Rican eateries were closed on Sunday.
Note: I have been made aware that some hikers have been using my blog as a hiking guide and getting lost on the trails. Please note that this blog was made to document the hike for the crew(s) that did it. That is why some of my comments will seem to have no relevance or meaning to anybody outside of the crew(s) that hiked that trail. My blog was never meant as a hiking guide, so please do not treat it as such. If you find inspiration and entertainment from these hikes, that is more than enough. If you plan on replicating these hikes, do so in the knowledge that you should do your own research accordingly as trail conditions, access, legalities and so forth are constantly in flux. What was current today is most likely yesterdays news. Please be prepared to accept any risks and responsibilities on your own as you should know your own limitations, experience and abilities before you even set foot on a trail, as even the "simplest" or "easiest" of trails can present potential pitfalls for even the most "experienced" hikers.