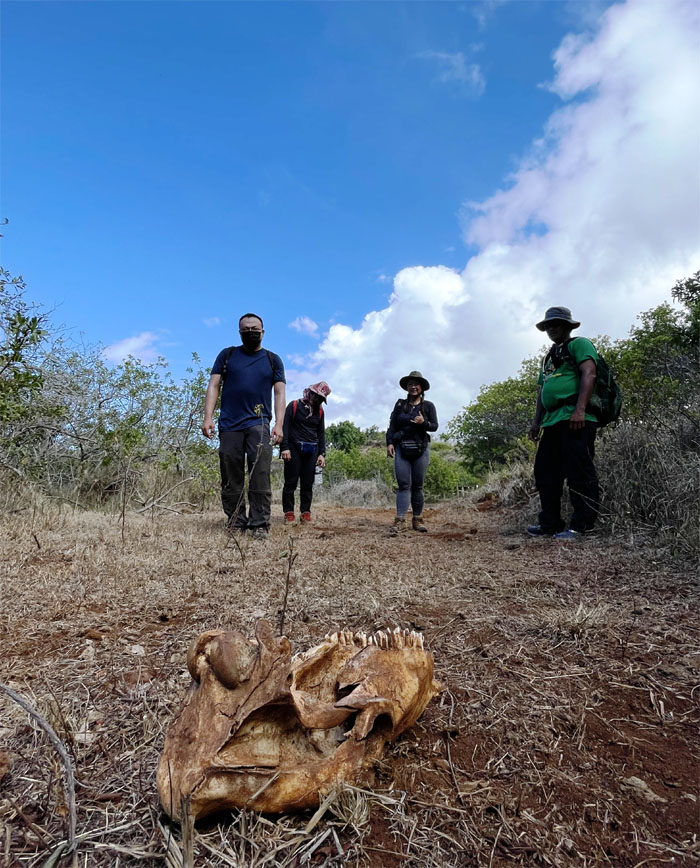 We returned back to the West side to tie up some loose ends and with a 4×4 ride to boot.
Star Trek meets Spaceballs. Thanks to Barry for driving Art, CJ and myself up to Peacock Flats.
Tracking space debris since Statehood.
Enjoying our ride on four wheels and not two feet.
When not one but two of the rare Hawaiian lobelioid are closer than you think.
When a good natured scare that walked up from the Mokuleia side is mistaken for a botanical berry.
Can you see the spiderweb for the pine tree? Photo by CJ Mendiola.
Look! Up in the mountains! It's a peak! It's a cabin!
When it's easier to climb up a tree than get down from one.
Climbing over the fence line to get a better look at the valley below us.
10 seconds to spare for the group photo, left to right: myself, Art, CJ, Chris and Quan.
Passing the enclosed habitat for endemic shelled gastropods. Photo by Art Young.
One of many fence crossings as we passed through part of the vast 685 acres of protected ecosystems. Photo by Art Young.
Checking out the conservation work. Photo by Quan Haberstroh.
Art climbing up to refill his water supply. Filtration notwithstanding.
Chris going down the heavily rutted jeep road.
Backdrop of Makua Valley for our group photo.
Following in the tracks of our earlier ride.
Picking the abundant passion fruit that lined the trail slowed the forward progress. Photo by Chris Bautista.
There were more 4×4 vehicles on the road today than hikers.
Back on a familiar trail for some.
Trying to not let the gate hit me on my way out or in? Photo by Art Young.
The group coming down the fenced trail.
Doing my best alcoholic impression. Photo by Art Young.
Behind the scenes photography.
Traversing along Makua rim populated by eucalyptus trees. Photo by Quan Haberstroh.
We're not finished yet. I don't know why you guys are jumping for joy.
Walking down on what could arguably be the widest trail on the island. Photo by CJ Mendiola.
We got to the shelter but had no picnic. Photo by CJ Mendiola.
The ocean looked cool and inviting on this scorcher of a day. Photo by Art Young.
The wildlife was very docile in these neck of the woods.
Straying off or on the reservation? Photo by Art Young.
Contorting and crawling was the name of the game today. Fun. Fun. Fun. Say it enough times and one might actually believe that gibberish. Photo by CJ Mendiola.
Glad they are looking up at the heavenly bodies. Photo by Chris Bautista.
Leaving the claustrophobic trail for a much more roomier one. Photo by Art Young.
Farmer Bautista. Photo by Art Young.
Tee time in the mountains. Photo by Art Young.
Staying off the reservation. Photo by Art Young.
Washing your hands is even more important in these COVID times that we live in.
Leaving behind some irritated hornets that peppered me with stinging souvenirs when I disturbed their hive. Lucky it wasn't those Asian giant hornets. Photo by Art Young.
Hiking our way down the rocky ridge that was littered with military leftovers. Photo by CJ Mendiola.
Looking back at both sides of the island.
#7. A perfectly good waste of sparkling wine. Photo by CJ Mendiola.
Coming down the mountain. Photo by Art Young.
Treading over train track remnants from a different era when locomotives used to circle the island. Photo by Chris Bautista.
Art on the arch.
No green flash sighted. Thanks to Lilyn and Aida for shuttling the group to our parked cars. What happens if a hiker finishes the mountain range but no one is around, does it count? Benefit of the doubt and dubious congratulations to the lady from the sandbar for completing the WST today as well. Photo by Quan Haberstroh.
Our finishing end to the Waianae Summit Trail covered roughly 15.6 miles through rugged terrain and raw beauty. Fun hike with good friends. Post hike meal at The Beach House by 604, where the clam chowder wasn't world famous and the live unfiltered music made up for the mediocre food.
Note: I have been made aware that some hikers have been using my blog as a hiking guide and getting lost on the trails. Please note that this blog was made to document the hike for the crew(s) that did it. That is why some of my comments will seem to have no relevance or meaning to anybody outside of the crew(s) that hiked that trail. My blog was never meant as a hiking guide, so please do not treat it as such. If you find inspiration and entertainment from these hikes, that is more than enough. If you plan on replicating these hikes, do so in the knowledge that you should do your own research accordingly as trail conditions, access, legalities and so forth are constantly in flux. What was current today is most likely yesterdays news. Please be prepared to accept any risks and responsibilities on your own as you should know your own limitations, experience and abilities before you even set foot on a trail, as even the "simplest" or "easiest" of trails can present potential pitfalls for even the most "experienced" hikers.