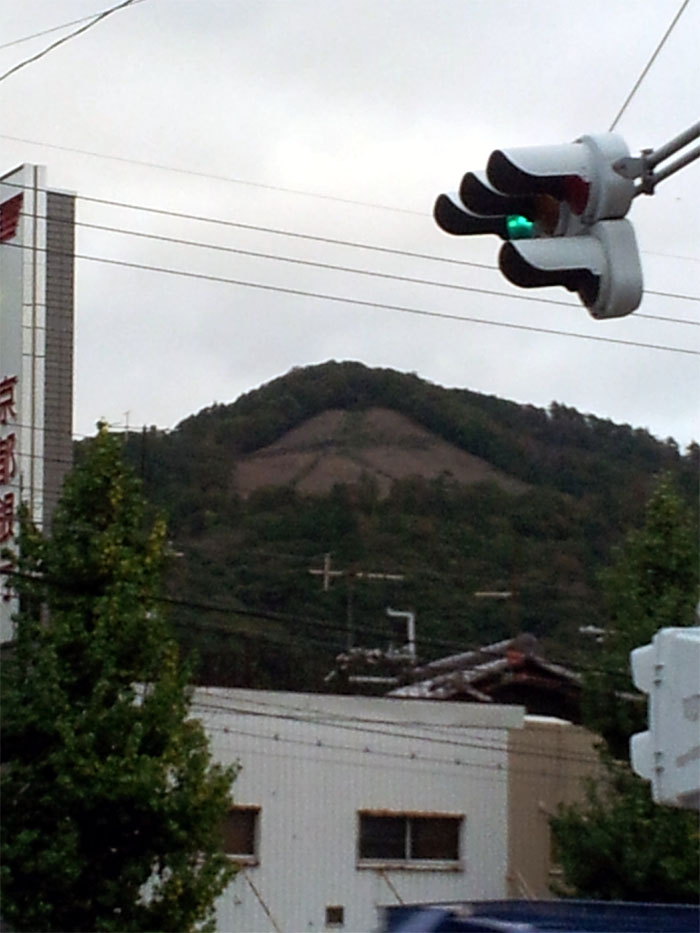 Being in Japan for about a week, I was experiencing "temple fatigue" syndrome, so I decided to strike out and hike a mountain called Daimonji yama in the historic city of Kyoto. The mountain has a huge chinese character that is set afire during the annual obon festival. An easy one at that, as I only had Crocs for my footwear. I took the #17 city bus that would take me to Ginkaku-ji from Kyoto station, the second largest train station in Japan. The place is huge, you can easily lose a day checking out all the place has to offer. Quick cultural note – Japanese buses are entered from the back and you pay as you exit from the front.
Roughly 20 minutes later, the bus dropped me off at the Ginkaku-ji stop. The bus also has canned English announcements about each coming stop. I walked up a short road that was lined with eateries and tourist trinket shops. I took a left just before the entrance to Ginkaku-ji and walked down a narrow road towards a stone torii or traditional Japanese gate, that marks the boundary between the profane and the sacred.
I took a right at the torii and started walking towards the mountain.
After a couple minutes, I came across a fork in the road that had a small shrine in the middle and took a right to get to the trailhead.
This is the trailhead, don't ask me what the sign said.
The beginning of the trail is paved and parallels a stream flowing down from the mountain. Being late in the day, I saw few hikers that included a small group of older ones coming down from the trail.
The trail soon turned into a wooden stairway carved into the mountainside.
The rest of the trail yielded back to Mother Nature.
There were a couple set of stone stairs going up. This was probably the hardest part of the hike.
I arrived at the top of the mountain, with slightly overcast skies to greet me. The hike from bottom to top took roughly 25 minutes.
Despite the overcast skies, the city of Osaka can be seen to the far left along with views of South Kyoto. The fire pit in the picture above is at the center of the giant chinese character that can be seen from the city below.
The fire pits and bonfire areas are lined with pinewod and pine needles every August 16th and set ablaze at 8pm to see off the departed souls of ancestors.
Another view of South Kyoto.
I climbed further up the mountain to the top of the fire pits and bonfire areas. After taking in the views, I headed back down to catch the bus back. This is a short and sweet hike that affords great views of the city below.