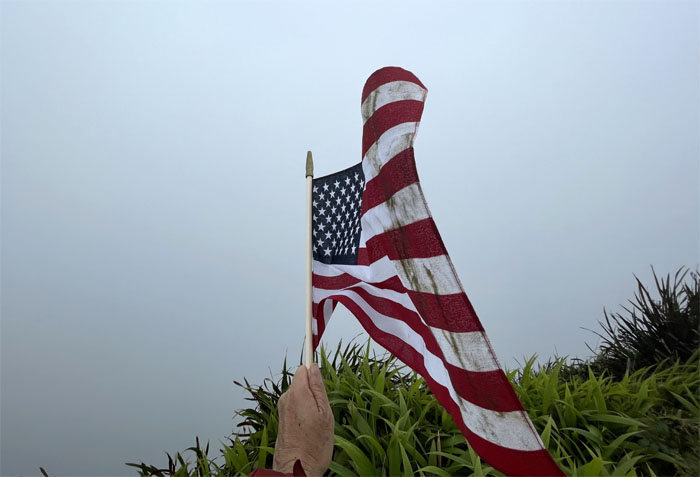 It was supposed to be a promising day to be in the mountains today. A sucker is born every minute.
Thanks to Barry for dropping Aida, Art, Chris, Marilyn, Quan and myself off at the Pali Lookout. Somebody woke up late and still forgot their spikes. See you on the next hike.
Quan scrambling up the short and stiff climb. Photo by Aida Gordon.
Catching the breaking sunrise that was textured with the drifting clouds.
Marilyn making her way to the hole in the cliff.
Group photo left to right: Marilyn, Quan, myself, Aida, Chris and Art.
The group making their way up the steep contour littered with blowdowns and loose under footing.
Climbing our way up through the forested flank of the ridge line. Photo by Quan Haberstroh.
Aida at the top of the ridge line. Photo by Quan Haberstroh.
Cloudy and windy conditions greeted us on the ridge line. Photo by Quan Haberstroh.
Aida pulling herself up the first of many humps. Photo by Quan Haberstroh.
Trying to keep our balance on the skinny ridge without getting blown off. Photo by Marilyn Bermudez.
Climbing down past the leaning tree of Nu'uanu.
The group making their way up and over the rugged ridge line. Photo by Art Young.
Quan hugging the boulder as she makes her way down. Photo by Aida Gordon.
Aida contouring the rock shaped tooth. Photo by Quan Haberstroh.
Passing a cluster of the endemic red stamen flowers. Photo by Art Young.
Everybody was busy climbing while Chris checked into Instagram. Photo by Art Young.
The group climbing up the crumbly ridge line.
Gaining elevation as the moisture laden clouds enveloped the ridge line and released its cargo. Photo by Quan Haberstroh.
Are we having fun yet?
Hiking in the clouds.
Can you see the 23rd letter for the clouds? Photo by Aida Gordon.
Dropping off the hill to contour our way around the fourth-to-last letter of the alphabet. Photo by Quan Haberstroh.
Don't look down!
Contouring and climbing our way up and over the rock obstacle. Photo by Art Young.
One will be amazed to find the assortment of climbing aids in these mountains. Wire. Printer Cable. Webbing. Rope. Twine. String. The best climbing aids are a few good friends.
Going down the narrow spire of a rock. Photo by Quan Haberstroh.
Aida climbing down as the winds were whipping something fierce. Photo by Quan Haberstroh.
The group making their way to the what many think used to be another puka (hole) in the mountains before erosion took its toll. Photo by Art Young.
Quan going down the point of no return where a small section of the trail had been washed away from a landslide. Actually, there was a point of return which the girls took to double back down to the Pali. Mahalo to Narissa for picking them up. Photo by Aida Gordon.
Art making his way down the one way trail. Gender segregation.
Chris climbing his way out of the saddle.
White out conditions at the 2,700′ peak. Decisions, decisions, decisions. Stick with the original plan or go down with Chris?
Heading down the trail as rain showers saturated the ridge. Good call on Plan C.
When plants provide amusement for others. Photo by Art Young.
Sighting of the invasive species that got its name from the first Governor of Kenya. Photo by Chris Brower.
We dropped almost a 1,000′ in elevation as we took in the views from the 1,831′ hill.
Walking down the pine needle carpeted trail while hearing multiple choppers overhead and sirens in the distance. Unanswered calls. Dark thoughts. Unfounded thoughts. Photo by Art Young.
Nearing Na Pueo Park as the city views unfolded before us. Photo by Art Young.
We met up with two hikers going up the mountain who were training for the Kalalau Trail, which is still on my bucket list. Thanks to Quan for picking us up.
Our Independence Day hike covered a little over five miles that included a crumbly ridge line, inclement weather, good company but no fireworks. Somebody finally got to finish this section, while two others have to come back one day when trail and weather conditions are more favorable. Post hike meal at Pieology.
Note: I have been made aware that some hikers have been using my blog as a hiking guide and getting lost on the trails. Please note that this blog was made to document the hike for the crew(s) that did it. That is why some of my comments will seem to have no relevance or meaning to anybody outside of the crew(s) that hiked that trail. My blog was never meant as a hiking guide, so please do not treat it as such. If you find inspiration and entertainment from these hikes, that is more than enough. If you plan on replicating these hikes, do so in the knowledge that you should do your own research accordingly as trail conditions, access, legalities and so forth are constantly in flux. What was current today is most likely yesterdays news. Please be prepared to accept any risks and responsibilities on your own as you should know your own limitations, experience and abilities before you even set foot on a trail, as even the "simplest" or "easiest" of trails can present potential pitfalls for even the most "experienced" hikers.