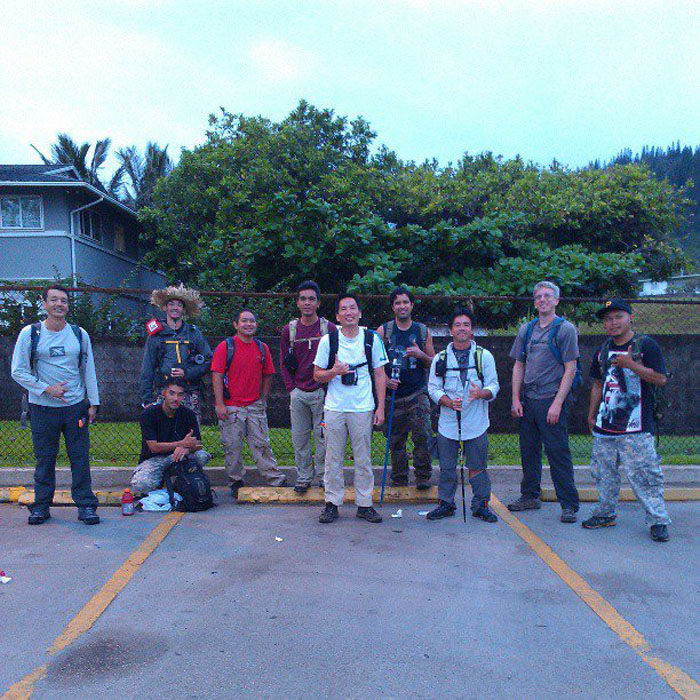 2:00am. What was I doing up so early on a Sunday morning? Boy's Day? No, it was to join David and the crew of J, Tom, Ted, Yoshi, Randy, Troy, Chenay, Kinky and Gerwin to hike the last segment that David needed to complete the entire Koolau Mountains. We staged some cars at Laie and met at the Hauula 7-11 parking lot. Here we are, all nice and dry. That would change at the end of the day, or should I say night? Photo left to right: Tom, Yoshi, J (sitting), Troy, Ted, myself, David, Kinky, Randy and Gerwin. Photo by Chenay Borja.
After we recovered from mis-communication issues and re-grouped, we all struck out a little after 6:00am as the sun rose through scattered clouds.
As we made our way down Hauula Homestead Road, we noticed a bunch of hunters with their dogs that were already at the gates.
We let the dogs and hunters pass us by as they went straight to the Hauula Loop Trail and we turned left onto the Ma'akua Ridge Trail.
After crossing a dry stream bed and going up several switchbacks, we took a short break at one of the benches that were installed on the trail. From here, we took the right junction to get on the Papali Ridge Trail.
Checking out a rainbow to our right in the Ma'akua Valley, as we made our way up the trail. Usually, rainbows come after the rain. So it should be dry weather ahead. Wishful thinking.
A taste of things to come, as we went through knee-high ferns and vegetation.
One doesn't necessarily always have to sit down to take a rest, you can be like Yoshi and lean against a tree.
The trail on Papali Ridge while slightly overgrown, is clearly marked and seems well-traveled.
So far, Mother Nature was giving us a respite from the rains that frequently visit the area.
Looking out to Laie and beyond.
Crossing a saddle amongst the rolling hills of the Northern Koolaus.
Making our way up to a small hill with an outstanding view waiting for us.
Click here for the larger image.
We soon left the Papali Ridge and connected to the Castle Trail. Technically, access to Castle Trail from Punaluu Valley has been forbidden for quite some time. HTMC had legal access, but that was just recently revoked by the Bishop Estate due to over-exposure and liability concerns.
According to Randy, Castle Falls was the highlight of the HTMC hike when it was legally sanctioned. We all had a mere 30 seconds or so to view the falls before the clouds robbed us of the view. Then somebody turned on the sprinklers.
While waiting for the rest of the group to come back from looking at the falls, I noticed J taking his usual macro shots and tried my hand at it. Not as good.
 This section of the trail had shoe sucking mud. I hate mud.
We reached the Koolau Summit Trail at around noon, all cold and wet.
Even with GPS tracks, we got off the beaten path a couple of times. The Northern Koolau section is mostly broad with rolling hills and numerous spur ridges branching off. It's very easy to get lost up here. Being socked in didn't help either. What does help, is to have a bunch of seasoned hikers who will eventually figure out how to get back on the beaten path.
The trail soon ran into a fenced off area, meant to keep out feral pigs and goats.
We hopped the fence to take a look at the Koloa cabin, which appears to still be under construction. It was still good enough to have a roof to keep out the rain as we took shelter inside.
It felt so good to lie down on something solid and dry, even if it was only for a couple minutes. Photo by David Concepion.
A simple touch of civilization in the Koolau mountains.
We followed the fence as it roller coastered up and down, until somebody realized we had overshot the junction to Laie. Go back! We then went back to the junction and followed the trail until it passed a heli-pad and a small meadow which we crossed.
Top of Laie summit at 6:30pm. Congrats to David for finally completing the entire Koolau's. An accomplishment I hope to repeat one of these days. We still had five more miles to go, but it was all downhill. In the rain. Always a catch. Photo by Francis Joy.
Five of the mountain goats – J, Ted, Tom, Yoshi and Randy ran down most of the five mile trail. The rest of us just hiked it down, using headlamps for about the last two hours. We made it back to our cars around 9:30pm. This was a long day, an understatement at best. But what a hike!
The 15.6 mile hike took us 15 1/2 hours to complete. Cold, wet and tired. But glad to have completed my first hike on the Koolau Summit Trail.