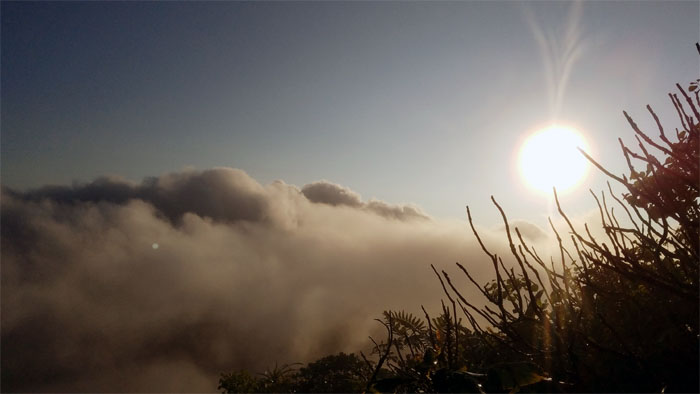 Ben and I woke up before the crack of dawn to attempt our three saddle traversal hike. Key word on attempt. Somebody overslept again.
Heading up the ridge, too early for the bees.
Gazing at the Windward city lights.
Ben peering over the notch into the inky darkness.
Daylight breaking over the mountains, allowing us to put away our headlamps and actually see where we're going. Photo by Ben Hinders.
We sat down for a spell to take in the incredible show of the clouds drifting through the mountains under the morning sun. Photo by Ben Hinders.
Our only company on the ridge.
Squinting to figure out if we were seeing 2 or 3 fogbows. Photo by Ben Hinders.
The show was over, so we started to make our way down the ridge, when Ben slipped into a false hole and rolled his ankle. Game over.
Leaving the clouds behind us as we dropped in elevation.
Ben checking out one of the engineering marvels of the arachnid family.
Hitting the chossy rocks.
Throwing a shaka out. Photo by Ben Hinders.
Ben decided not to throw a shaka out.
We spotted a green shirted individual hanging out by the man made notches, who turned out to be Chris, as we took our group photo.
Time to go down the chimney. Ho ho ho. Too early and too skinny. Photo by Ben Hinders.
Ben making his way down between the slabs of rocks.
Morning yoga in the mountains. Photo by Ben Hinders.
Ben braving the strong winds and eroded rock to redeem himself. Maybe next time.
Ben climbing up the second notch.
Chris making his way up the first notch.
Making our way down through the rabbit hole.
Taking in the panoramic views of Kailua and Kaneohe.
Making our way down to mingle with the tourists who couldn't take our picture with the timer on for all the Ginseng in Korea.
But wait, why can't we take a picture at the lookout instead of the sign? Our abbreviated hike covered 2.10 miles through a pitch black ridge, cotton candy views and rainbows. Not a bad way to spend the morning with good company in the mountains. Thanks to Chris for meeting us and driving me back to my car. It was too early for us to eat, so we all called it a day.
Note: I have been made aware that some hikers have been using my blog as a hiking guide and getting lost on the trails. Please note that this blog was made to document the hike for the crew(s) that did it. That is why some of my comments will seem to have no relevance or meaning to anybody outside of the crew(s) that hiked that trail. My blog was never meant as a hiking guide, so please do not treat it as such. If you find inspiration and entertainment from these hikes, that is more than enough. If you plan on replicating these hikes, do so in the knowledge that you should do your own research accordingly as trail conditions, access, legalities and so forth are constantly in flux. What was current today is most likely yesterdays news. Please be prepared to accept any risks and responsibilities on your own as you should know your own limitations, experience and abilities before you even set foot on a trail, as even the "simplest" or "easiest" of trails can present potential pitfalls for even the most "experienced" hikers.