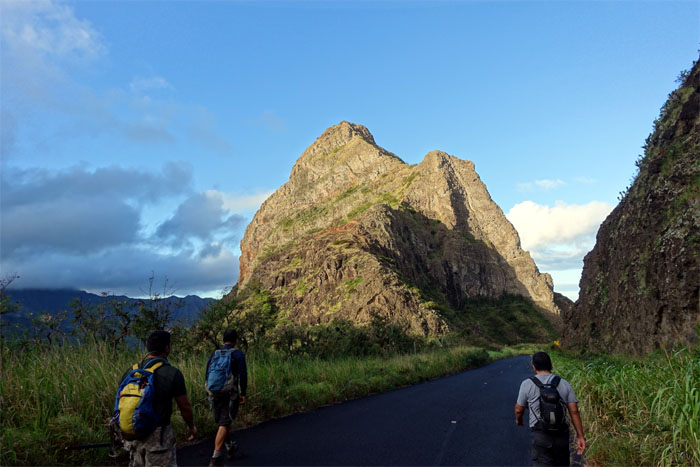 Blustery weather had rained on our saddles parade. Chris, Glenn, Jose and myself decided to go with our backup hike. Go West hikers!
Kolekole Pass was open to the public again. Early hikers get the trail all to themselves. Not a soul in sight.
Returned to the forbidden mountain to complete some unfinished business.
Glenn going up the steep climb at the base.
Chris and Jose coming up from the base.
Jose headed towards the saddle section.
One crumbly rock at a time. Photo by Jose Luis Delaki.
Where there are rainbows, there are rain. Not far behind.
Breezy winds kept us cool on the climb up, nothing like the gusty winds that were blowing us around last time.
Watch your handholds.
Jose climbing in between the rocks.
Chris and Glenn scrambling their way up. Well one is scrambling, the other is pausing.
Group photo at the 1,940'summit left to right: Jose, Chris, myself and Glenn.
Time to explore the backside of Pu'u Ka'ilio.
Must be some serious hiking ahead.
Hold on, I have to take this call.
A tender paddle ready to be plucked, boiled and grilled.
Prickly pear flower. No fruits.
The coastal valley used to be the center of volcanic activity millions of years ago.
I was about to climb down this rock face when I felt wetness in my lower extremities. Had I peed myself? I checked and found that my camelbak bite piece had fallen off and water was pouring out of my tube. The other tube. Photo by Jose Luis Delaki.
Jose climbing his way down.
Hmmm, doesn't look that bad. Famous last words. Photo by Jose Luis Delaki.
We climbed down the side to avoid what looked like impassable steep rock faces.
Mountain inspiration.
The hill had panoramic views of the Waianae coastline and mountains. Stunning all around.
Call for Mister Toyama.
Jose showing his rock moves.
Glenn climbing up the rock fin. Banned in 27 countries. Photo by Chris Chun.
It just looks steep. Looks are deceiving. Photo by Jose Luis Delaki.
Dark clouds rolling our way. Start or stop praying? Photo by Jose Luise Delaki.
Jose trying to levitate.
Rock rubble made this mountain. Can you tell?
Chris scooting his way down.
Jose checking it out.
Time to break out the webbing. Photo by Jose Luis Delaki.
Chris making his way down the rock face whose base was severely eroded.
Rain, rain go away.
An acquired climb. Tasty.
All the crazy climbing sections behind us.
We found sheer cliffs at the end of the hill. Time to beat the bushes back to the road.
Going down the overgrown side of the hill.
Walking back to the trailhead.
Group photo in one of the abandoned guard shacks that dot the lonely road.
The crew walking back on the winding road and admiring the rock formations that we had just climbed over.
The fun rocky ride covered a scant 3.65 miles through rain and rainbows. Post hike meal at Thai Loa. Family style. Pass the Evil Jungle curry.