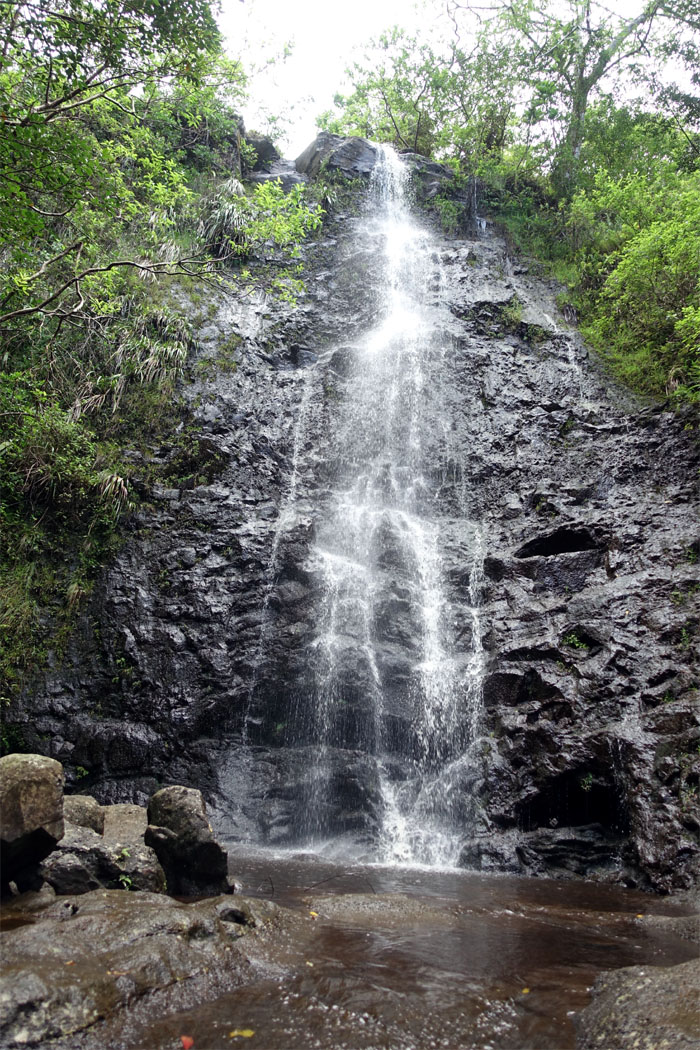 Met up with Alex, Gary and Gen deep in Palolo Valley to loop a hidden crater nestled against the Ko'olau Range. Early hikers gets the limited parking spaces.
Going down the rabbit hole. Last time we took the wrong road and ran into two large dogs. Protective dogs. They are still around.
Making our way down the flagged trail.
Abundant awapuhi growing on the stream banks. Forget Paul Mitchell. Straight from the source.
Morning yoga.
We soon left the stream and followed the water pipe as it snaked through the lush forest.
Catch! Alex tossing out mountain apples like they were free or something.
The black pipe's continuity was interrupted by white PVC piping, a testament to the power of Mother Nature.
Crossing the new pipe to get over the old pipe.
We dropped down into the first waterfall.
Feed your head. Feed your head. Feed your head.
We climbed out of the waterfall and made our way up the rocky trail to the left.
Water plunging down the 40′ fall.
Group photo left to right: Alex, myself, Gen and Gary.
We climbed the trail to the right and walked on tree branches to make our way up the cliff.
Alex making his way around the bronze plaque dedicated to Heidi Marie Page.
Water gushing over the 50′ fall and trickling down the valley stream.
We followed the stream that lead us to…
…the longest and gradual of the waterfalls.
Got poi?
Gary and Gen crossing the waterfall.
Need rope? Maybe not.
We soon crested the cascading falls and took the trail to the right to gain the ridge.
Straight shot to the Ko'olaus.
The trail became steeper, muddier and sparsely vegetated as we neared the top.
Looking towards Mount Olympus and points beyond.
The marsh filled crater that constantly feeds the waterfalls. One day I would like to paddle a small boat in there.
Checked out a couple windward ridges for future hikes.
Afternoon siesta and yoga at the top.
Traversing the Ko'olau Summit Ridge Trail.
Peeking into the crater and the sprawling city of Honolulu beyond.
Soaking in the cloudy views.
If you build it, they will come. In droves.
Hiking in the clouds towards the second power lines. Always a surreal experience.
Gary and Gen making their way down the ridgeline.
The trail soon leveled out. Easy peasy.
Alex shed his shoes due to festering blisters as we took the ridge down that bypassed the waterfalls.
Whatever it takes to make your way down.
The ridge dropped us back down into the stream trail.
Signs and ribbons sprinkled the trail like bread crumbs.
We came out of the canopy filtered trail and walked back to our cars.
The waterfalls, crater and ridge hike covered 5.33 miles. Post hike meal at Big City Diners. Side of Pad Thai.