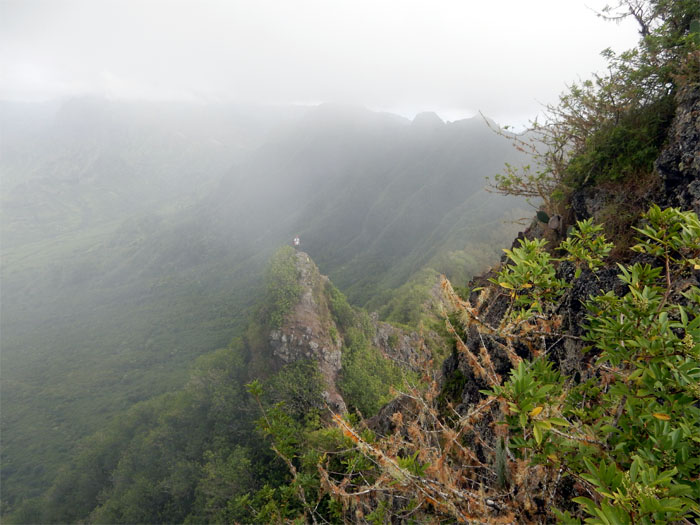 Back to Pu'u Kaua. And beyond. Specifically to Kolekole Pass. Met up with Brian, James, John, Jose, Matt and Marvin on Kunia Road.
Plan A was to have Troy drop us off inside the farm. Marvin's idea to save us some walking time. Photo by Troy Solano.
Honest Abe is not welcome here. I don't care if he has a twin. Don't get friendly with the goats either. Parlez-vous NO? Back on the road again.
These shoes were made for walking. Thanks for the five minute ride Troy!
We made our way to the trailhead without further incident.
Wet leaves on the trail was the only difference from last week. Same scenery, more slippery.
Looking out towards the Waianae Summit Trail.
Back on top for the second time in as many weeks. Group photo left to right: Jose, James, myself, Brian, Marvin, Matt and John.
Click here for the larger image.
I didn't know goats and pigs could run up the sides of mountains. Learn something new everyday.
We started hiking on the left side of the fence.
Terrain shifted, so we switched to the right side.
And switched back again.
Most of us climbed over the rock face. James and Marvin decided to contour on the Kunia side which put them closer to the edge. Nice drop. Nice fence.
Climbing down this short stretch put us close to the edge, so we used webbing coming down.
Jose going up the first obstacle dubbed "Gorilla Heads" or "Kriangles" by other hikers.
Have to work on that tan line. Photo by Matt Vidaurri.
Jose sitting on the smaller "Gorilla Head."
Coming down the crumbly backside and finding foot holds at the bottom was the hardest part of the "Gorilla Heads." Photo by Jose Delaki
Don't drop that camera. Might bounce off Marvin's head. Hmm. Tempting target. Photo by James Crabb.
Bark is worse than the bite.
Brian and John going down the second "Gorilla Head." Yawn.
We briefly talked to a guy that had come up a spur ridge. He was asking too many questions. Possible goat herder.
Marvin and James coming down the smaller "Gorilla Head."
A lone Sugi Pine Tree stood out. Resisted the urge to decorate.
You were fun. Until we meet again.
From the "Gorilla Heads" until Pu'u Kanehoa, the trail was unbearably overgrown.
A tree is worth a thousand branches. Or more like a thousand pokes.
Rain replaced the overgrowth on the trail. Brian was secretly cheering the inclement weather.
Nope. Just more contouring to the right.
We all admired the mountains keeping the clouds at bay. Postcard picture. If it only could have kept the rain at bay too. Click here for the larger image.
Cloudy summit view at 2,778′ elevation.
Nobody wanted to stand up for the group photo.
Except Matt.
Tick tock. Brian is waiting.
Abundant rock climbs were sprinkled along the trail. Climb or contour. Take your pick.
Click here for the larger image.
The views alternated between cloudy and partly cloudy, with chances of rain showers. Photo by Matt Vidaurri.
At least this one did.
Looking up at the summit of Pu'u Hapapa. Long time no see.
You say Hapapa, I say Hana Pa'a. Cool view from 2,883′ elevation. Gone were the army men that once ringed the summit.
Unusual coloring for a lady beetle.
Not happy at all.
Leave your ATVs at home when you do this hike. Fair warning.
A nasty case of trail erosion. Nasty for the hiker if they slip and fall.
Down. Straight down. Several thousand feet. Photo by John Garrity.
Headed down towards Kolekole Pass.
Click here for the larger image.
From sea to shining sea. Click here for the larger image.
Clouds have cleared. Click here for the larger image.
We spent a considerable amount of time just soaking in the views and recording them for posterity. It was nice up here. Wouldn't mind coming back again.
The group climbing down the first and smallest notch.
Matt making his way down.
Jose climbing out of the first notch.
There are two ways to tackle the second and biggest notch. Easy way is contour to the right and the hard way is straight down the rock face. Take your pick.
Jose standing on the exposed dike.
Looks bigger in person.
Scooting down the red dirt.
Brian, Jose and John checking out the notches we had come down in the middle of a meadow overlooking central Oahu. Click here for the larger image.
Kolekole Pass Rock or Pohaku Hupeloa, supposedly once used for sacrificial purposes.
The trail going down was slippery with pine needles.
James did an excellent save and recover. I was not so lucky. Had a hard fall on my butt.
We saved this invasive critter from a horrible fate. She was trying to crawl up Marvin's shorts.
100% ID check in progress.
The original hike was supposed to end in Waianae, where I had staged my truck. Since that proved to be too ambitious, we came down Kolekole Pass and decided to terminate the hike. Matt arranged for his father to pick him up at the gate and then retrieved his truck in Kunia and came back to get us. Thanks Matt!
Our hike today was 7.9 miles through some of the most stunning scenery on the Waianae Mountains. Post hike meal was at Outback. Herb roasted prime rib for dinner. Yum! Congrats to Marvin for finishing the WST. I'm next. I hope.