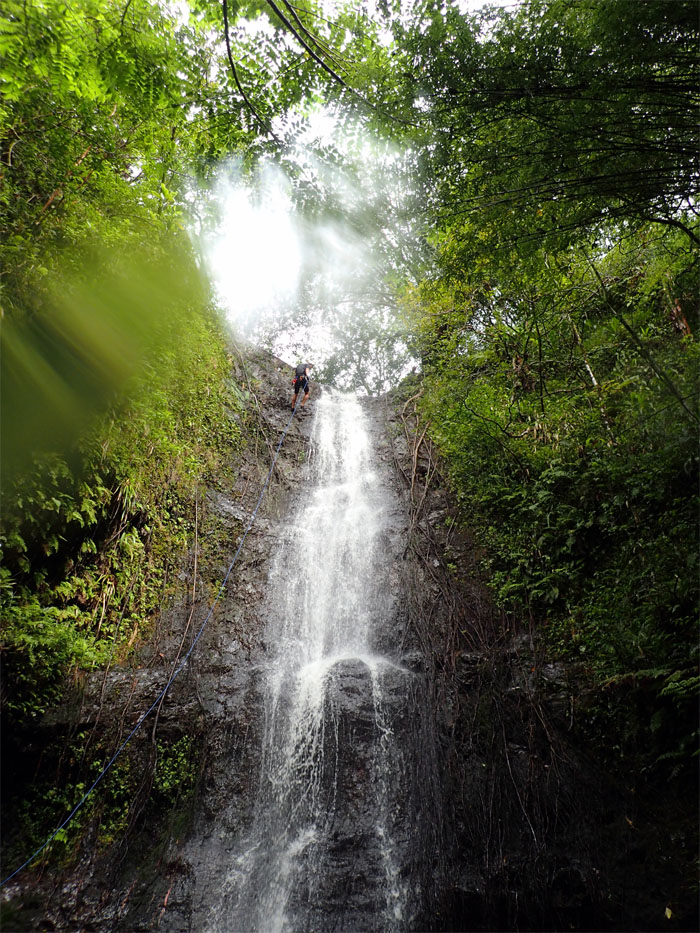 Rob invited Ryan L, Ryan M and myself to learn the ropes. Down a waterfall. We met deep in Palolo Valley. Early hikers get the parking.
Down the rabbit hole.
We ran into Khym and Marvin on the trail.
Rob and Ryan crossing Wai'oma'o stream. Ryan donned his surfing helmet in case a good swell came crashing down from the marsh above us.
We passed a couple hikers enjoying the idyllic stream in the lush forest.
Following the water pipe to gain elevation.
The last of a handful of stream crossings.
Safe to take the helmet off now.
Looking down at the 60′ waterfall.
Rob tossing down the rope. Anchor. Biner block. Belay loop. ATS device. Locking biner. On rappel?
Rob went down first.
My turn. Hey, where is my helmet? Photos by Khym Ansagay.
Walking down next to a waterfall. Cool and refreshing at the same time.
Ryan M's turn. Photos by Ryan Leano.
At least Ryan had a wetsuit on. The rest of us had to shiver and chatter our teeth.
Ryan L's turn.
It was so much fun, thanks again to Rob for showing us the ropes. Talk of doing the second waterfall was dashed by the time and cold. Next stop – Climb Aloha. One day.