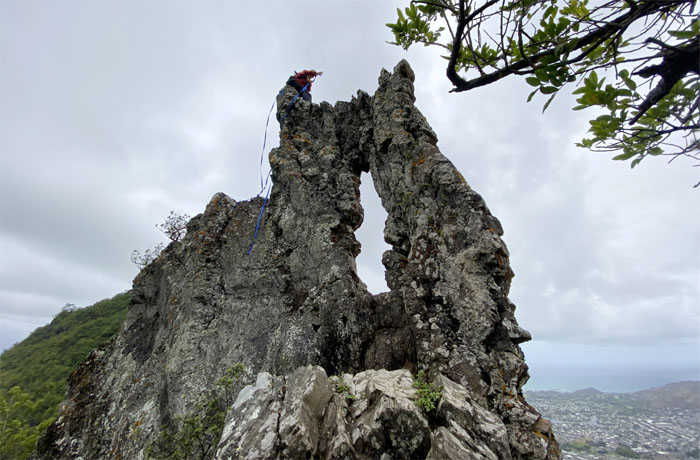 Having done Olomana many times warmed over, I decided to just do the most challenging section with Katie today and skip the front part. Thanks to Lilyn for dropping us off deep in Waimanalo country. Photo by Katie Bingham.
Starting on the foothill hike that was carved out by Dick Davis and goes all the way to the Pali Lookout. We were doing the abbreviated version today.
Turning a right at the junction.
Katie poking for Groot.
Climbing out of the trail to gain the ridge line.
Katie pulling herself up on one of the steeper parts of the trail.
Mother Nature wasn't looking too inviting, but Katie wanted to crash the party. So off we went.
If a hiker falls in a forest and no one is around to see it, did it happen? Photographic proof by Katie Bingham.
Pulling ourselves to the base of the peak.
Katie bouncing on the elastic rope as she makes her way up the first climb.
Pulling myself up and getting temporarily stuck under the branch. Photo by Katie Bingham.
Katie trying her best not to get stuck as well.
Cliffs in the camera are steeper than they appear. Photo by Katie Bingham
Katie scrambling her way to the top of the rock pile.
Climbing up the steepest section. Photo by Katie Bingham.
Looking for that hand hold.
Taking in the cloudy views. Photo by Katie Bingham.
Contouring and climbing between the rocks.
Taking in the clear views of Waimanalo.
Stretching before the hike. Oh wait. A day late and a dollar short. Photo by Katie Bingham.
Group pic on the summit that was named after Chief Olomana's favorite headman.
Traversing between the divided hill with the peaks of Paku'i and Olomana directly ahead of us.
Climbing down from the third peak. Photo by Katie Bingham.
Somebody was blocking the hole.
Bottom views.
Top views.
Going back to the third peak.
Katie coming down one wobbly step at a time.
Shaka for Sunday. Photo by Katie Bingham.
Katie stepping her way down.
Who's going to retrieve the webbing?
Trying not to get stuck on the way down. Photo by Katie Bingham.
Katie making her way down the last climb of the day.
Following the barbed wire fence on our way out.
We came from there.
We ended our short and sweet hike right back where we started from. Thanks to Lilyn and Quan for picking us up. Post hike meal at Pampanga, can't get enough of their Chicken Papaya. We also saw one of Jerry's kids and witnessed a fleeing shoplifter who left part of their stolen loot on the sidewalk.
Note: I have been made aware that some hikers have been using my blog as a hiking guide and getting lost on the trails. Please note that this blog was made to document the hike for the crew(s) that did it. That is why some of my comments will seem to have no relevance or meaning to anybody outside of the crew(s) that hiked that trail. My blog was never meant as a hiking guide, so please do not treat it as such. If you find inspiration and entertainment from these hikes, that is more than enough. If you plan on replicating these hikes, do so in the knowledge that you should do your own research accordingly as trail conditions, access, legalities and so forth are constantly in flux. What was current today is most likely yesterdays news. Please be prepared to accept any risks and responsibilities on your own as you should know your own limitations, experience and abilities before you even set foot on a trail, as even the "simplest" or "easiest" of trails can present potential pitfalls for even the most "experienced" hikers.