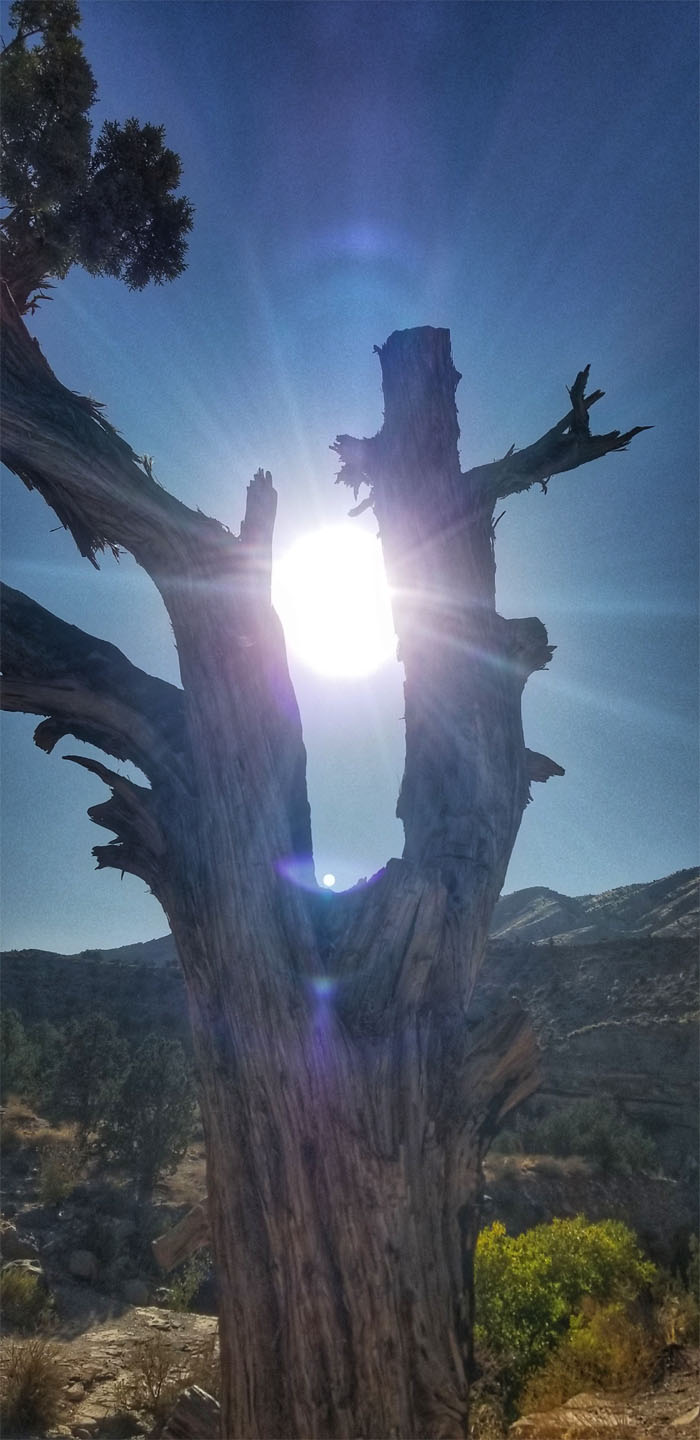 They day was not over, as scribbling left behind on a hotel note pad lead us to another driving adventure. Photo by Donna Mae.
We drove to the little town of Toquerville to begin our 4WD down the extremely rough road.
Going down the bumpy road with the flat sandstone topped mountains in the distance, was infinitely preferably than what we had just experienced on our bone chilling hike.
The waterfalls soon appeared in the middle of the desert, surrounded by sagebrush and cottonwood trees.
Checking out the swimming hole. Looks inviting, but I'll pass. Besides, I'm overdressed. Photo by Cathy Gamiao.
Donna sitting next to the 20′ drop. A metal ladder was secured nearby for climbing back up. Photo by Cathy Gamiao.
Standing in front of the cascading falls that are fed by the La Verkin Creek. Photo by Donna Mae.
Top of the falls, where I understand 4WD vehicles can cross if the water conditions permit for further exploration. Photo by Edgar Gamiao.
The view from the other side.
Danny climbing out of the swimming hole.
Watching the flow of water cascading down to the sandstone table and spilling down into the swimming hole at 3,750′ elevation. Photo by Edgar Gamiao
Looking down as the creek meets up with the Virgin River further downstream. Photo by Donna Mae.
Donna overlooking the falls. Photo by Cathy Gamiao.
Cathy enjoying her perched view.
The professional photographer behind the scene. The bushes was behind him. Photo by Donna Mae.
Group photo left to right: myself, Jasmin, Donna, Edgar, Cathy and Danny.
We let the person that drove for a living take us back up the 5.8 mile road. Post hike meal at Outback Steakhouse, where the prime rib and clam chowder were out, the two things that I was salivating about and looking forward to polishing it off the dinner plate and bowl. Much mahalos to Cathy, Danny, Donna and Edgar for allowing us to join their company on so many fun filled adventures this past week.
Note: I have been made aware that some hikers have been using my blog as a hiking guide and getting lost on the trails. Please note that this blog was made to document the hike for the crew(s) that did it. That is why some of my comments will seem to have no relevance or meaning to anybody outside of the crew(s) that hiked that trail. My blog was never meant as a hiking guide, so please do not treat it as such. If you find inspiration and entertainment from these hikes, that is more than enough. If you plan on replicating these hikes, do so in the knowledge that you should do your own research accordingly as trail conditions, access, legalities and so forth are constantly in flux. What was current today is most likely yesterdays news. Please be prepared to accept any risks and responsibilities on your own as you should know your own limitations, experience and abilities before you even set foot on a trail, as even the "simplest" or "easiest" of trails can present potential pitfalls for even the most "experienced" hikers.