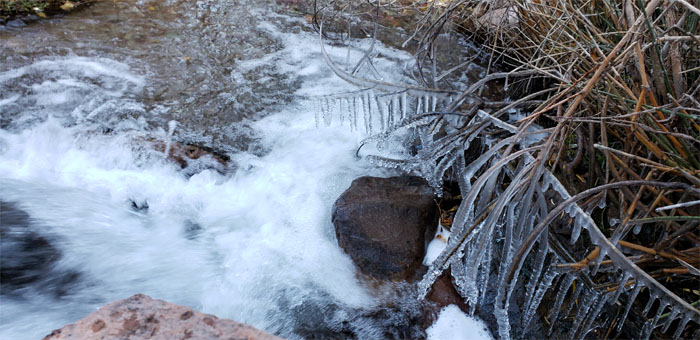 Hooked up with Cathy, Donna and Edgar again for another fun filled day. Rounding out Team Hawaii was Danny, who was nice enough to get us the trail permits.
We were the first car to roll into the town parking lot and showed our permits to the caretaker who gave us miniature maps to guide us on the trail. Found out that it's too cold for rattlesnakes on the trail. No chance of getting a snake bite, 100% chance of freezing our okoles off. Somebody was also surprised that we were going to get wet on today's hike.
Didn't we drive here in a 4×4?
Danny lending Jasmin a hand lest she fall into the river and become a popsicle.
Primary colors. Photo by Edgar Gamiao
Leaving the jeep road behind us as we embarked on the hiking trail.
Danny making his way over one of many creek crossings.
Cathy contouring further up the bank as we followed the faint trail. Photo by Edgar Gamiao
The group hopscotching their way across the ankle deep water.
Climbing our way out of the riverbed and up through jumbled orange-red rocks. Photo by Daniel Garcia.
Passing underneath the fall foliage. Photo by Edgar Gamiao
Still trying to delay the inevitable.
We temporarily left the riverbed to climb up to explore the puka riddled rocks.
Danny entering the carved channel formed by wind and water.
We bumped into another group who asked if we were going to the second falls as they heard that the ladder has been removed. I guess we'll find out. Photo by Edgar Gamiao
Passing through the sheer, striated rock walls that were shaded with orange, brown and red colors. Photo by Daniel Garcia.
We had the rock jam waterfall all to ourselves. Photo by Jasmin Nepomuceno.
Taking our turns climbing up the log nailed with slippery and shaky metal steps.
Scrambling up the boulder waterfall. Photo by Edgar Gamiao
Log crossing. Photo by Daniel Garcia
We walked across the top of this small waterfall. Photo by Edgar Gamiao
Danny contouring around a large boulder.
We scrambled up the rooted hill looking for intelligent life in these mountains. Photo by Donna Mae.
All we found was a hiker evolution that were short a couple key primates. Photo by Edgar Gamiao
Trying not to make contact with the oily resin.
Traveling along the banks covered in deciduous growth. Photo by Jasmin Nepomuceno
Who wants to go first?
The buck stops here as the ladder is no longer there, but a rope was dangling next to the flowing sheet of freezing water. Don't look at me!
I can't feel my feet! Photo by Daniel Garcia.
Group photo as misery loves company.
Leaving the knee deep water behind us.
Danny thawing himself out.
Keeping the semi-frozen blood flowing. Photo by Edgar Gamiao.
If a tree falls in a forest, will hikers climb on it? Photo by Daniel Garcia.
Whose bright idea was this? Photo by Cathy Gamiao.
Somebody took a short cut on the way down. Much smarter than monkeying my way back down. Photo by Cathy Gamiao
Danny contouring around the boulder to drop back down into the waterfall.
Making our way down the wedged boulder.
Danny standing in the narrow canyon as the sunlight illuminated the multi-colored sandstone sculpted walls.
Slippery slope. Logical fallacy aside. Photo by Daniel Garcia
Leaving the mini-Narrows canyon.
I was thinking we should have kept our waterproof socks and shoes for one more day. Day late and a dollar short.
Looking over the chilly creek, that is best enjoyed from a distance. Photo by Jasmin Nepomuceno.
Back on dry land. Photo by Jasmin Nepomuceno.
Our little gem of a canyon hike covered 4.14 miles through jaw dropping scenery and bone chilling waters. Post hike meal at Pho Vietnamese Cuisine. The cook was a genuine Vietnamese. Authentic food just like what you would find back home.
Postscript. I found out a week later that my calves suffered some sort of freezer burns from my creek immersion. Travel souvenirs.
Note: I have been made aware that some hikers have been using my blog as a hiking guide and getting lost on the trails. Please note that this blog was made to document the hike for the crew(s) that did it. That is why some of my comments will seem to have no relevance or meaning to anybody outside of the crew(s) that hiked that trail. My blog was never meant as a hiking guide, so please do not treat it as such. If you find inspiration and entertainment from these hikes, that is more than enough. If you plan on replicating these hikes, do so in the knowledge that you should do your own research accordingly as trail conditions, access, legalities and so forth are constantly in flux. What was current today is most likely yesterdays news. Please be prepared to accept any risks and responsibilities on your own as you should know your own limitations, experience and abilities before you even set foot on a trail, as even the "simplest" or "easiest" of trails can present potential pitfalls for even the most "experienced" hikers.