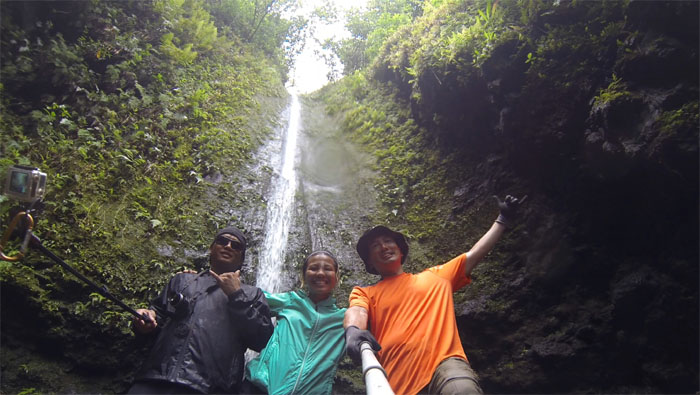 Remnants of tropical storm Ela were set to batter the islands this weekend. Heavy rains forecasted. Great for exploring waterfalls. A sucker is born every minute.
Met up with Chris and Gen for our waterfall exploration in a Windward neighborhood. Barking dogs and inquisitive neighbors were our only company walking on the dry stream bed.
Fallen trees criss crossed the stream bed.
Climbing and weaving through the tangled thickets.
Now all we need is water. Where is the water?
Flashbacks to the KST and WST.
Sitting stones gather a lot of moss.
Too many spider webs to crawl inside. The stream bed eventually dumped us to a water tank where we saw low hanging clouds covering the mountain tops which resulted in a few sprinkles. Not enough. But the heat was on full blast. All day.
We pushed our way up to the ridge to get a glimpse of the promised waterfalls.
Lots of uluhe ferns to wade through today. Fun, fun, and more fun.
Looking out towards Kaneohe Bay and Mokoli'i or Chinaman's Hat.
The waterfalls on this side do not flow unless the mountains get a good soaking from Mother Nature. We were banking on the heavy rain. Little did we know that the bank was closed this weekend.
We followed the ridge down to the stream where ripened mountain apples were so abundant they were falling off the trees.
The stream lead us to our first waterfall.
The waterworks were not on full blast. But it was still a good show.
One way of shaking off the heat.
We followed the stream down, hoping it would lead to the other two waterfalls. No such luck.
What happened to the rain?
We had to bushwhack up through a dense jungle of uluhe ferns to get back on the ridge. The heat and humidity were stifling almost to the point of heatstroke.
Chris making his way down to the stream.
We followed the bend in the stream and it lead us to our second waterfall.
Wishing it would rain.
We had to contour around a small waterfall.
This waterfall.
We made our way up the ridge again with the resonating tones of the brass bell coming from the nearby Byodo-in temple.
Chris and Gen making their way down, mindful of the false drops.
Group photo at the last waterfall.
We followed the stream down to make our way out.
Our afternoon amusement.
Chris found a thick branch and used it to beat a trail back to the ridge.
Relaxing at the gazebo. We didn't want to leave.
We retraced our steps back to the water tank and dropped back down into the dry stream bed.
Our meandering waterfalls hike covered just shy of two miles. Bushwhacking through the thick uluhe forest made it seem longer. Post hike meal at Brick Oven Pizza.