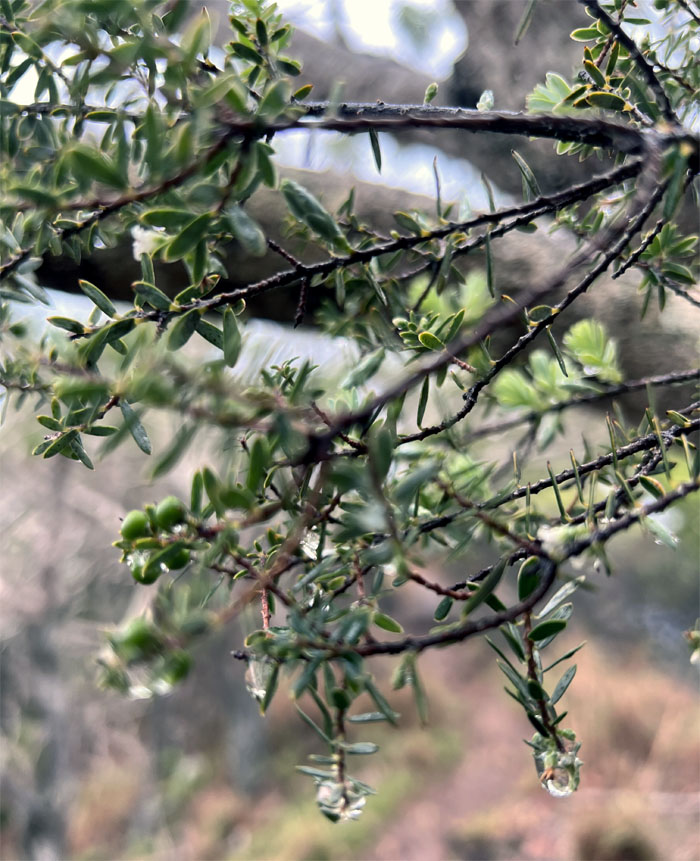 Met up with Jen, Quan and Tessa on the oldest inhabited island in the main Hawaiian chain to hike and explore the Garden Isle over President Day's weekend. Forecasted weather predicted the entire weekend would be raining cats and dogs. As luck would have it, we like feline and canine companions.
The trailhead was not marked like the other trails as it seems the State no longer maintains the trail due to hurricane damage a few decades earlier. A few decades earlier. Let that sink in. Scattered ribbons on the trees were no help, so we had to drive back down the road to get cell reception to download the trail map to find out where to go.
We followed the trail until we came across the fence line meant to keep out the invasive species from the endemic species.
Pushing our way through a thick stretch of uluhe ferns which also doubled as organic wipes since somebody didn't want to share their invasive wipes.
Making our way down amongst fallen trees and slippery descents.
Multi-colored ribbons kept us on trail, along with following the fence line.
Somebody came running back on the trail after a couple pigs startled her on the trail. Luckily, we were scarier than the pua'a and we continued on our merry way.
Making our way down the steeply rutted trail.
Walking through the wooded section of the trail.
Catching our first views of the craggy cliffs that dominate and rise above the coastline.
Looking back at a huge waterfall cascading off Kalepa Ridge.
Bird's eye view of Honopu Valley, Arch and Beach.
Looking out towards the stretch of Na Pali coastline that extends all the way to Kalalau and Ke'e Beaches.
Rain drops keep falling on our heads. Intermittent. The song of the same name is about remaining positive in spite of negative things that one can be facing, such as predicted rainstorms that would have cancelled a trip and hike for others. The song debuted in the 1969 film, Butch Cassidy and The Sundance Kid and went on to become #1 on the Billboard Charts.
Looking over into 'Awa'awapuhi Valley with hanging clouds drifting over.
Why do you guys always leave me? You look like Nana! I guess that's a good enough reason as any.
The cathedral cliffs were formed millions of years ago when massive streams of water from the mountains carved out the valleys and constant crashing surf formed the character of the beaches and sea caves.
Watching 'Awa'awapuhi Stream flow down from the mountains and out to the ocean.
Heading to the brush and tree line where we backtracked when we realized we went too far.
Group photo at the "end" of the trail for us.
How many people can fit on this little pile of rocks? Let's find out.
360 view on top of the spit of rock.
The window of viewing opportunity was closing fast.
In the blink of an eye. Maybe a couple blinks.
The group making their way back down the exposed and eroded trail.
Hiking in the clouds. Always a surreal experience.
The stiff winds soon scattered the clouds away.
Taking in the waterfall view on our way back out.
No pig sightings on our way back.
We came back to our car with time to kill before dinner reservations and went back to Scott's studio to clean up, some more than others. Post hike meal at Kintaro, where the wait was almost as long as the meal. Good food to finish off our fun hike.
Our in and out hike covered roughly five miles with scattered showers and spectacular views of Honopu Valley and the Na Pali Coastline.
Photos taken by Jen Odence, Quan Haberstroh, Tessa Bugay and yours truly. Not necessarily in order.
Note: I have been made aware that some hikers have been using my blog as a hiking guide and getting lost on the trails. Please note that this blog was made to document the hike for the crew(s) that did it. That is why some of my comments will seem to have no relevance or meaning to anybody outside of the crew(s) that hiked that trail. My blog was never meant as a hiking guide, so please do not treat it as such. If you find inspiration and entertainment from these hikes, that is more than enough. If you plan on replicating these hikes, do so in the knowledge that you should do your own research accordingly as trail conditions, access, legalities and so forth are constantly in flux. What was current today is most likely yesterdays news. Please be prepared to accept any risks and responsibilities on your own as you should know your own limitations, experience and abilities before you even set foot on a trail, as even the "simplest" or "easiest" of trails can present potential pitfalls for even the most "experienced" hikers. One should also always let somebody know of your hiking plans in case something doesn't go as planned, better safe than sorry.