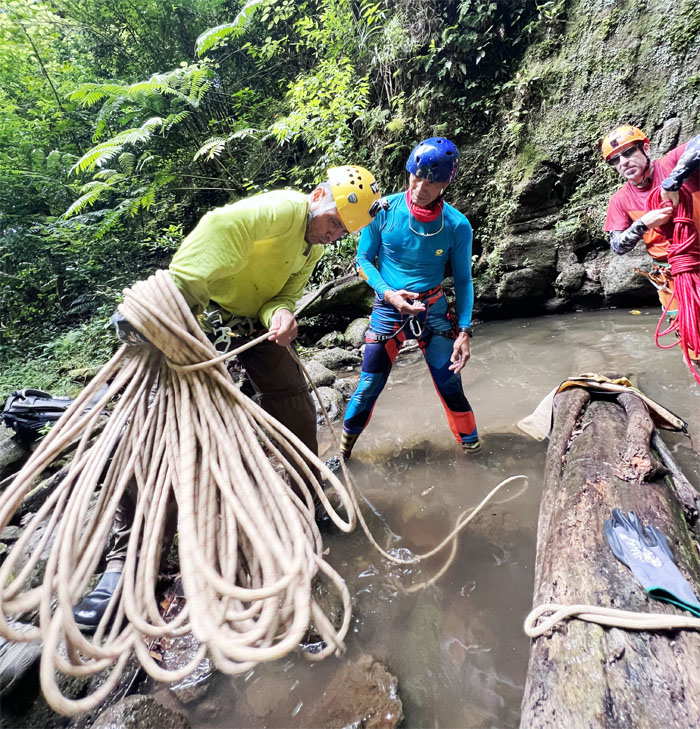 Met up with Chico, Ferlino, Jason, and Matt to rappel some waterfalls in a Nu'uanu Valley.
We dodged cars traveling on the highway, crossed over the shallow drainage ditch and entered the forest through an unlocked gate.
Stepping foot in a valley that I haven't visited in over seven years.
The trail and terrain have changed significantly.
Finding our way through the valley also known as Hillebrand Glen.
Climbing our way up as we approached our waterfall destination.
Chico squeezing through one of the blowdowns that littered the valley.
We soon dropped down to the top of the first falls and began gearing up.
Jason throwing out the rope as he set up the equipment for us to rappel.
Chico was the first to drop down the 20′ waterfall.
Matt wishing for more flow.
Am I doing this right? It's been over seven years since I was a dope on a rope.
On belay.
Easy peasy.
Jason and Matt, another prolific rappeler, setting up the anchors for two ropes.
Just before I was set to go down, Jason and Matt decided to add a safety brake called VT Prusik to my harness. Turned out to be a lifesaver. Literally.
Going down the 120′ waterfall after my unexpected fall with the VT Prusik arresting my fall. Look Ma, no hands!
Chico rappelling down with his GoPro ornament on his helmet.
Is that a GoPro stick in your hand or are you just glad to see me?
Jason bouncing down the wall.
Matt climbing back up the waterfall with his ascenders. Practice makes perfect.
The group climbing up the steep hill to get back to the waterfalls.
The guys checking out Chico's Prusik Knot to make sure it was tied correctly.
Lean more back. Drop that ass. Like you gonna make dodo on the waterfall. Words of wisdom to rappel by.
Trying my hand using the ascenders on the shorter wall.
Squat. Stand up. Pull up. Repeat. Not easy on your first time around.
Jason and Matt keeping an eye on us novices.
Going down a different rope. Have VT Prusik. Will rappel.
Ferlino and myself going down the wall.
Chico coming down. Is my GoPro on? I have it on my helmet.
Matt making his way down. He didn't want to make waves this time around.
Splish.
Splash. No wetsuit needed.
Ferlino coiling the climbing rope.
Group photo at the base of the second waterfall, left to right: Ferlino, myself, Jason, Chico and Matt.
Man down. Should've been locked in.
Going back through the valley.
The irrigation tunnel that nobody wanted to enter.
Man in a tree. Surprised it wasn't Ferlino.
Many thanks again to Jason for taking us rappelling and Matt for his assistance. Fun day. Post hike meal at Alejandro's. The food did not live up to the hype. Should have gone to El Mariachi instead.
Photos taken by Chico Cantu, Matt Vidaurri, and yours truly. Not necessarily in order.
Note: I have been made aware that some hikers have been using my blog as a hiking guide and getting lost on the trails. Please note that this blog was made to document the hike for the crew(s) that did it. That is why some of my comments will seem to have no relevance or meaning to anybody outside of the crew(s) that hiked that trail. My blog was never meant as a hiking guide, so please do not treat it as such. If you find inspiration and entertainment from these hikes, that is more than enough. If you plan on replicating these hikes, do so in the knowledge that you should do your own research accordingly as trail conditions, access, legalities and so forth are constantly in flux. What was current today is most likely yesterdays news. Please be prepared to accept any risks and responsibilities on your own as you should know your own limitations, experience and abilities before you even set foot on a trail, as even the "simplest" or "easiest" of trails can present potential pitfalls for even the most "experienced" hikers. One should also always let somebody know of your hiking plans in case something doesn't go as planned, better safe than sorry.