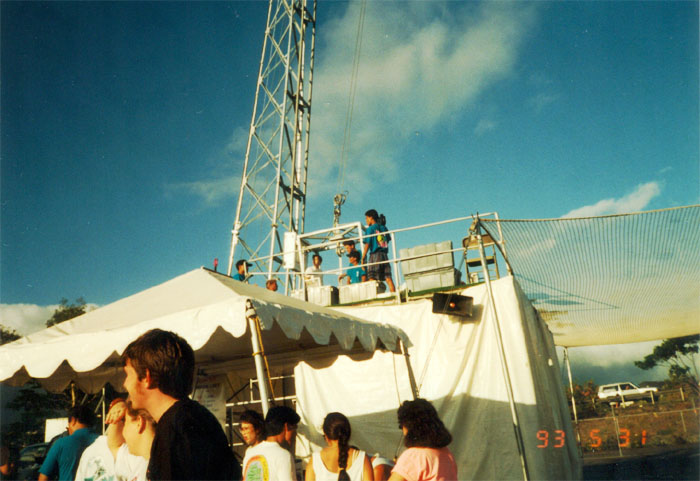 When I heard that the bungee jump was coming to Hawaii at the 50th State Fair, I was ready to take the plunge, even after working a double shift. I figured I would do the jump quickly and then head back home and crash before my next shift, wrong! I got there and the wait was over two hours long, mostly military guys ahead of me. I plunked down my $70, got matched with a rope for my weight class and wandered the fair grounds until it was my turn.
When my turn finally came, the bungee rope was secured around both my ankles and I got into the little cage that would take me to the top of the 140′ arch.
The cage slowly moved up the arch until we reached the top, where they opened the door and told me to look straight ahead and just walk the plank, so to speak.
As I fell out the cage, my free fall was quickly arrested by the bungee cord. It then proceeded to bounce me up and down and around a couple times, until all the energy was expended. And believe me, it was over in the blink of an eye.
Once the fun was over, they lowered me back down to the platform.
I collected my additional $20 video and went straight home as I was dead tired, but glad to have done the bungee jump.
UPDATE: When the bungee jump moved over to the McKinley Farm Fair a couple months later, the price was discounted in half! Obviously, not many folks were ready to cough up $70 to bounce like a yo-yo for only a couple of seconds.
UPDATE: I recently read about the world's highest bungee jump at 764′. Only problem is that it's located in Macau. Time to break out the passport!