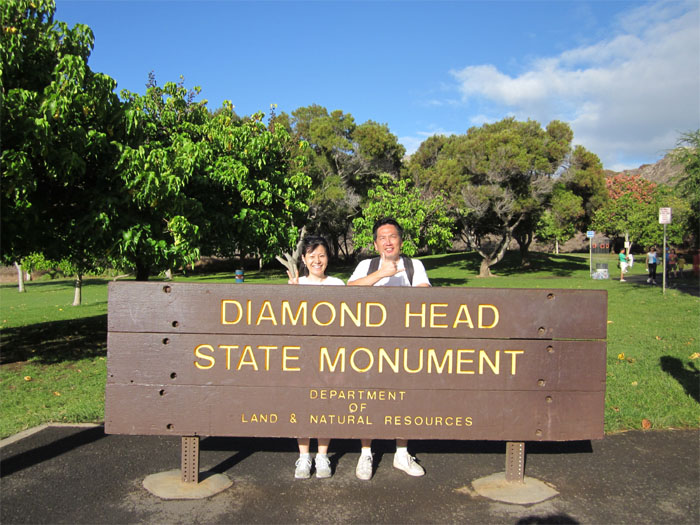 Diamond Head, known to Hawaiians as Le'ahi has got to be one of the most hiked places on Oahu due to it's ease of access and scenic views. You can thank the US Army in 1908 for carving out the trails, steps, tunnels and fortifications that make this hike what it is today.
You can either walk or drive through this tunnel. Either way you are going to pay a dollar or five dollars respectively to the parking lot attendant that awaits you on the other side of this tunnel. However, the tunnel is not meant for people and cars to co-exist at the same time, as it's quite narrow. My wife and I decided to take the safer route and drive through the tunnel.
One can learn some facts and trivia about Diamond Head here, before heading out for the .8 mile walk up to the summit. Bring comfortable shoes, water and sunscreen. This is the only place where you will find bathrooms. Start the hike early, that way you beat the sun and the crowds.
Here you can see the floor of the crater and parts of Hawaii Kai and Waimanalo past the rim.
These steps will lead you into the first tunnel. No need to bring flashlights as it's lighted. In the old days, we walked barefoot and had no lights.
That song "99 bottles of beer on the wall" pops into mind. Just when you thought you were finished climbing steps. The cross-beams were used for camouflage in the old days.
Question answered. Some people's heads will be hanging down by the time they reach the top of the stairs, so they shouldn't miss this elevation marker.
Round and round you go on the 52 spiral stairs, until you reach the Fire Control Station.
Looking out to Waikiki through the Fire Control Station slits once covered by metal shutters.
Walking along the trail, you can see Diamond Head Lighthouse at the bottom. Built in 1917, it can shine it's light 18 miles out towards the Pacific Ocean.
Last set of 54 stairs which replaced the old ladder to the summit.
Remnants of the once extensive military fortifications that used to ring the crater.
Photo at the top of the 760′ lookout. Then we joined the rest of the moving mass of humanity to go back down.