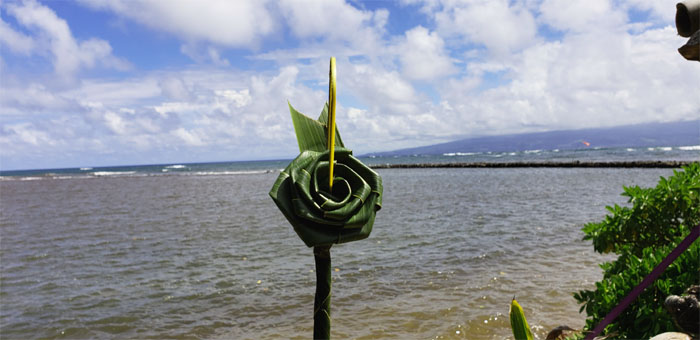 Met up with Analyn, Ani and Ferlino to fly the slightly less crowded skies going to Molokai this weekend. No TSA lines and lack of liquids rule makes it the only way to fly.
Landing on the fifth largest of the inhabited Hawaiian islands. We picked up our jeep and was told not to treat it like a 4×4. We then drove to the laid back town of Kaunakakai where we got our food and water from the farmers market and supermarket.
Despite the island having only one main artery, it took us quite awhile to find our local guide, Uncle Ray Leimana Naki. Thanks to Emily for the recommendation and others for their not so spot on directions. He turned out to be a very educational and entertaining character that started off with a talk story session as he wove palm fronds into sun visors for us while we got acquainted.
We soon left, not soon enough for some, for the eastern side of the island where we made the winding descent into the valley floor, catching a view of the 500′ Hipuapua Falls on our way down.
Entering the privately owned valley that was one of the earliest settlements in Hawaii.
Unko testing the waters for us, hopefully not literally.
We parked our jeep in the grassy clearing and started our hike in the verdant valley.
Passing through the terraced land and fruitful trees.
Low hanging miniature pumpkin shaped fruits in various states of ripening that are more related to the guava and mountain apple family than its namesake.
Unko pausing at one of his relative's house. Nobody was home.
Passing through an abandoned home with artistically drawn murals on the sagging wooden fence.
Unko explaining the difference between female and male rocks in the forest.
Resting near large pohaku (rocks) that was carried and stacked by large kane (men).
The potato sized fruits that littered the trail can also be used as mosquito repellent as demonstrated by Unko who picked one up and crushed it all over his body.
Our first glimpse of Halawa stream that courses through the valley. Photo by Ani Lagpacan
Sunlight shimmering on the reddish pine cone shaped flowers.
We traveled upstream to cross the more passable section of the flowing waters. Photo by Ferlino Carinio.
Unko offering Ana Puka his hand for assistance.
When you don't take Unko up on his assistance, you end up getting assisted anyway. Photo by Analyn Baliscao.
Unko parting the waters to show me which rock to step on. Yes Unko. Photo by Analyn Baliscao.
Approaching the thundering waterfalls. Photo by Ferlino Carinio.
Nobody could get close enough to drop a ti leaf in the water as the voluminous displacement kept us at a safe distance. Photo by Ani Lagpacan.
Basking in the powerful mist and power of the 250′ multi-tiered cascading waterfall.
Group photo left to right: Uncle Leimana, Annie, Kensi, Paulino and Ana Puka. Lack of time prevented us from hiking over to the other falls, so we soaked up these falls while we could.
Crossing without Unko's assistance.
Ana. Puka. Word association was the cultural game of the day.
Making our way underneath the tangled thicket of hau branches.
Who wen cut the cheese? Annie!
Unko counting down the exact second back to our jeep that ended our 3.9 mile hike.
Two beeps Paulino. I feel safer now. Thank you.
The sun was dropping down as we stopped at a scenic spot to indulge in another photo shoot.
Looking down into Halawa Bay.
One of our last peeks at the rugged coastline as we made our way out of the valley to drop off Unko and pick up Chris who had flown in on a later flight after work.
Post hike meal at the island's only hotel. Photo by Ferlino Carinio.
After we had checked in to our room, we went out and participated in the nightly tradition of getting hot bread fresh out of the oven and slathered with ones desired toppings at the towns bakery. We also saw Yoly there as well. Truly a small island. Goodnight from the Friendly Isle.
Note: I have been made aware that some hikers have been using my blog as a hiking guide and getting lost on the trails. Please note that this blog was made to document the hike for the crew(s) that did it. That is why some of my comments will seem to have no relevance or meaning to anybody outside of the crew(s) that hiked that trail. My blog was never meant as a hiking guide, so please do not treat it as such. If you find inspiration and entertainment from these hikes, that is more than enough. If you plan on replicating these hikes, do so in the knowledge that you should do your own research accordingly as trail conditions, access, legalities and so forth are constantly in flux. What was current today is most likely yesterdays news. Please be prepared to accept any risks and responsibilities on your own as you should know your own limitations, experience and abilities before you even set foot on a trail, as even the "simplest" or "easiest" of trails can present potential pitfalls for even the most "experienced" hikers.