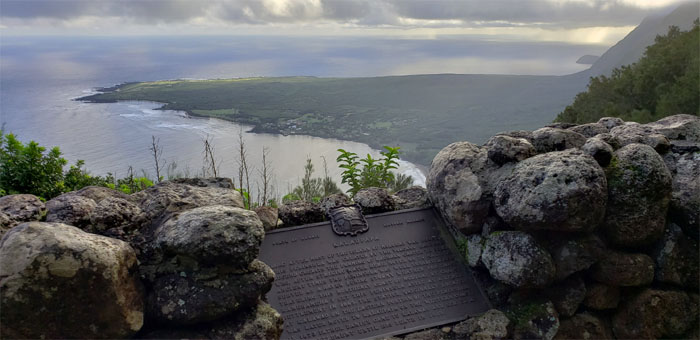 We woke up and had the leftover bread for breakfast and found out that less is better.
Starting off the day right by hanging from the ceiling beams. Proper stretching is the key to an injury free hike.
Most people look at a jeep and see it as a mode of transportation. Others see it as a photo prop. Photo by Ferlino Carinio.
We checked out of the hotel and made the drive to Palaau State Park where we ran across Yoly and her friend leaving the lookout. Photo by Analyn Baliscao.
Group photo left to right: Analyn, myself, Ani, Ferlino and Chris; looking down into the peninsula that still is home to a handful of residents.
Making our way up the short hill to see some morning wood. Rock hard. Photo by Chris Bautista.
Is that the phallic rock of Nanahoa, or are you just glad to see us?
Drove down the cloud soaked road to hike another trail that Unko said we could, but was set straight by another local out walking.
Back to the lookout. Plan B.
Of course the lookout deserved a couple more photo shoots and then we headed down the densely packed tree line.
We found a six petaled blood red mushroom growing in a sea green moss carpeted log. Sounds appetizing. Photo by Analyn Baliscao.
Discovering that bottle caps do exist outside of Waianae Valley.
Passing by one of many trees with what looked like were turkey tail mushrooms on them. Not to be confused with wild turkey. Photo by Analyn Baliscao.
Another sign of civilization in the form of wooden fence posts. Photo by Ani Lagpacan.
Analyn found a pair of white mushrooms growing out of a lava rock.
Some people shit ice cream while others fart out rainbows. I personally prefer the latter.
Looking back at the settlement where over 8,000 people with Hansen's disease were banished to live out the rest of their lives in isolation.
Why go around a fence when you can simply hop over it?
Leaving the forested ridge line to walk on a jeep road that winded its way through a seemingly cultivated farm land.
The second most productive pollinators, right behind the busy bees. Photo by Chris Bautista.
Group photo with everybody but Ferlino …
… who was off taking his own picture. Photo by Ferlino Carinio.
Watching our step through the sprawl of this weed like plant with purple flowers and inch long thorns that carpeted the ground.
Perched near the edge of the world's tallest sea cliffs where only goats dare to tread down the vertical faces.
Passing a pair of yellow capped mushrooms on our way back.
Heading back into the iron wood forested ridge line.
Another peek at the former leprosy colony before ducking back into the tree line.
Analyn found some edible wood ear (pepeiao) mushrooms in the ironwood forest. Throw them in a Ziploc bag and give them to Ferlino to forget about them.
We ended our six mile hike back at the now crowded lookout.
The original plan was to eat at Molokai Burgers, but we forgot this was Molokai and Sunday. Big Daddy's Restaurant it was for our lunch, which was one of only two places open for business. Photo by Ferlino Carinio.
Note: I have been made aware that some hikers have been using my blog as a hiking guide and getting lost on the trails. Please note that this blog was made to document the hike for the crew(s) that did it. That is why some of my comments will seem to have no relevance or meaning to anybody outside of the crew(s) that hiked that trail. My blog was never meant as a hiking guide, so please do not treat it as such. If you find inspiration and entertainment from these hikes, that is more than enough. If you plan on replicating these hikes, do so in the knowledge that you should do your own research accordingly as trail conditions, access, legalities and so forth are constantly in flux. What was current today is most likely yesterdays news. Please be prepared to accept any risks and responsibilities on your own as you should know your own limitations, experience and abilities before you even set foot on a trail, as even the "simplest" or "easiest" of trails can present potential pitfalls for even the most "experienced" hikers.