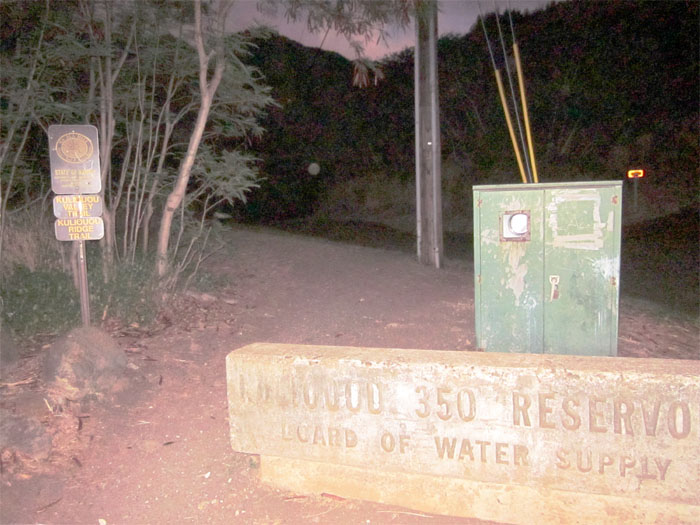 Instead of carving pumpkins or going trick or treating, we hiked the Kuli'ou'ou Ridge Trail and Pu'u o Kona on Halloween Day. We were hoping to be treated to stunning views and not tricked into getting lost! After parking at the end of Kala'au Place in Kuli'ou'ou, we started off by signing our names in the log that kept's in the hunter's mailbox at the beginning of the hike.
The beginining of the trail consists of a lot of switchbacks as you start climbing the ridge. Early on in the hike, we came across this trail marker which clearly points to the right going up the ridge. If you miss the marker and proceed straight ahead, you will walk into Kuli'ou'ou Valley instead of Kuli'ou'ou Ridge.
About half-way to the top, we ran across this bunch of tangled trees that almost looks like a doorway. That's another great benefit to hiking, you always run across something you don't see everyday or that's eye catching.
Looking back at Koko Crater, Kuapa Pond, and Koko Head. Kuapa Pond was at one time the largest fish pond on Oahu, until urban development shrank the pond to what you see now. Almost to the top!
More stairs to climb, similiar to the ones found on the Hawaii Loa Ridge hike. Keep in mind that these are not regular stairs, but plastic slats built into the side of the mountain, so expect erosion at certain spots, sometimes it was like walking over minature hurdles.
Getting to the top of the summit at 2,080 feet. It took us little over an hour to make it to this point. Those stairs at the end gave us a good cardio workout.
After catching our breath and taking a short break, we decided to go past the end of trail sign that tells you to turn back. If you continue past the sign to the left, it will take you to Pu'u o Kona and eventually loop around Kuli'ou'ou valley.
As we pressed on, the trail became more noticeably eroded and drop-offs on the sides became more pronounced. Looking back, we saw the clouds rolling in and hoped Mother Nature wouldn't shower us with her tears.
The cool part I love about ridge hikes, is the fantastic views afforded to you. Another thing, is you can be walking in dazzling sunshine, and the next minute, you are enveloped in cool clouds.
Looking back towards Kuli'ou'ou Valley, as I mentioned before, the views are just fantastic on these ridge hikes.
We came across this old landslide that took part of the trail down the mountain. I wonder in time, if another landslide, will eventually make this trail unpassable.
I have got to thank whomever installed these ropes, shaky as they may be at some points, on these hikes. Otherwise, it would make these hikes that much harder, as even with the ropes, sometimes we were scrambling for any solidly rooted plants for support to help pull us up.
It took almost us another hour to reach the summit of Pu'u o Kona at an elevation of 2,200 feet. You can see Diamond Head and Waikiki in the background.
Heading back down towards the valley, our knees started to get a tad wobbly. Maybe that's where the Hawaiian meaning for Kuli'ou'ou came from, "Sound of the Knee." The way going down was more difficult than coming up the other way due to more narrow ridgelines and steep descents. It took us another 90 minutes or so to finally get back down to our cars. This hike is difficult as there are steep ascents/descents and narrow ridgelines that must be carefully climbed and hiked. If you just hike to the top of Kuli'ou'ou and return back, then the hike would be easier. Keep in mind that these are just my opinions, other hikers may find it duck soup or hard as heck. It all depends on the individual.