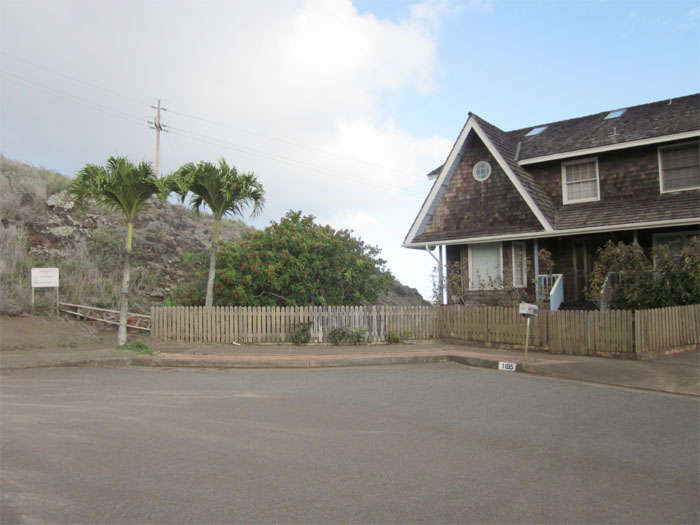 UPDATE AS OF JANUARY 22, 2014: PLEASE BE ADVISED THAT KAMEHAMEHA SCHOOLS, THE PROPERTY LANDOWNER OF MARINER'S TRAILHEAD HAS DECLARED THE MARINER'S RIDGE HIKE TO BE CLOSED. IF YOU WISH TO HIKE THIS TRAIL, YOU MUST CONTACT THE SIERRA CLUB OR THE HAWAIIAN TRAIL & MOUNTAIN CLUB TO GAIN LEGAL ACCESS.
Looking for an easy hike that has great views and where you can bring your kids and pets? Then, look no further than the Mariner's Ridge or Kaluanui Ridge hike. This has got to be the easiest and shortest ridge hike to the Ko'olau summit. I drove all the way to the end of Kaluanui road in the Mariner's ridge community and parked at the dead end. There is a distinctive, shingled house on the right side of the dead end that a lot of locals refer to as the "gingerbread house." Don't be put off by the no tresspassing sign at the entrance to the trail head, as this is a public hike and open to all.
Going up the rocky and dirt trail, I could see Koko Crater dominating the Hawaii Kai skyline.
Looking to the left, you can see Hahaione Valley, Kuapa pond and Koko Head.
After about 30 minutes, I got to the summit at an elevation of 1,361 feet. I heard this hike is very popular and often crowded, but this particular morning, I had the place all to myself. One of the advantages when you start at the crack of dawn, I guess.
Looking to the right, you can see Makapu'u Point from the flat area of the summit.
Looking to the left, you can see that you can actually continue hiking to Kuli'ou'ou Ridge, Hawaii Loa Ridge and points beyond.  But that is for another day and hike. This hike is easy, as there are no steep grades or dropoffs. It took another 30 minutes to get back down the trail, where I actually started running into other hikers and dogs.
The 2.4 mile hike can easily be done after work or for a quick filler.