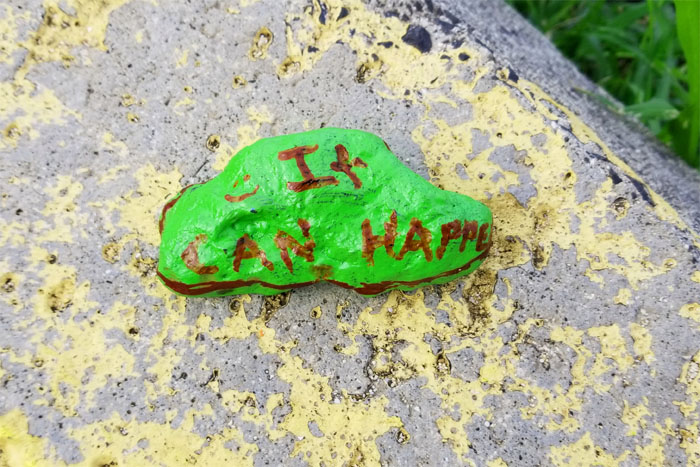 Rainy weather in Wahiawa diverted Chris, Ferlino and myself to the end of the island. Plan B.
Thanks to Jasmin for dropping us off in front of the guard shack, where we waited for our 4×4 rides to show up while we watched a couple of cannibal chickens peck at a roadkill.
I had a strange feeling that I've been down this road before.
Entering the facility that has been tracking satellites since statehood.
Leaving our escort behind us as we left the 153 acres of military controlled land.
Catching some fresh air before I was shaken, rattled and rolled to the truck bed and splattered with mud. The joys of off-roading. Somebody's kid was amused at my misfortune.
What happens when you under-inflate your tire, you lose your bead. Luckily, somebody had a lot of toys on their jeep.
Are you guys with AAA?
I decided to sit out the rest of the ride safely ensconced in the truck cab.
We soon passed the Earl Pawn Campground and barreled our way up the road. Mahalo to Brian and Zack for driving us all the way to the trailhead. Saved our feet from pounding out many miles.
Stepping foot in the Pahole Natural Area Reserve.
Taking a well deserved break from the punishing 15 minute trail. It was brutal, stay hydrated my friends. Photo by Ferlino Carinio.
I guess somebody told these two about the birds and the bees.
Passing the shed with no signs of hanging avocados or ripe tangelos.
Climbing out of the ravine to the WST.
Group photo left to right: myself, Chris and Ferlino.
Hiking underneath the ominous blanket of udderly striking clouds.
Experiencing three different types of cloud formations in the mountains. It was quite the visual treat.
Picking our way through the assorted rocks strewn on the trail.
When the right hand doesn't know what the left hand is doing, let alone where it's at.
Making the push up the final hill. Almost there.
Panoramic view of Makaha and Makua Valleys.
Bushwhacking our way through the dense and tangled thicket of uluhe ferns and thorny thimbleberry plants.
A hop, skip, and a jump and we were back into the bushes.
Making our way down. Photo by Ferlino Carinio.
Dropping down the initial steep descent that was marked by weathered webbing. Photo by Ferlino Carinio.
Looking down at the stone sentinel that gives the ridge its name.
Watching the thousand-foot waterfall cascade down into the valley. Photo by Chris Bautista.
Scrambling our way to the top of the rock that resembles the iconic gorilla. Photo by Chris Bautista.
An escapee from the local sanitarium, who after being locked up for 15 years wanted nothing but an ice cold soda. Lukewarm will do.
Contouring our way down another steep descent down the ridge.
Going around the massive boulder that got deposited here ages ago. Photo by Ferlino Carinio.
Chris gathering some wild mushrooms. Magic, poisonous or edible?
If it's true that we swallow four spiders a year while sleeping, I might as well do it awake. Photo by Ferlino Carinio.
Too soon for the sequel? Photo by Ferlino Carinio.
No avocados or mangos on the trail for us to pick today. Farmer's market was closed.
Passing through the head high and itchy California grass.
Some of us took a dip into the local watering hole. Splish for one and splash for the other.
Chris and Ferlino coming up to the end of the road.
One of the best preserved Hawaiian temple in the islands.
Passing by a taro patch on our way out. Just need to find a pua'a now.
We ended our 18.8 mile hike amongst the pecking peahens and the strangely deafening silence of the strutting peacocks. Another hike where the mileage was mostly done through sitting on our okoles as we bumped our way through the Waianae Mountains.
Mahalo to Jasmin for picking us up and bringing us back to the Windward side of the island. Shout out to Analyn for bringing her home made oxtail soup and Shirley for her store bought dessert that made it one of the best post hike meals to date. We should do this more often.
Note: I have been made aware that some hikers have been using my blog as a hiking guide and getting lost on the trails. Please note that this blog was made to document the hike for the crew(s) that did it. That is why some of my comments will seem to have no relevance or meaning to anybody outside of the crew(s) that hiked that trail. My blog was never meant as a hiking guide, so please do not treat it as such. If you find inspiration and entertainment from these hikes, that is more than enough. If you plan on replicating these hikes, do so in the knowledge that you should do your own research accordingly as trail conditions, access, legalities and so forth are constantly in flux. What was current today is most likely yesterdays news. Please be prepared to accept any risks and responsibilities on your own as you should know your own limitations, experience and abilities before you even set foot on a trail, as even the "simplest" or "easiest" of trails can present potential pitfalls for even the most "experienced" hikers.