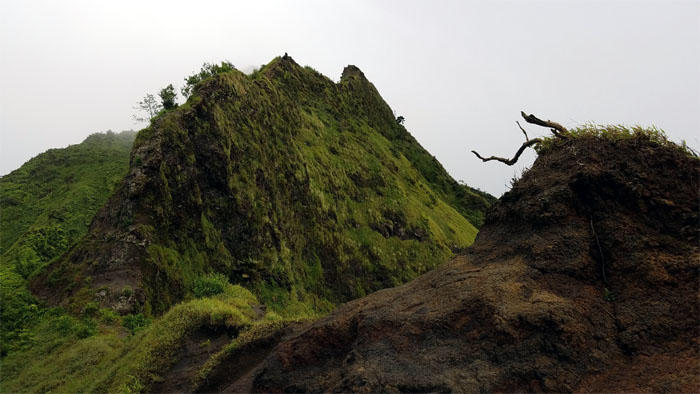 Some Ohio Professor thought I was joking about taking him to the saddles for his special day. Happy Birthday!
I picked up Andy from Kalama Valley and we drove to Moanalua Valley, where Analyn was kind enough to take us to the trailhead off Likelike Highway.
Our first views of the day. Hope it won't be the last. Photo by Andrew Keller.
Hanging onto the plants as we made our way along the ridge.
Scrambling up the backside of the conical shaped rock, depending on your point of view.
Climbing down the frontside or wait, is this the backside? Depends on your direction of travel. Photo by Andrew Keller.
The best seat on the saddle.
Climbing up on the Windward side. The best side. On this side. Photo by Andrew Keller.
Andy making his way up with Olomana in the background.
Climbing up on the Leeward side. Photo by Andrew Keller.
Pretending to be a billy goat helps when going up a crumbly ridge.
Dropping off the ridge and contouring on the Leeward side.
Going up the soft, shifting dirt makes one fight for every inch gained.
There are more pressing problems than trying to safely traverse a crumbly ridge, like changing a dead GoPro battery.
Andy making his way up the windswept ridge.
Swimming through the overgrowth.
Halfway done at the partially socked in summit of Kahuauli.
Traversing the cloud soaked ridge line.
Missing out on the Windward views.
Heaven must have sneezed as the clouds blew away to reveal the ridge and all the man made structures in all her glory.
Looking back at the Windward views that we had missed earlier.
In exchange for receiving zero assistance in locating Diamond Head, we pointed a California visitor from Pu'u Keahi a Kahoe to the terminus of Stairway to Heaven. Still looking for the hardest hike on the island.
Picture with a photobomber.
You guys can go that way …
… and we'll go this way.
Making our way down against the backdrop of Halawa Valley.
Leaving Heaven behind us. Photo by Andrew Keller.
Watching other hikers take the longer and slightly less eroded ridge back down.
Scooting our way down as the ridge took on a decidedly eroded character.
Andy trying to get his footing on the ever crumbling rocks.
Making our way over windswept trees, crumbly rocks and scenic views. Photo by Andrew Keller.
Leg eye view of myself making my way down the most famous obstacle on this saddle. Photo by Andrew Keller.
Andy contouring his way around with the valley in the background that was originally the planned home for the H-3 Highway.
Leaving behind the polygon of rocks and dirt behind us.
Backing our way down the Windward contour. Photo by Andrew Keller.
Andy was disappointed that the saddles hadn't been more "challenging", so we had to do it on one leg with our hands tied behind our back. The one eye shut is open to speculation as we were both wearing sunglasses.
Are we having second thoughts about pushing towards Red Hill? Perhaps not.
The ridge wasn't crying us a river, let alone a waterfall.
Making our way underneath the tangled thicket of hau branches.
The end of the road that still hasn't grown on me and probably never will. Our 7.55 mile hike was a good saddle introduction that was blessed with overall good weather. Post hike meal at Outback Steakhouse, where the meals were a little rich for somebody's liking.
Note: I have been made aware that some hikers have been using my blog as a hiking guide and getting lost on the trails. Please note that this blog was made to document the hike for the crew(s) that did it. That is why some of my comments will seem to have no relevance or meaning to anybody outside of the crew(s) that hiked that trail. My blog was never meant as a hiking guide, so please do not treat it as such. If you find inspiration and entertainment from these hikes, that is more than enough. If you plan on replicating these hikes, do so in the knowledge that you should do your own research accordingly as trail conditions, access, legalities and so forth are constantly in flux. What was current today is most likely yesterdays news. Please be prepared to accept any risks and responsibilities on your own as you should know your own limitations, experience and abilities before you even set foot on a trail, as even the "simplest" or "easiest" of trails can present potential pitfalls for even the most "experienced" hikers.