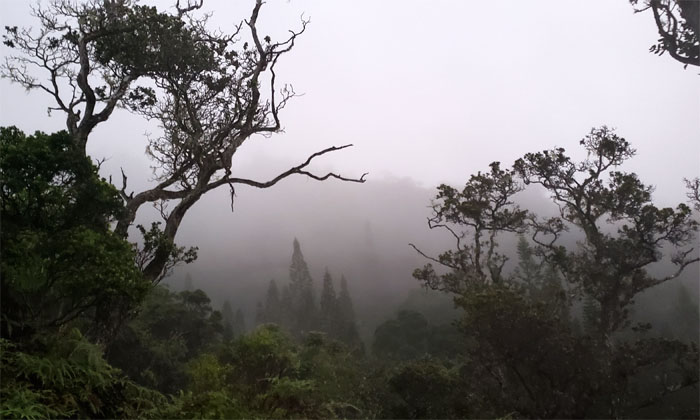 We were supposed to meet up with another friend to celebrate her KST completion, but ended up stumbling into another surprise with a happy ending. And no, it wasn't a massage.
Met up with Lilyn and Quan in the wee hours of the morning in the hills of East Oahu and yes there is a rhyme and reason behind the early start.
Brushing ones shoes helps to prevent rapid ohia death and bringing invasive seeds into native areas.
We got no views at the 2,028′ eroded hill, but at least we had ourselves. That's worth something, right?
Quan heading into the mist. Photo by Lilyn Avendano.
Lilyn and Quan scrambling up the eroded section. Pays to speak softly and carry a hiking stick.
One of many cloud soaked views at the 2,200′ top. Photo by Lilyn Avendano.
The girls pulling themselves up one of many hills on the ridge line.
Where's the flapping chicken at the 2,520′ summit? Photo by Lilyn Avendano.
Lilyn making her way up to the 2,429′ summit.
We got partial views at the denuded top.
Traversing our way along the spine of the Ko'olau Mountains.
Missing the prayer flags and the green trail sign. Photo by Lilyn Avendano.
Making our way to Wiliwilinui Summit where we met another bunch of hikers milling around at the 2,520′ top. Lilyn and Quan kicked me out of the group and told me to go meet Agnes at Mount Olympus for her KST champagne finish. Photo by Lilyn Avendano.
Quan coming up the powerline ridge that transfers electricity from Leeward to Windward. Photo by Lilyn Avendano.
I got a random call from Shirley asking where I was hiking and it turned out we were both heading to the same place. Will wonders never cease.
Looking back at the big hill that the rains had turned into a giant mud slide.
Met up with Bill and Shirley at the top of the Ka'au Crater Loop Trail, where I was soon pressed into filming what I thought was another cheesy dance, when … wait for it …
Something old, something new, something borrowed and something blue. I don't want the blue hole! I want to be surprised! Surprised much? Congrats to Bill and Shirley on their engagement in the mountains.
The impromptu proposal had derailed my plans to meet up with Agnes, so I just waited for the rest of my group to catch up where we enjoyed some mama ramen tom yum shrimp flavor. Nom nom.
Making our way down the trail towards one of three tuff cones on the island. Photo by Lilyn Avendano.
The girls coming down one at a time on the ropes that came in handy on the slicked and muddy trail.
Rutted much? Photo by Lilyn Avendano.
Why am I holding this rope?
Dropping down to almost eye level with the marsh filled crater.
We decided to take the loop trail that bypassed the waterfalls. In hindsight, wrong choice! Too long. Photo by Quan Haberstroh.
Dropping down to the valley floor. Finally.
Following the water pipe out of the valley.
When you are too tired to appreciate the sarcasm. Thanks to Aida and Sally for picking us up and driving us back to our cars. Post hike meal at Peppa's Korean BBQ. Our first choice wasn't open for business.
Our hike covered almost eight miles through rain, wind and mud. While I didn't get to see the ending of Agnes Bryant's finish of the KST, I was witness to the beginning of another happy story. Not a bad trade off.
Note: I have been made aware that some hikers have been using my blog as a hiking guide and getting lost on the trails. Please note that this blog was made to document the hike for the crew(s) that did it. That is why some of my comments will seem to have no relevance or meaning to anybody outside of the crew(s) that hiked that trail. My blog was never meant as a hiking guide, so please do not treat it as such. If you find inspiration and entertainment from these hikes, that is more than enough. If you plan on replicating these hikes, do so in the knowledge that you should do your own research accordingly as trail conditions, access, legalities and so forth are constantly in flux. What was current today is most likely yesterdays news. Please be prepared to accept any risks and responsibilities on your own as you should know your own limitations, experience and abilities before you even set foot on a trail, as even the "simplest" or "easiest" of trails can present potential pitfalls for even the most "experienced" hikers.