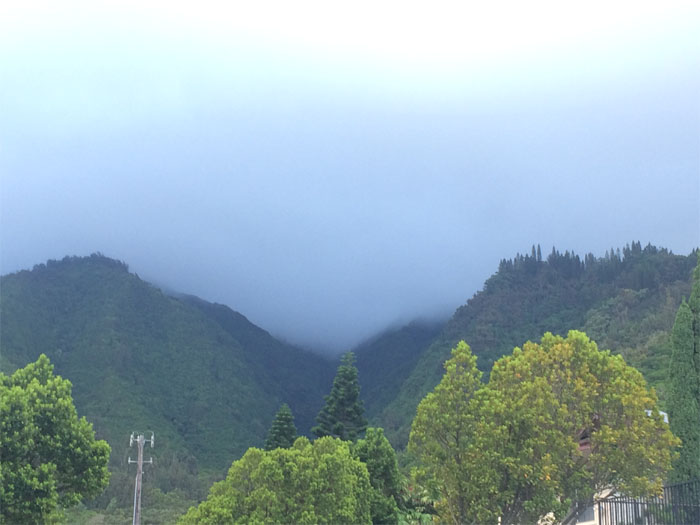 Met up with Chris deep in a valley on the East side to scout out a ridge and instead ended up exploring some waterfalls.
It pays to come early to snag parking closer to the trailhead on the crowded residential street.
We left the ridge crowds behind as we turned left to go deep into the valley.
Chris ducking underneath a tree on the slightly muddy trail.
Our first waterfall stop.
Fallen leaves carpeted the rooted trail.
No climbing, just contouring.
Heading deeper into the valley. Upstream.
Fern whacking in the valley.
Calling Paul Mitchell.
We had the valley and the mosquitoes all to ourselves.
Trickling Kuli'ou'ou Stream between the mossy covered rocks.
Trickle of a waterfall. Spigot must be blocked upstream.
Maybe not. Deep pool ahead.
The boulders increased in size and count as we hiked further upstream.
Group photo at the final waterfall. Time to turn around.
Looking behind as we made our way back out the valley, we saw another waterfall chute deeper in the valley and the spur ridge that warranted further exploration. Another hike.
We left one valley to head over to another valley to look for more waterfalls with another group. I think I've had hiked enough waterfalls to last me a spell. Post hike meal at Serg's Mexican Kitchen. BYOB.
Note: I have been made aware the some hikers have been using my blog as a hiking guide and getting lost on the trails. It is not advisable to hike to waterfalls during heavy rain as one will be at risk to flash flood conditions and falling rocks. Please note that this blog was made to document the hike for the crew(s) that did it. That is why some of my comments will seem to have no relevance or meaning to anybody outside of the crew(s) that hiked that trail. My blog was never meant as a hiking guide, so please do not treat it as such. If you find inspiration and entertainment from these hikes, that is more than enough. If you plan on replicating these hikes, do so in the knowledge that you should do your own research accordingly as trail conditions, access, legalities and so forth are constantly in flux. What was current today is most likely yesterdays news. Please be prepared to accept any risks and responsibilities on your own as you should know your own limitations, experience and abilities before you even set foot on a trail, as even the "simplest" or "easiest" of trails can present potential pitfalls for even the most "experienced" hikers.