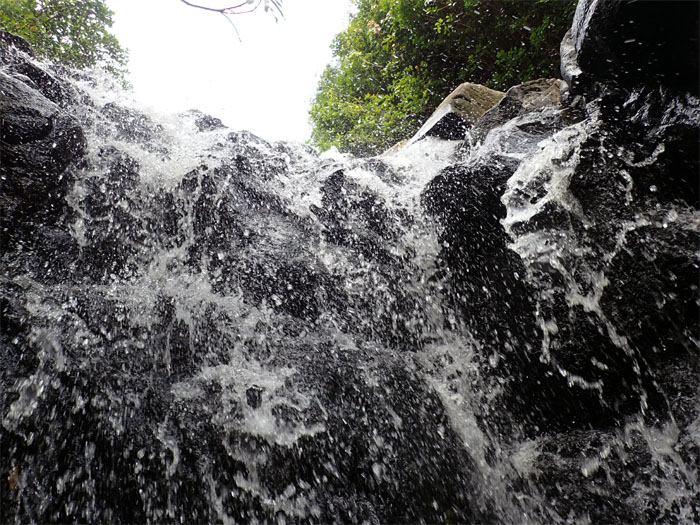 Hurricane Lester chased us off the mountains and into some deep waterfalls this Labor Day Weekend. I had been talking to Scott earlier as the approaching mass of rotating storms had canceled both our three day weekend hikes. He agreed to show us the 18 waterfalls of Laie, as he had hiked the canyons multiple times. Three times to be exact. Met up with Ani, Chris, John, Scott, Shirley, Stuart, and Yoly at Laie.
We all met at the ball field and looked up at the blue skies. What hurricane? The good news was that we wouldn't be swept away in a flash flood in the confined canyons. The group pushed off a little behind schedule. Hawaiian time. At least somebody would be buying lunch. Right?
Group photo left to right: Stuart, Scott, Yoly, myself, Shirley, Ani, John and Chris. Have permits, will hike.
Hikers straight ahead. Dirt bikers to the right.
The group going up the eroded section of the trail.
Something new. Leave a bottle. Donate a nickel. Pretty sad when people can't pack out what they pack in.
Edible fungus? Shade for bugs. Photo by Stuart Krempin.
Panoramic view of the trail going up. Photo by Stuart Krempin.
Trail snacks. Ripe for the picking. No spitting. No spreading. Photo by Stuart Krempin.
Looking for the junction and the proverbial needle (pine tree) in the haystack (grove of pine trees).
We couldn't find the big tree amongst the other big trees, so we continued up the trail. Photo by Stuart Krempin.
Group photo at the junction. Now would be a good time to waterproof.
Headed down into Kahawainui Gulch.
We can hear water!
Some people just can't sit still for long. Photo by Ani Lagpacan.
Shirley taking the dry way up.
Yoly already on the top. No more waterfalls ahead.
John taking the wet way up.
Time to go, as other hikers started to make their way down. Who's in charge of counting the waterfalls? Shirley?
Too steep and slippery to climb down, time to contour.
Chris making his way down.
Looking back. Photo by John Caicedo.
Scott stepping his way down.
The water was cold. Ice cold. Well, at least refrigerator cold.
Time to break out the webbing.
Shirley making her way down.
What are you waiting for? Take the plunge. Photo by Ani Lagpacan.
Have life vest, will float.
Waterfall leads to pools. Deep pools. Photo by Yoly Bedford.
Sunbeam for Stuart.
Scott making his way down.
Who's counting? Stuart? Photo by Ani Lagpacan.
Ani making her way down the slippery rocks under Scott's watchful eye.
Going down the water slide. Nature's waterpark. Photo by Shirley Hamamura.
Stuart trying to delay the inevitable. Photo by Ani Lagpacan.
The canyon walls seemed to contract and expand as we made our way downstream.
Time to contour again. Don't trust that old rope.
Stuart and Yoly threading their way down through the dense pocket of strawberry guava trees.
Lunch time for some … Photo by Ani Lagpacan.
… while John, Shirley, Stuart and Yoly climbed up to see the waterfalls that we had contoured around. Photo by Chris Bautista.
Instagram photo of the day. How many likes can I get? Photo by Stuart Krempin.
Yoly and Stuart making their way down. Photo by Shirley Hamamura.
Going back to rejoin the rest of the group. Somebody was getting restless. Photo by Shirley Hamamura.
Over the rocks. Under the branches.
Rock hopping down the stream.
Walk or wade. Take your pick.
Looking back at twin waterfalls. Photo by Ani Lagpacan.
Does this count as a waterfall?
Low clearance ahead.
Looking back. Photo by Shirley Hamamura.
Stuart climbing down into the pool.
Hey guys, turn around. Group photo by Shirley Hamamura.
One climbing in, one swimming and one getting out. Rinse and repeat. Photo by Ani Lagpacan.
Shirley and Chris taking memories. Photographic memories.
Stuart rock hopping down the stream.
Chris and Shirley scrambling over the mossy rocks.
Chris trying not to get wet. More wet.
Who needs rope? Not John.
Ani making her way down. Photo by Chris Bautista.
The last waterfall discharging into the deep pool.
Stuart making his way downstream. Photo by Ani Lagpacan.
The waterfalls had ended and now we had to find our way out of the canyon and back onto the ridge.
Yoly wading through a pool ringed with ginger scented flowers.
Splish, splash, the camera was taking a bath. Photo by Shirley Hamamura.
The group heading into the hau jungle gym.
We were hanging and walking on branches suspended over the gulch floor. Snap, crackle and pop.
It felt like we were trying to extricate ourselves out of a giant spider web of mossy hau branches.
Somebody was happy to get out of the thicket of hau trees. Skipping happy. Photo by Yoly Bedford.
Ani threading her way up through the densely packed strawberry guava trees.
The trees thinned out as we neared the top of the ridge.
Back on the trail again.
Still looking for that junction? Just look for that big tree.
Where's the fire?
Wet. Muddy. Tired. Happy. Not necessarily in that order.
Our waterlogged hike covered 8.54 miles. We saw 18 waterfalls, give or take. Which begs the question, what defines a waterfall? Water? Falls? Amazing adventure with fun friends. Post hike meal. Seven Brothers? Mormon Sunday. North Shore Tacos it is. Cut the dessert six ways. Let me get a knife. We also unwittingly provided embarrassing and entertaining conversation for the lady sitting next to us. You are most welcome.
Note: I have been made aware the some hikers have been using my blog as a hiking guide and getting lost on the trails. It is not advisable to hike to waterfalls during heavy rain as one will be at risk to flash flood conditions and falling rocks. Please note that this blog was made to document the hike for the crew(s) that did it. That is why some of my comments will seem to have no relevance or meaning to anybody outside of the crew(s) that hiked that trail. My blog was never meant as a hiking guide, so please do not treat it as such. If you find inspiration and entertainment from these hikes, that is more than enough. If you plan on replicating these hikes, do so in the knowledge that you should do your own research accordingly as trail conditions, access, legalities and so forth are constantly in flux. What was current today is most likely yesterdays news. Please be prepared to accept any risks and responsibilities on your own as you should know your own limitations, experience and abilities before you even set foot on a trail, as even the "simplest" or "easiest" of trails can present potential pitfalls for even the most "experienced" hikers.