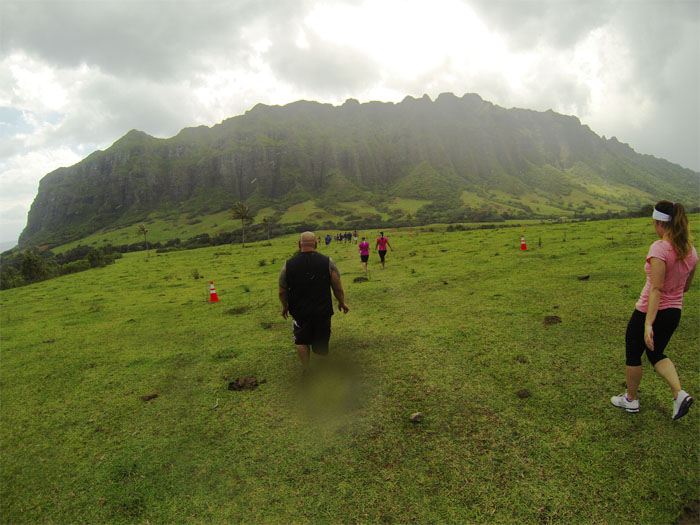 It was time to get muddy again. That's why I found myself on the road headed to Kualoa Ranch to participate in the Makahiki Challenge, which is a mud run/obstacle course. Just coming off the Warrior Dash two weeks ago, I decided to check out this race on the Windward side of the island.
$10 to park again, this time no option to park free on the outside road. There are no check-ins or timing chips to put on your shoes, just show up and go!
The obstacles seemed to be evenly spaced out on this course, as compared to the Warrior Dash. Coming up a hill, we stooped and staggered underneath a net, best bet was to draft somebody from behind. My GoPro kept on getting stuck in the net and almost got ripped off my head a couple of times.
This was the best obstacle in terms of fun value. Sliding down headfirst on 100′ of water lubricated plastic. Until my face met somebody's feet at the bottom and then a couple of folks slammed into me from behind. It was still fun.
All upper body strength as you climbed the monkey bars going up and then going down. Probably the hardest obstacle on the course, in  terms of people actually completing it.
A nice icy cold dunk to wake up your lower extremities. It's over before you know it.
Oh, what a tangled bungee web we weave.
The planks got lower as you crawled into this one, forcing you to kiss the mud at the end.
As we hit the middle of the course, we saw choke cows grazing and mooing at us. Choke is a relative term and comes from a city boy like myself.
Some runners stopped to get their picture taken with this left-over film set from the movie "Journey to the Center of the Earth." Didn't see no Jurassic Park paw prints.
We soon found ourselves looping back and making our way towards the ocean.
This had to be lamest of the obstacles, as it was just a couple trails flooded with muddy water. Fail.
Today's entertainment was provided by this character as he was flinging mud at us as we entered this mud filled pit to hear him yell "My grandmother is faster than you" and "My grandmother's dog is faster than you." I guess the classics never die.
This was probably the second hardest obstacle on the course. Grabbing a muddy rope with muddy hands and trying to climb up a muddy wall.
The hardest part of this obstacle was trying to get your muddy feet on these beams. Some runners used the staff as support as they made their way on the zig zag beams.
Rolling to the finish line through these hanging tires.
No medals at this race, just a cup holder. T-Shirts will be in the mail. Huh?
Click here for the larger image. Would I do this race again? It was fun, but not $80 worth of fun.