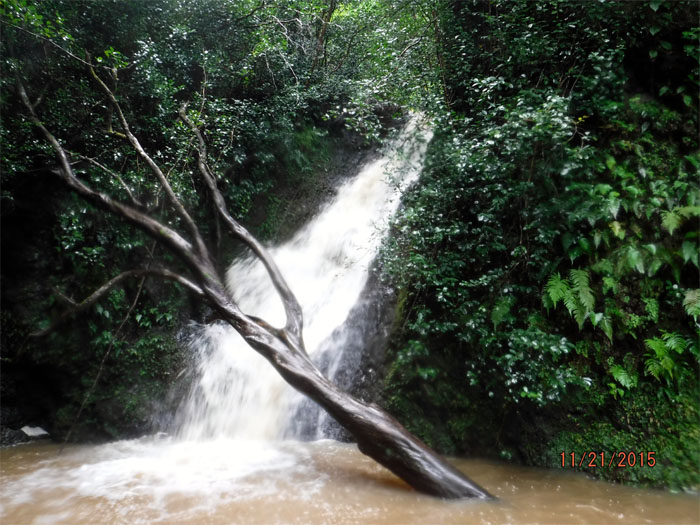 Rainy weather had scuttled our West side hiking plans, so we found ourselves searching for a waterfall. In Laie. Met up with Dale and Justin by the baseball field. Not a raindrop in the sky. The rest of the island was being saturated and here we were, bone dry. Go figure. Photo by Dale Yoshizu.
Dale and Justin walking over the bridge to the trail. Hey, we were just here last weekend!
We passed the Laie trail junction and continued down the jeep road until we saw the sign to Malaekahana Falls. Photo by Justin Hirako.
Time to get our feet wet and muddy. Prepping for that waterfall. Photo by Justin Hirako.
The rolling foothills of Laie. Photo by Justin Hirako.
Morning dew on a red lehua flower. Photo by Dale Yoshizu.
What would a hike in the mountains be without those pesky and scratchy uluhe ferns? Exactly. Photo by Justin Hirako.
We soon dropped off the ridge and made our way down to Malaekahana Stream. Photos by Justin Hirako.
Group photo by Justin Hirako, left to right: Justin, myself and Dale.
Why did the hikers climb the slippery tree?
To get to the bigger waterfall. Photo by Dale Yoshizu.
Up close and personal with the 80'+ waterfall. Maybe too close. The water was ice cold. Photo by Justin Hirako.
As I made my way down to the lower falls, my waterproof camera slipped out of my pocket and bounced down to the pool below. Not clumsy proof. Justin searched. No rescue. Photo by Dale Yoshizu.
Making our way back up to Malaekahana Ridge.
Looking out towards the ancient sanctuary for fugitives. We had our hiking permits from Hawaii Reserves, so we were good.
No sightings of Lani Moo.
We washed the mud off our shoes and the mob of mosquitoes had a feeding frenzy.
What kind of plants are those? Justin!
Where was the rain? Every place but here.
Our short and sweet waterfall hike covered 6.98 miles. Post hike meal at Waiahole Poi Factory. No laulau? Wow laulau!