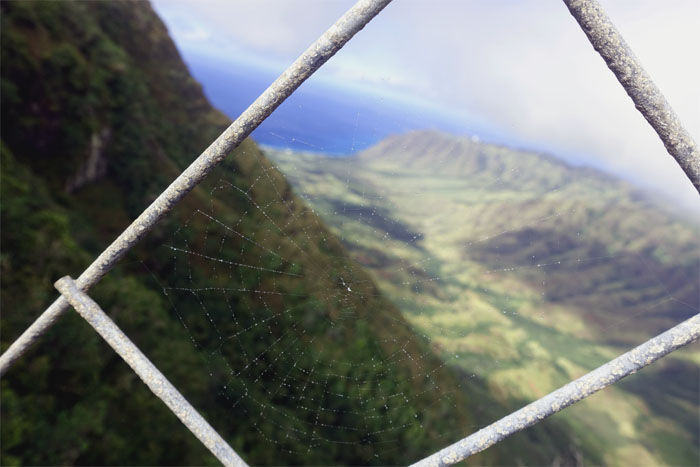 Bills were due and rules were made to be broken, and that's how we ended up with today's hike. Right muthafucka?

Thanks to Dale for dropping Frank, Shirley and myself off in the middle of nowhere. Winter is for the Waianaes. It's also the time to bring headlamps. I guess some lists just aren't meant to be read.
We did a short cardio puff up the road. Reminds me of the road to Ka'ala. Not my favorite.
Let's not wake up the campers. Who you calling white?
Starting our farewell hike.
Mexi-Kaida and Fili-Kaida. Unmasked.
Somebody was not fast enough to catch the nene.
We turn left, right? Or right, left?
Makua Valley. You'll have to take my word for it.
Rat country ahead. Rain country too.
Jumping the fence.
Going down the fence line.
Picking our way amongst the scattered rocks and trees.
Pulling ourselves up. One fence at a time.
Three Corners is out there. You'll have to take my word for it.
There's a view. Where?
Frank making his way up, while sandwiched between a rock and a fence.
Shirley high fiving the self-pleasuring glove. Please wash your hands.
We are here …
… to witness more stunning views of Makua, Makaha and Mokuleia. You'll have to take my word for it.
Going down the rabbit hole.
Hiking in the clouds. Photo by Frank Martinez.
I didn't know I would be hiking with The Flying Wallendas. Or at least one of them.
The clouds and rain showers started to clear as we made our way on the ridge.
We could see the ridge for the fences or was that the fences for the ridge?
Please keep your hands and feet on the fenced ridge at all times. Someone wasn't paying attention. A theme that was to be repeated at the cabin.
A rollercoaster of a ridge. Multiple short ups and downs.
Hanging into Makaha Valley. Photo by Shirley Hamamura.
One hand for the fence and one for the shaka. Photo by Frank Martinez.
Somebody was kung-fu hiking.
Frank and I scrambling up the ridge. Photo by Shirley Hamamura.
The "Buttercup" look. Photo by Frank Martinez.
Frank getting out of the way, before a darky fell on him.
Shirley looking back as the clouds seemed to be chasing us down from the mountains. Photo by Frank Martinez.
How do you sit on this? Photo by Frank Martinez.
Rainbow in Makua Valley. I heard it leads to pots of UMX ( unexploded ordnance ).
Open for camping.
Climbing up from the boulder.
Now you see the clouds …
The fence took up valuable real estate on the ridge while affording us handholds and keeping out the unwanted ungulates. Give and take.
… and now you don't see the clouds.
This grasshopper had the right idea on how to hike this ridge.
Climbing up from the notch.
Shirley climbing around and up the interrupted fence line.
Fences for days.
Fill in the blank and use your vivid imagination. Shirley wishes she had a ____ right now.
The Great Fence of Ohikilolo.
Hiking into the wind. Photo by Shirley Hamamura.
How to train your rock dragon. No caption credit given this time.
Almost there. Photo by Frank Martinez.
Always amazed to find these hardy plants living in such a parched and seemingly inhospitable terrain.
Mars slip and slide recreational area.
Pausing and posing. Photo by Frank Martinez.
Time to climb up to the triangular peak of Ohikilolo, but first … Photo by Frank Martinez.
… let's have another IG photo shoot.
Overlooking Makua Valley. You don't have to take my word for it. Photo by Shirley Hamamura.
Let's take the easy way up.
Random group photos at the 3,052′ peak.
Looking out towards Pu'u Keaau on our way to the cabin.
Throne with a view. BYOTP.
What's for lunch? Cold burritos with rice and potatoes, courtesy of Frank. Homemade? Mexican.
And … ?
Saying goodbye to the cabin and the mountains.
All downhill. Rocky. Fenced.
The sun started to turn the ridge and valley into a sauna. Time to shed the sweater. Dry cleaned and pressed please.
Hanging ten on the fence hammocks.
What's going on? Another IG photo shoot. I guess every dog has to have his day as well.
Looking out towards Kaena Point.
Shirley and I traversing the skinnier section of the fenced ridge. Photo by Frank Martinez.
I was pleasantly surprised that we did not run across any goats that thought the grass was greener on the other side.
Looking back at the ridge as the afternoon shade slowly creeped across the valley floor.
Frank and Shirley stepping over the fence to get to the other side.
How many IG photo shoots does this one make?
It was just a short, steep scramble down the rocky trail and out to the highway. Please leave the little ones at home.
My fingers are tired. Thanks to Frank's buddy, Kyle, who picked us up and shuttled us back to our cars. Photo by Frank Martinez.
Our last hike of the year started off with clouds and rain showers, that soon turned into a cloudy and sunny beast of a ridge hike with fences and views for miles. 10.43 miles to be exact. Fun times with great company. Good memories. Happy New Year's to all.
Note: I have been made aware the some hikers have been using my blog as a hiking guide and getting lost on the trails. Please note that this blog was made to document the hike for the crew(s) that did it. That is why some of my comments will seem to have no relevance or meaning to anybody outside of the crew(s) that hiked that trail. My blog was never meant as a hiking guide, so please do not treat it as such. If you find inspiration and entertainment from these hikes, that is more than enough. If you plan on replicating these hikes, do so in the knowledge that you should do your own research accordingly as trail conditions, access, legalities and so forth are constantly in flux. What was current today is most likely yesterdays news. Please be prepared to accept any risks and responsibilities on your own as you should know your own limitations, experience and abilities before you even set foot on a trail, as even the "simplest" or "easiest" of trails can present potential pitfalls for even the most "experienced" hikers.