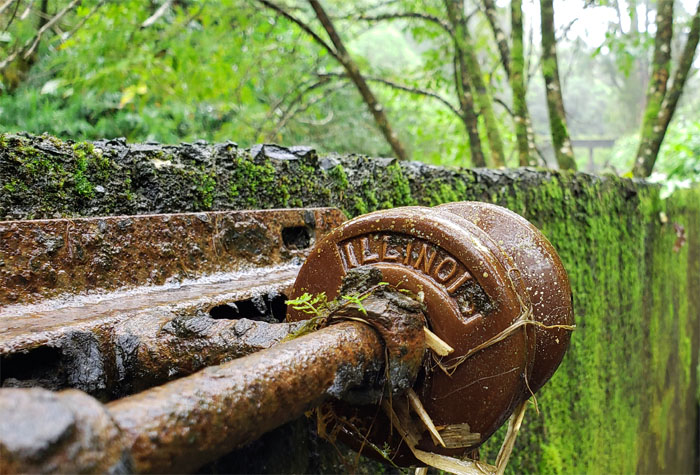 Matt invited Analyn, Cisco, Ferlino and myself to an impromptu hiking weekend on the Valley Isle. We got picked up at the airport, went to Zippy's for breakfast and then stocked up on supplies at Target for the weekend.
Hikers from all over travel to Maui to see her picturesque collection of waterfalls, today with the steady rain saturating the grounds, we would be no different.
Following the trail as it headed deeper into the lush and verdant forest.
We bumped into a hunters truck whose dogs were out sniffing for game, how about sniffing out the trail for us?
Looked like the habitat for smeagol, who might at any minute come out looking for his "precious." Photo by Cisco Quintanilla.
We rounded the bend in the trail before Matt realized we were going the wrong way.
Back on the right trail.
If we had to cross the chocolate colored stream, it would have been hike over. Luckily we just had to follow the road the entire way. Photo by Matt Vidaurri.
Looking out from inside the tunnel. Photo by Analyn Baliscao.
One turn of this wheel and the photoshoot will be over. Tempting. Photo by Matt Vidaurri.
Watching the roiling waters being diverted and shunted to other uses, robbing peter to pay paul. Photo by Matt Vidaurri.
Group photo further upstream left to right: Cisco, Matt, tangerine, myself, Analyn and Ferlino.
If you have to hike in the rain, this is the trail to do it in. Just miles of jeep roads winding through the lush forest.
Watching our step as we forded the stream, as we didn't want to go down the slippery slope. Photo by Cisco Quintanilla.
We are not alone in the mountains.
A canyoneering route that drops down into the valley. Photo by Cisco Quintanilla.
Walking through the vast system developed to bring water down from the watershed to the agricultural plains down below.
Ask and Mother Nature shall provide shelter from her tears.
Only male hands may transfer cuttlefish to these lips. People are watching.
Almost there. Really.
I'm not a real big fan of waterfalls, but these literally took my breath away as the spigot was turned on full blast.
Watching the tremendous volume of water surging its way down from the mountain …
… and plunging thousands of feet down into the valley.
The only waterfall that could be safely stood under without being swept away.
Bridging divides since 1924. Photo by Matt Vidaurri.
Life above the turbid stream beneath us. Photo by Matt Vidaurri.
Group photo at the next waterfall. We soon retreated further down the road away from the cold wind to have our lunch.
Is that a Cheeto in your shorts or are you just glad to see us? Maye not that glad.
When you are done playing with your food and need to crack your hard boiled eggs on something hard.
Thanks to another encore photoshoot, we got to see …
… clear across the valley to the waterfalls where we had just come from. Another canyoneering route that has been done by a handful of people, in dry conditions. Photo by Cisco Quintanilla.
Crossing back over the stream as it coursed its way down from the mountains.
Walking the plank again.
Looking back as the clouds cleared up again. Photo by Ferlino Carinio.
Posing for the yearbook photo. A couple years late. Photo by Matt Vidaurri.
Smelling the flowers on our way out.
Is that a branch on your tree or are you just glad to see us? Really glad. Photo by Cisco Quintanilla.
Passing the swollen stream that was being fed by the constant rainfall on our way out.
Walking out of our 9.7 mile trail, which was arguably the easiest hike in terms of intensity. No bushwhacking or crazy ridges to climb, simply straight walking to the destination. Thanks Matt for another great waterfall hike.
So many waterfalls to see and not enough time. Post hike meal at Da Kitchen where the plates were bigger than our stomachs.
Note: I have been made aware that some hikers have been using my blog as a hiking guide and getting lost on the trails. Please note that this blog was made to document the hike for the crew(s) that did it. That is why some of my comments will seem to have no relevance or meaning to anybody outside of the crew(s) that hiked that trail. My blog was never meant as a hiking guide, so please do not treat it as such. If you find inspiration and entertainment from these hikes, that is more than enough. If you plan on replicating these hikes, do so in the knowledge that you should do your own research accordingly as trail conditions, access, legalities and so forth are constantly in flux. What was current today is most likely yesterdays news. Please be prepared to accept any risks and responsibilities on your own as you should know your own limitations, experience and abilities before you even set foot on a trail, as even the "simplest" or "easiest" of trails can present potential pitfalls for even the most "experienced" hikers.