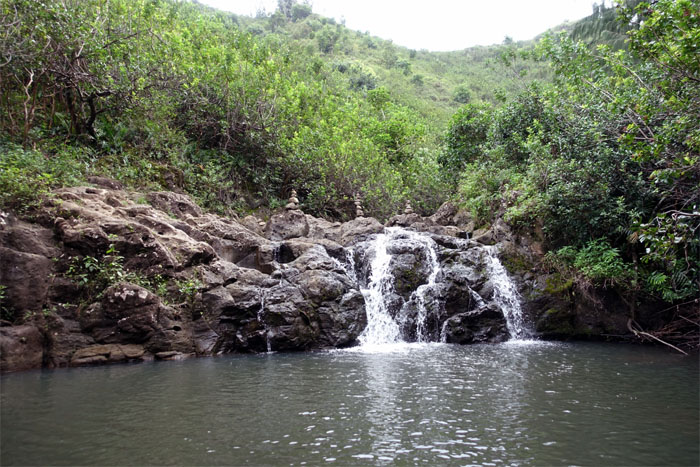 I was looking for a parade on this Veteran's Day Holiday. Waterfall parade. Dale showed Cathy, Chris B, James, Jennifer, Justin, Mae, Menchie, Thessa and myself the trail today.
We all met up at Laie Shopping Center and carpooled to the trailhead.
Justin felt right at home passing through the farmland. Fire up that tractor!
The road dipped as the stream ran through a semi-broken culvert.
We soon left the farmland and headed deeper into the gulch on a defined trail.
Water was clear and trickling. No flash flood conditions today. Photo by Dale Yoshizu.
Slippery when wet.
The group going over a tree to make their way across the stream.
How many crossings did we do?
There were some pretty large sized boulders scattered in the stream.
Group photo left to right: Cathy, Thessa, Mae, Jennifer, Menchie, myself, James, Chris B, Justin and Dale.
Took us only one hour to make it to the waterfalls. Photo by James Agas.
Rumor has it that there are bigger waterfalls upstream. Another hike for another day.
Splish splash.
The short and sweet waterfall hike covered 4.4 miles. Glad to have met new and old faces on the hike. Post hike meal at the bustling Seven Brothers. Gives Teddy's Bigger Burgers a run for their money.
Four of us stopped at Kualoa Regional Park since the day was still long. Group photo looking out over Moli'i Pond to the rugged mountain of Kanehoalani. Photo by Justin Hirako.
One can dream. Click here for the larger image. Photo by Chris Bautista.
Four hikers set sail that day. Now where's the key? I guess we're not setting sail. Photo by Justin Hirako.
Fun on the swings. No hammocks swinging in the breeze. Walking in the sand. It was a good day. Photos by Justin Hirako.