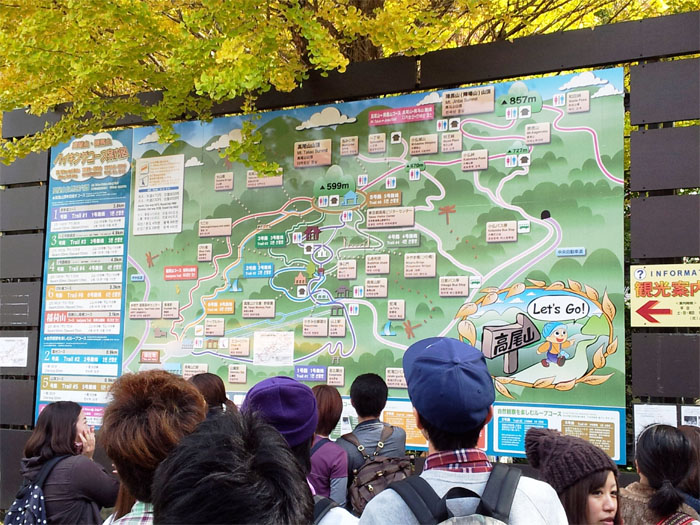 The last day of my vacation in Japan, I decided to do one more hike before I flew back home. If you have ever been to Tokyo Disneyland, I would call Mount Takao the Tokyo Disneyland of hikes. It has a cable car, amusement in the form of temples and wall to wall people. One quick tip – if the weather has been rainy the prior week and you go on a sunny weekend, expect major crowds!
There are eight trails to reach the summit. I took the most popular and paved one – trail 1. Besides the wait for the funicular was easily over an hour just to get on the cable car.
As I was trying to thread myself into the crowds making their way up the trail, I heard booming voices amplified by loudspeakers which were followed shortly by motorcycle cops and a mini-ambulance taking somebody to the hospital. That ambulance that came down gave new meaning to the word compact.
Twenty minutes later, I reached one of the scenic points where I saw the sprawling city of Tokyo.
I soon came across the Yakuoin Temple which was originally built back in 744. On the temple grounds, it was like a zoo as people of all ages thronged at the different shrines to pray for good luck.
Mount Takao is closely associated with Tengu, which are mythical bird-men that can either help or hinder people.
There are tons of these praying Buddhas or monks scattered throughout Mount Takao. Some of them have red "beanies" and "bibs", I kid you not. People leave one yen coins on these statues to make their wishes or prayers come true.
At the top of Mount Takao, groups of people were camped out beneath the red maple leaf trees and having a great time courtesy of the vending machines at the top that supplied the beer. It reminded me of the cherry blossom viewing parties they have in March.
The view at the top was somewhat disappointing as the clouds had started to roll in, obscuring most of the view and Mount Fuji, which can be seen on a clear day.
Going back down, I saw one hiker dressed as Santa Claus, a very skinny Santa Claus. Yes, Virginia, Christmas is a big deal in Japan. The wait for the funicular going down was terrible, we had to wait over an hour. I would highly recommend doing this hike during a weekday, where you will experience less crowds and more time and opportunities to explore all that Mount Takao has to offer.