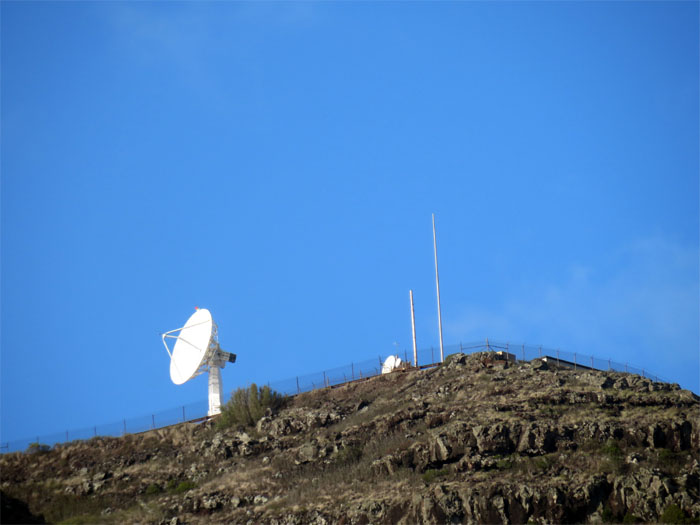 Rain, rain – didn't go away. The torrential rains that had soaked the Windward side earlier in the week forced us to cancel our planned hike of Ohulehule in Kahana Valley and replace it with a hike on the WST (Waianae Summit Trail). We decided to take a page from DGC and start segment hiking the WST, beginning with Kaena Point.
Rain showers passed over as we parked at the far end of Dillingham Airfield, putting the hike into question. It cleared quickly, so we piled into Matt's van to drive to the end of Mokuleia to start our hike. Group photo left to right: Will, Matt "Bah Humbug", myself and Marvin.
The long jeep road to the trailhead was mud central, as we some trucks drifting and sliding through the liquid dirt as we slogged our way through.
It was a windy day on the North Shore. Photo by Matt Vidaurri.
Passing through the fence that protects the bird populations, we saw a rock known as Leina ka 'Uhane. Ancient Hawaiians believed departed souls would plunge into the ocean for eternity from this rock.
The hardest part of the hike was climbing up this hill, made easier by the overcast clouds and cool winds. Photo by Will Lee.
Sitting on top of a graffitied bunker. The striking eye was painted by the Irish artist known as Eoin.
Kaena Point in the background. Didn't see any monk seals sunbathing.
As we climbed our way up, we could see the Mokuleia and the Waianae coastlines from our vantage point.
It was a perfect day to hike as it was heavily overcast and windy as heck, otherwise it would have been a scorcher of a day. Sometimes it pays to hike after a heavy rainstorm.
Our last glimpse of Kaena Point as we made our way to the top.
After having seen the KPSTS (Kaena Point Satellite Tracking Station) or golf balls from Keawaula or Yokohama Beach so many times, we were going to finally see it in person.
This sign gave me flashbacks from my last hike. Photo by Marvin Chandra.
For a change, I didn't mind walking on a paved road while hiking. It was a nice paved road. I wish our city streets were like this road. Photo by Matt Vidaurri.
Matt wanted to play with a really big golf ball. His club wasn't big enough.
Excuse me, what time do the tours start?
Will and Matt trying to float above the concrete coated hill.
Walking past the guard shack, a MP (Military Police) stopped us and questioned us as to where we came from. After hearing our story, he said that we were supposed to be escorted down the Satellite Tracking Station Road to Keawaula or Yokohama Beach on the Waianae side. He let us off with a one time warning. Happy Veteran's Day!
The MP said to go down this trail and cross the ravine to the last tracking station or golf ball. We happily complied. Otherwise our hike would have been abruptly terminated.
After bushwhacking in the woods for about half an hour, we found ourselves right back from where we started! So we plunged back into the woods and paralleled the road until we were out of sight from the guard shack.
The paved road eventually turned into a jeep road.
Looking back at the last cluster of tracking stations or golf balls.
Group photo with the Waianae coastline in the background.
We were now on the Kuaokala Access Road that traverses a public hunting area. Hmm, did we have on bright clothing? Oh yeah, we had Hawaiian Santa with us. We were covered.
This section of the trail was wide enough to drive a semi through it and then some!
We took a short break at this picnic table. Photo by Will Lee.
This mountain biker was the first person we saw today, besides the MP.
The views of the valley were starting to open up, especially if you were standing on top of a rock.
Group photo looking into Makua Valley. It is believed that this valley was once inhabited by the Olohe, hairless, red-skinned people separate from the Hawaiians. They were skilled in lua or the ancient martial art of bone breaking. A good reason to keep out of their valley.
The trail continues until you reach the WST junction to the right. We kept on going straight. Another hike for another day.
There were three clearly marked junctions indicating which direction to head to Kealia trail.
I thought it would be a good idea if we photographically illustrated the falling rocks sign at the Kealia trail. A plan not well thought out. Luckily we only picked up small pebbles. As the rocks were thrown up in the air, one hit me on my nose. Lesson learned.
Coming down the 19 switchbacks. I lost count after two.
The switchback trail was littered and strewn with rocks of various sizes.
There seemed to be a trail cut into the mountains above this fish pond?
All pau!
The hike was 11.52 miles long. Surprisingly it did not feel like a grinder, as the trail was pretty much flat for the whole distance and the nice cool weather helped as well. After the hike, we drove to Dong Yang in Wahiawa for some good Korean food.