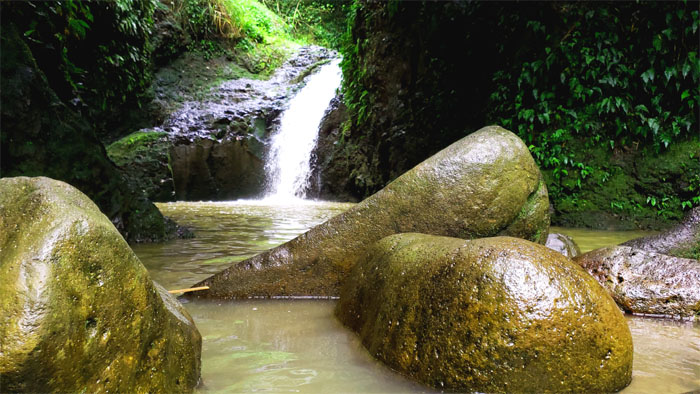 Projected thunderstorms derailed our camping hike, so we went to a popular watering hole instead.
This was my first time using the regular entrance to the trail that was established back in 1995 by Dick Davis, the Sierra Club and the Marines.
I guess we go to the right.
Making our way down the notoriously muddy trail that were interrupted by slick wooden steps.
The log that was ignored at first for a photographic prop, but its use could not be denied for long.
Passing by Maunawili stream, which is the longest in the entire Windward district of Ko'olaupoko.
Analyn rock hopping across one of the stream crossings.
Making our way towards the back of the valley.
We captured a large amount of time before letting others have their 15 minutes of photographic posterity.
Analyn watching her overhead clearance as she made her way up the even muddier trail above the falls.
We ran across another hiker on the dilapidated bridge who was droning himself.
Most of the wooden steps on the swaying bridge have long rotted and fallen away, which did not give Analyn much confidence in crossing the decaying structure. Fortunately, she changed her mind after some coaxing.
Locked in a swimsuit version of Groundhog Day.
Time to have some fun in nature's water park. Photos by Adrian Nando.
Back in the groundhog day.
Group photo left to right: Analyn, myself and Adrian. Drone photo by Adrian Nando.
Following the irrigation ditch on our way back out.
Taking the lower trail as nobody wanted to go on the slippery pipe.
When the food bites back.
Look ma! No steps!
Analyn coming back up the rickety bridge.
Looking heroic going back down.
We came back down to the crowded watering hole where some hikers were interested in what was beyond the falls. Trying to explain it in terms a tourist can understand. Language barrier. It was a fun and short photo shoot, err hike. Photo by Analyn Baliscao.
Note: I have been made aware that some hikers have been using my blog as a hiking guide and getting lost on the trails. Please note that this blog was made to document the hike for the crew(s) that did it. That is why some of my comments will seem to have no relevance or meaning to anybody outside of the crew(s) that hiked that trail. My blog was never meant as a hiking guide, so please do not treat it as such. If you find inspiration and entertainment from these hikes, that is more than enough. If you plan on replicating these hikes, do so in the knowledge that you should do your own research accordingly as trail conditions, access, legalities and so forth are constantly in flux. What was current today is most likely yesterdays news. Please be prepared to accept any risks and responsibilities on your own as you should know your own limitations, experience and abilities before you even set foot on a trail, as even the "simplest" or "easiest" of trails can present potential pitfalls for even the most "experienced" hikers.