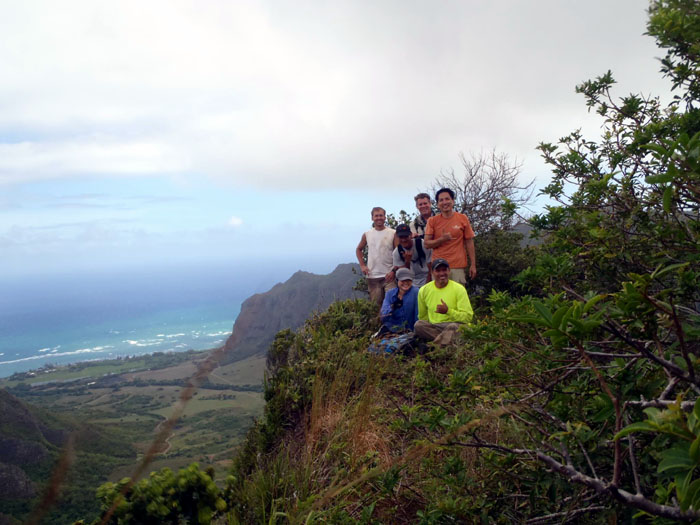 After a three-week hiatus from hiking, I hooked up with Marcus again, along with Scott, Francis, KiLei, and Pete. Having hiked Pu'u Manamana and Pu'u Kahekili, I jumped at the chance to hike True Manamana with an experienced guide like Marcus. I had heard a lot about this hike, how it was quite challenging and that it was no joke. We all met at Swanzy Beach Park at 7:45am and piled into Scott's truck, who then drove us to Trout Farm Road where we parked.
We pushed off at 8:05am and made our way up Cemetery Ridge from the old graveyard that sits at the foot of the trail. Right off the bat, the going up is a slow and steep climb up  a ridge that alternated between dirt, green moss and tree roots holding everything together. Within 20 minutes, we already had commanding views of Kahana Bay and Kahana Valley.
We reached Turnover, which is the highest point on Manamana at an elevation of 2,027 feet, at 10:10am. Mother Nature was graciously giving us excellent weather as we could see spectacular views of Ka'a'awa Valley and the Kualoa Mountains. Despite the sunny weather, the trail near the top of Turnover to the Lookout was extremely muddy, the type of mud that can suck your shoe(s) off your foot if not careful.
Twenty minutes later, we found ourselves at the 1,900 foot point known as Lookout. We could clearly see our objective dead ahead, True Manamana, with Pu'u Ohulehule squarely behind it. To lighten our loads a bit, we stashed our extra water at this point. It was best to carry light as possible hiking this narrow and crumbly ridge.
Half and hour later, we climbed down what is probably the hardest part of the trail, an approximately 50′ rockface. If you're confident in your climbing skills, you can "no rope" it going down, I elected to use the ropes to help me going down. Better safe than sorry.
We dropped nearly 600 feet going into the saddle between the Lookout and True Manamana. In between, the ridge was a combination of up and down climbs that provided crumbly and rocky footing and trees that would provide support as often as blocking the ridge, where we would have to swing to the side to get back on the ridge.
Scattered on the ridge, were also numerous rockfaces and formations that we either climbed around, over or simply contoured around them.
Marcus suggested we all take a group photo in this puka (hole) formation. But most of the group had already passed this on the way to the summit. We were supposed to have taken it on the way back, but I guess everybody forget except Scott and myself.
The ridge seemed to get a little more narrower and crumblier as we approached the summit. It could have been my imagination.
Making the final uphill push to reach the summit. I was already winded, and we had still had to reverse hike going back. Time to hit those elliptical machines to build up my cardio!
We reached the summit of True Manamana at 1,650 feet at 12:30pm. The views were outstanding as we could see Pu'u Manamana, Ka'a'awa Valley, Kualoa Mountains, Pu'u Ohulehule, Waimanalo to Kahana.
Click here to see the larger image.
No rest for the weary, after a short break, we all headed back down the same way we came up.
Took us exactly 8 hours to finish this four mile hike. But what a four mile hike it was! We called it a day by having something to eat at Uncle Bobo's, which is right across Swanzy Beach Park, BYOB!