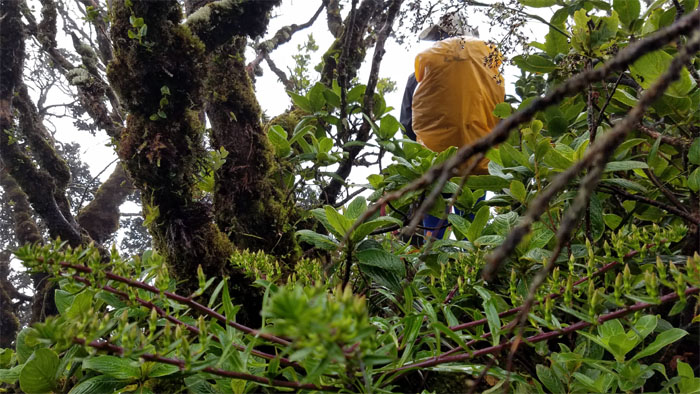 My original plan was to fly to Kauai and set foot on the Kalalau Trail this weekend; instead Jasmin drove Cisco, Ferlino and myself to the end of the island to kick off our weekend in the West.
We crossed paths with an amphibian only a princess and Lopaka could love.
Passing one of multiple WW2 bunkers going up the ridge. Photo by Ferlino Carinio.
We caught the breaking sunrise, only thing that was caught. Photo by Cisco Quintanilla.
Good thing these things are just tracking satellites.
Glimpsing some views of the rugged coast line …
… nibbled on some breakfast bites and returned back on the trail …
… glimpsing no views at all now.
Ferlino following the hiking arrow to stay on track.
Walking through the cloud soaked tree lined trail.
Making our way down the rocky and rutted trail. Photo by Cisco Quintanilla.
Guess who's playing King of the Hill?
Brushing past the water droplets hanging from the pine needles.
We ignored one gate to follow the fence line to …
… go through another gate.
Missing that 4×4 bus service on this trail.
To paraphrase Alexander Graham Bell, "Leaving the beaten trail to dive into the mountains to experience the rugged character of the Waianae Mountains."
Looking into the wounded valley that has yet to be allowed to heal itself.
The clouds soon snatched our valley views away, so we continued to follow the fence line. Photo by Cisco Quintanilla.
Our feet are located at N213239.22131 W1581140.52996, according to the National Geodetic Survey.
Stopping at the scenic view point of …
… the north shore towns of Waialua and Haleiwa. Photo by Cisco Quintanilla.
And now back to our regularly scheduled hiking.
Switch backing amongst the tinkling sounds that marked native plants?
Passing one of many signs that warns people to stay on the other side of the fence. Well heeded.
We jumped the fence to soak in some views. Photo by Cisco Quintanilla.
Back on the fence line.
No time to harvest the sweet and juicy tangelos down below us, as tempting and appetizing as that may sound.
We took a break on the only benches on the entire trail. Photo by Ferlino Carinio.
Cisco going down the undulating ridge line.
Pushing up the last climb to the summit.
Group photo where we had three views of clouds. Photo by Ferlino Carinio.
Where the fence line meets the road.
It was a punishing 2.5 mile walk up the solid, paved and incline road that were scattered with rocks of assorted sizes. Photo by Cisco Quintanilla.
Convex mirrors are not only good for blind spots but selfies as well. Photo by Cisco Quintanilla.
Bottling water straight from the mountain tap. No false advertising here.
Only when it rains, does she flow.
End of the road for us.
Time to settle in at the highest point on the island, which translates to quite a chilly night.
We woke up to a typical socked in morning.
Entering over 1,000 acres of endemic Hawaiian fauna and flora.
Walking through the boardwalk. Photo by Ferlino Carinio.
Picking our way through the marked and sometimes confusing trail.
Leaving the bog as we followed the ridge line to drop off the 4,025′ summit.
Cisco peering over the moss and rain slicked boulders.
Ferlino standing over the "Leap of Faith" boulder section. I was trying to take Cisco's picture when he was crossing this section, as I backed up to get a better angle, I slipped on the mossy rock and my phone took a fall. Luckily, Ferlino saw where it had landed and retrieved it for me.
At least Cisco was not condemned for eternity to hold back the boulder, just long enough for this photo.
Back to bushwhacking with no views. The joys of hiking.
Group photo at the ridge that will lead you back down into Waianae Valley.
Crossing the gap that the fence can't cover.
Sun dances and shaka's don't work at the summit. Well, at least not this particular one.
Leaving the clouds and rain behind us as we left the 3,504′ summit.
All smiles now as the sun came out to play with us. Photo by Cisco Quintanilla.
Ferlino making his way down the drier part of the trail.
Leaving the cloud capped summit of Kalena behind us. Photo by Ferlino Carinio.
Looking out at sexxxy ridge. No sexy time for us today.
Cisco and Ferlino crossing the narrow dike section.
Leaving the ridge line behind us as we dropped down another narrow dike section.
Cisco making his way down. Photo by Ferlino Carinio.
Looking down at Lualualei Valley pocked with navy bunkers filled with who knows what.
Turned off the ridge to wind our way down to the gap in the mountains.
Heading down to the lowest point in the Waianae Mountain Range.
Different layers of removal until it meets the definition of erosion – Pu'u Ka'ilio. Photo by Cisco Quintanilla.
Going down the sliding sands of Kolekole Pass. Photo by Ferlino Carinio.
Out of the danger zone, but not the weather zone. With heavy rain predicted to fall tomorrow, we decided to call it a weekend. Photo by Ferlino Carinio.
Our two day trek in the Waianae Mountains covered roughly 19.7 miles. In the end, I avoided being stranded on Kauai if I had stuck to my original plans, but instead we got booted off the Waianae Mountains a day early. Still a good deal. Thanks to Matt for picking us up and having our post hike meal at Popeye's on base. Followed by a chaser of Taco Bell. All in all, it was still a great experience with a fun crew.
Note: I have been made aware that some hikers have been using my blog as a hiking guide and getting lost on the trails. Please note that this blog was made to document the hike for the crew(s) that did it. That is why some of my comments will seem to have no relevance or meaning to anybody outside of the crew(s) that hiked that trail. My blog was never meant as a hiking guide, so please do not treat it as such. If you find inspiration and entertainment from these hikes, that is more than enough. If you plan on replicating these hikes, do so in the knowledge that you should do your own research accordingly as trail conditions, access, legalities and so forth are constantly in flux. What was current today is most likely yesterdays news. Please be prepared to accept any risks and responsibilities on your own as you should know your own limitations, experience and abilities before you even set foot on a trail, as even the "simplest" or "easiest" of trails can present potential pitfalls for even the most "experienced" hikers.