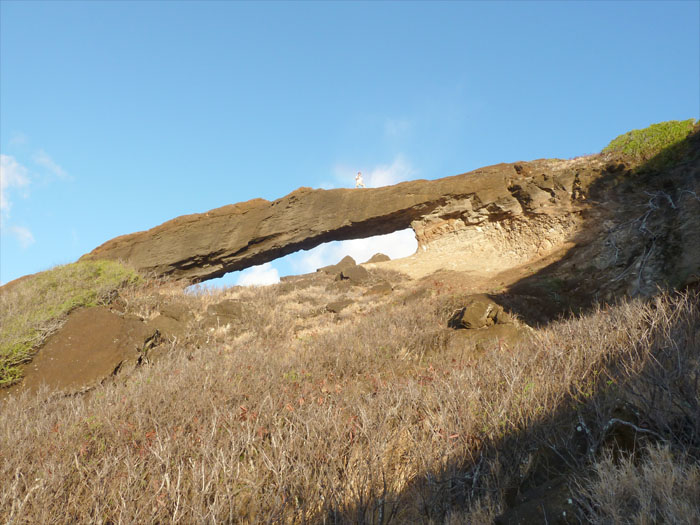 This was my third time hiking Koko Crater. The first time I walked up and down the tram tracks. The second time we had hiked up the side of Koko Crater and walked down the tram tracks. This time, the plan was to climb up the side of Koko Crater and go down the rim and end up in Koko Crater Botanical Gardens.
We staged one car at the Koko Crater Botanical Gardens which is right off Kealahou Street by the Queen's Gate neighborhood in Hawaii Kai and drove to the parking lot for the Halona Blowhole to start our hike. The trailhead is roughly across the Japanese fishing shrine that is now maintained by Vietnamese Buddhists. There are no colored ribbons to mark the way, but the trail itself is well traveled and hard to miss.
We started off on the relatively flat and rocky ridge that connects to the crater walls and then we started the gradual climb up Koko Crater.
The rock arch spans a gulch that is roughly in the middle of the climb up the crater. The easiest way to get over the arch is on the left hand side where there are some steps that look like they were carved into the tuff lava.
The climb and our breathing got a little harder after the arch, as we neared the top, Hanauma Bay and Koko Head came into view. We also passed three hikers coming down from the top, other than that we had the trail all to ourselves. Besides Mount Olympus, going up the stairs at Koko Crater was the only other hike I've done that has so much foot traffic.
Headed towards the summit, we could see the botanical garden inside the crater and Makapu'u Point in the distance.
We made the summit at 1,208 feet in under an hour. As usual, the top was packed with people, attesting to it's popularity with the local crowd. 
Going down the crater rim was marked with a gradual descent punctuated by rocky formations that we either climbed or contoured around.
We came across part of the crater wall that looked like it was fractured or split apart. That's what I love about ridge hikes, you get fantastic views and interesting scenery to boot. You also have to stay focused and keep that mental edge, otherwise you may fall off that edge.
We ended the two and a half hour hike amongst the sweet smell of plumeria trees in Koko Crater Botanical Garden.