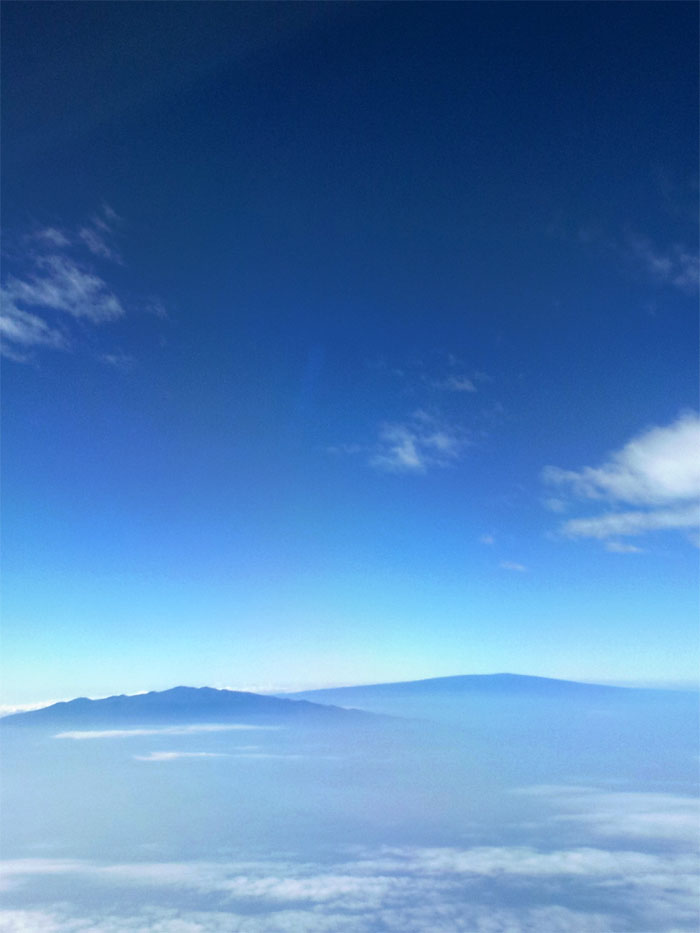 Pop trivia question. What is the highest mountain in the world? If you answered Mount Everest, try again. It's Mauna Kea located on the Big Island in the Hawaiian Island chain. If you measure Mauna Kea from the bottom of the ocean, it rises a staggering 33,500 feet which towers over Mount Everest's 29,029 feet. Yes, only 13,796 feet of the volcano protrudes from the Pacific Ocean; but it still holds the title. We flew into Hilo and piled into my father's friends 4×4 which would take us to the top. We went over Saddle Road, once notorious for it's bad conditions, now suprisingly smooth and straight in most places.
We got to the Onizuka Visitor Center which is located on the slopes at an elevation of 9,199 feet. After about 30 minutes of getting acclimatized to the high altitude, we set out for the summit.
Looking back at Mauna Loa, which is the world's largest shield volcano and tops out at 13,679 feet. One day, I plan on hiking the historic Ainapo Trail to the summit of Mokuaweoweo.
We passed local residents shoveling snow into the back of their pickups to take home for the keiki ( children ) to play in, a holiday Hawaiian treat.
As we drove up the road, some of the observatories popped into sight. I believe they are from left to right; Maxwell, Gemini, Subaru and the Keck Observatories.
We saw several snowboarders trudging up the snow covered slopes in search of that perfect "pineapple snow." I believe there are several areas to ski/snowboard with colorful names such as Poi Bowl, Pele's Parlor, Warrior's Run, Alii Run and the King Kamehameha Run.
Click here to see the larger image taken from the Canada-France-Hawaii Telescope.
The snow at the top of Mauna Kea was not fine like Matsumoto's Shave Ice, but rather coarse and granular ice. The only things I forgot to do when I was up there was make a snowman and snow angel.