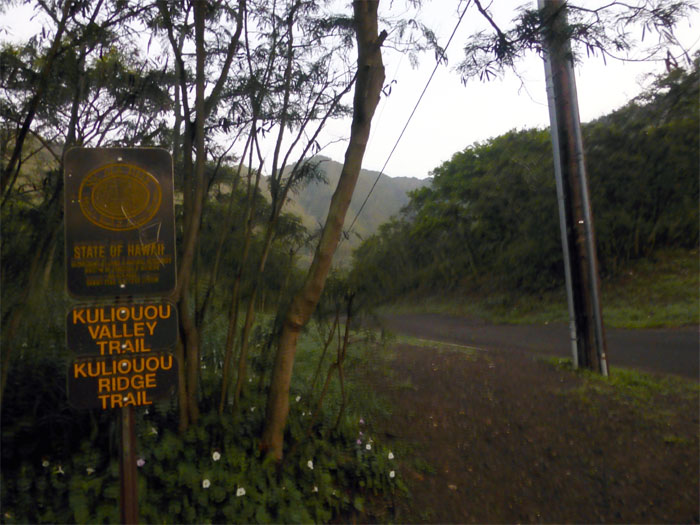 Wanting to catch a quick hike before the projected thunderstorms were set to soak the island, I decided to hike up Kuli'ou'ou West Ridge to Hahaione Trail by myself, as the last hike we did not got a single decent view due to cloudy and rainy conditions.
Going up the still somewhat muddy trail, I could see that it was going to be a beautiful day, albeit with vog conditions thrown in for good measure.
Looking back into Kuli'ou'ou Valley, with the sunshine being filtered by vog and hazy sky conditions.
After working my way through the trail, I finally got to the part where minor scrambling was involved. The fun part. Everything else is a means to the end.
Pushing ahead to the 2,200′ summit of Pu'u O Kona.
Click here for the larger image. The stellar views were a marked change from two weeks ago, when it was nothing but clouds hiding the views.
I always wonder when this section will finally give way. Hope nobody is even near this spot when it happens.
Looking back towards the Koolau spine as far as my camera can see. I never get tired of these views.
Looking down into Waimanalo from the top of Bear Claw Ridge. Having come up the ridge from both left and right forks, I thought about trying to downclimb this ridge. One day.
Click here for the larger image. Amazingly, when I reached the summit around 9:25am, not a single soul was in sight. Usually this place is teeming with hikers and dogs. As I left the summit, I heard a couple hikers making their way up from the Kuli'ou'ou Ridge Trail.
My solitude existence on the trails was soon interrupted by a stream of hikers making their way up from Hahaione Valley, as I was making my way down.
As I made my way down into the valley floor, I ran across a large group of paintballers getting ready to do their thing. It seems that this area is a frequent hangout for paintballers. Shortly after I popped out at the end of Hahaione Street, Chris was nice enough to pick me up and deposit me back on Kalaau Place to get my car.
The 3.8 mile hike took me a little over 3 hours to complete.